News > Idaho
Close to 2,000 students rally against gun violence at Idaho Capitol
March 14, 2018 Updated Wed., March 14, 2018 at 10:44 p.m.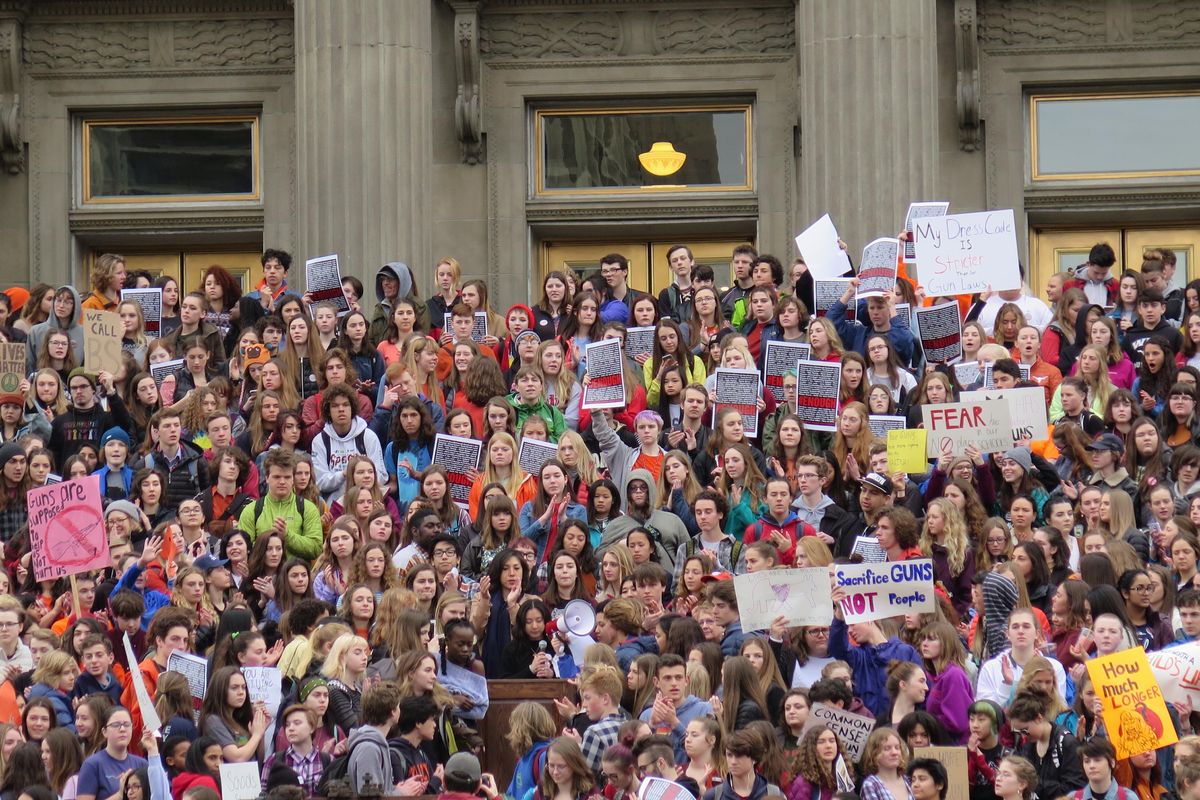 Crowds of Idaho high school and junior high students rally against gun violence in front of Idaho's state Capitol on Wednesday, March 14, 2018. (Betsy Z. Russell / The Spokesman-Review)
BOISE – Close to 2,000 people gathered on the Idaho Capitol steps to rally against gun violence on Wednesday – most of them high school and junior high students.
The crowd then poured into the Capitol, with many chanting, waving signs and protesting loudly in the Capitol rotunda. A more subdued crowd filled the House and Senate galleries, where they quietly watched their lawmakers at work.
"They did well," House Speaker Scott Bedke said. "Nothing but respect was shown, yet the message was sent and received. I think we're all thoughtfully pondering what our next steps should be."
Meanwhile, the sound in the Capitol's central rotunda was near-deafening, ringing with chants including, "Enough is enough" and "We want change!"
"I felt like if I could afford the attendance, that I had a right and a responsibility to come down and stand for what I believe," said Georgia Williams, an 18-year-old Boise High School senior. "I believe that when people are shot down in schools, they should not be easily forgotten. I believe that we should have stricter gun laws. We need to take the situation more seriously."
The student walkout and rally was held in concert with similar events across the country in protest of the mass shooting that left 17 Florida high school students dead, and calling for action on guns in the wake of that event.
"We feel that the school shootings across the nation, such as the Florida school shooting, are proof that there must be real action taken by students, parents, teachers, but most importantly, our Congress," student organizers said in a news release announcing the rally. "We come together as students and as a community to show that parents deserve to feel secure sending their children to school and that we as students deserve to feel safe in our daily learning environment."
Student organizer Collette Raptosh told the huge crowd on the steps, "If you leave here knowing anything, I want it to be that your voice will not be lost. Your presence will not be ignored. You can create change … and I encourage you all to do so."
The students carried signs with slogans including "Books! Not Guns," "Protect Kids, Not Guns," "Kids Deserve Safe Schools" and "The answer is NOT more guns." They chanted, cheered and called for action against gun violence.
"I have great teachers, and I don't remember ever learning of a time when more weapons led to greater protection," 17-year-old Boise High senior Acey Norris told the crowd. "Let the teachers teach and let the students learn – lawmakers, it is on you. Enough is enough."
People circulated throughout the crowd with clipboards, signing attendees up to register to vote. A frequent comment that was heard: "Oh, you're too young?"
Democratic candidate for governor Paulette Jordan was among the speakers, telling the cheering crowd, "Because of students like you, I'm hopeful about gun safety in our country for the first time in a decade. I'm hopeful that you will help strengthen universal background checks. I'm hopeful that you will help bring about laws that mandate training and licensing as a required part of gun ownership. And I am hopeful that your activism will help remove guns from the hands of people who seek to harm all of you."
One counterprotester waved a Confederate flag at the back of the crowd. The students booed loudly, but Norris exhorted them, "Ladies and gentlemen – this is a free speech opportunity. Ignore him!" Later, sign-carrying protesters surrounded the man, moving with him wherever he went in the crowd.
At one point in the rally, organizers called on the attendees to lie down in silence as the names of the victims of the Florida school shooting were read. They did so, though the students were packed so tightly onto the steps that many up there had to settle for sitting and leaning against one another.
Local journalism is essential.
Give directly to The Spokesman-Review's Northwest Passages community forums series -- which helps to offset the costs of several reporter and editor positions at the newspaper -- by using the easy options below. Gifts processed in this system are not tax deductible, but are predominately used to help meet the local financial requirements needed to receive national matching-grant funds.
Subscribe now to get breaking news alerts in your email inbox
Get breaking news delivered to your inbox as it happens.
---