Sports > Area sports
Former Mead standout Ashlyn Lewey embraces role in NCAA Tournament run with Seattle University
March 14, 2018 Updated Thu., March 15, 2018 at 1:41 p.m.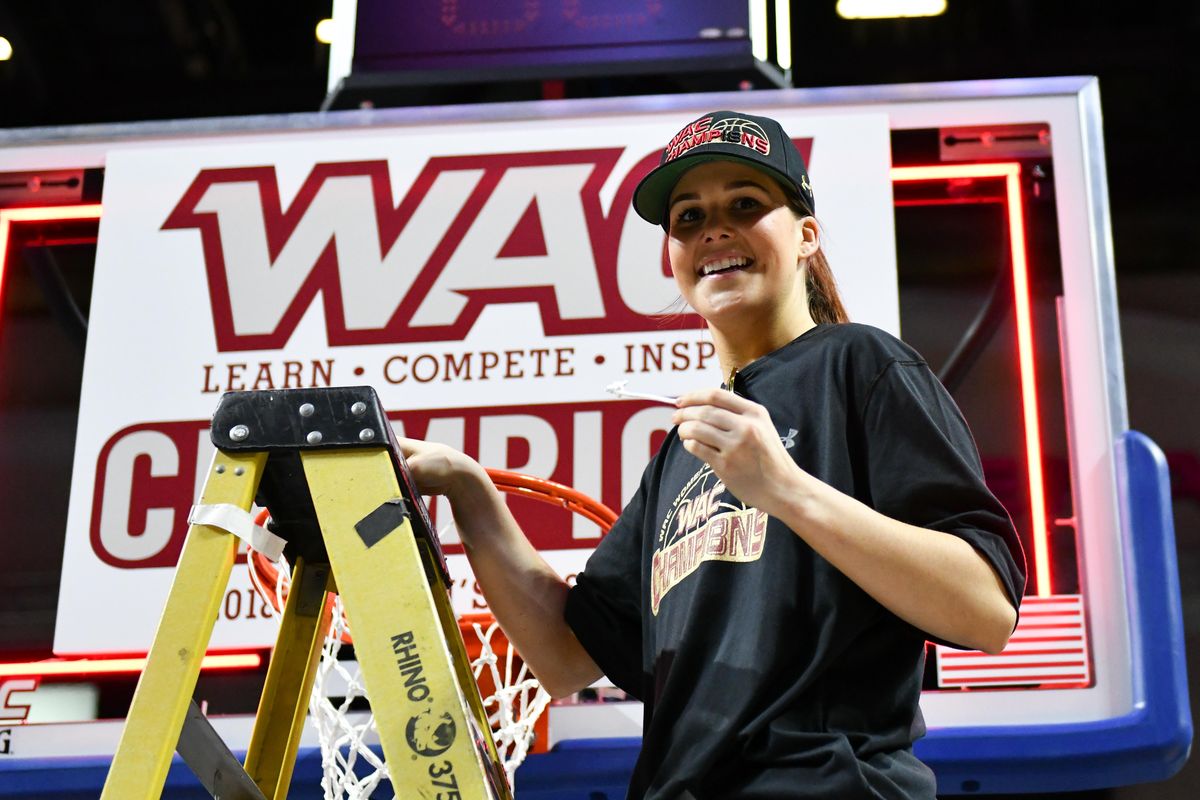 Ashlyn Lewey, a former Mead standout, has been a solid performer for Seattle University this season. (Seattle University athletics / Courtesy)
Looking for the most inspirational women's basketball player in the NCAA Tournament?
She grew up in our back yard.
On a good night, Ashlyn Lewey can coax a dozen minutes out of her knee before the pain sends her back to the Seattle University bench.
"If I can give the other players a little break, that's my role," Lewey said.
And a bad night? That's when she can barely make it through warm-ups – but still finds a way to get back on the court.
For Lewey, "no pain, no gain" is no cliche – it's a way of life.
Five years ago, she helped Mead win a state title. Lewey cried then and she's crying now, but not from the pain, because Seattle U. is in the tournament for the first time in school history.
On Monday, the Redhawks celebrated like never before, capping 40 years of frustration with the biggest moment in program history.
Two days earlier in Las Vegas, Seattle outlasted CSU Bakersfield by three points to win the Western Athletic Conference title.
Lewey gave her team 10 solid minutes, two rebounds, one assist – and 30 minutes of cheering.
Then she helped cut down the nets, the way she did in 2013 at the Tacoma Dome after the Panthers beat Arlington to win the 4A championship.
Her parents, Steve and Shawnie, were there for both celebrations, tissues in hand.
Recalling the winning moment in Las Vegas, Lewey said, "They were crying … and then I was too. "They said, 'We're so proud of you,' and this was almost a flashback from state."
Better, in fact, because of the sacrifices by Lewey and her teammates. A 6-foot wing, she played as a true freshman but saw a total of just 61 minutes on the court.
Her best season came as sophomore, when she played in 29 games, starting 17 of them and averaging 7.4 points and 4.7 rebounds. Seattle, however, won just nine games.
Enter new coach Suzy Barcomb, who not only changed the offense but altered the culture at the private Jesuit school.
"She believes in us and lights a fire in us," Lewey said of Barcomb.
The Redhawks responded by winning 15 games last year. Lewey contributed 5.8 points and 3.1 boards a game, all the more remarkable because she was playing with a torn meniscus and didn't know it.
Told by her doctor that the remaining tissue wouldn't support full-time minutes, Lewey became the ultimate role player.
"I told myself that as long as I can manage the pain, I can finish my senior year," Lewey said.
It began in up-and-down fashion, with a 7-4 start and a five-game losing streak as WAC play began.
The Redhawks followed by winning seven of eight, including a 77-75 win at Utah Valley that saw Lewey score a season-high 19 points in 17 minutes.
A three-game skid pushed the Redhawks into the No. 4 seed in the WAC tournament, but they beat Missouri-Kansas City and top-seeded New Mexico State to set up the showdown with CSU Bakersfield.
Late in a tight game that saw no team lead by more than eight points, the Redhawks got two free throws from tournament MVP Kamira Sanders with 22 seconds left to seal a 57-54 win.
"This was always my dream," Lewey said. "And now we're the first team to make the NCAAs, and nobody can take that away from us."
Local journalism is essential.
Give directly to The Spokesman-Review's Northwest Passages community forums series -- which helps to offset the costs of several reporter and editor positions at the newspaper -- by using the easy options below. Gifts processed in this system are not tax deductible, but are predominately used to help meet the local financial requirements needed to receive national matching-grant funds.
Subscribe to the sports newsletter
Get the day's top sports headlines and breaking news delivered to your inbox by subscribing here.
---