Sports > Seattle Seahawks
Earl Thomas trade rumors swirl; report states Seahawks in talks 'with several teams'
Thu., March 15, 2018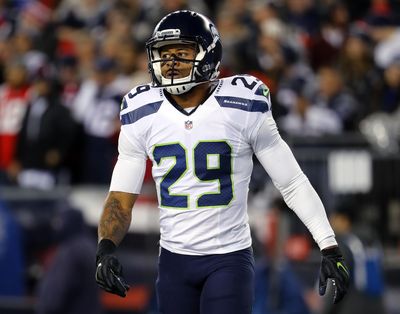 SEATTLE – Another day, another Earl Thomas trade rumor.
But this one comes with the added gravity that Seattle is now said to be talking to "several teams" about Thomas instead of just the Dallas Cowboys, who have long been thought to be interested, and that Seattle may actually be getting the kind of offer that could make it realistic to pull off a deal.
Jason La Canfora of CBSSports.com tweeted Thursday afternoon that the "Seahawks (are) in discussions with several teams regarding Earl Thomas. Seeking a 1st and 3rd round pick in return. May get more."
Getting at least a first has been said all along to be the minimum Seattle would take for Thomas, and several reports Wednesday stated that Seattle had talked to Dallas about Thomas but that those discussions stalled because the Cowboys didn't want to give up a first (Dallas has the No. 19 pick in the NFL draft this year, one spot behind Seattle at 18).
But that there is more smoke surrounding Thomas means there may be even more fire to the possibility that Thomas could be traded.
Seattle's motivation for talking to teams about Thomas remains the same – Thomas is entering the final year of his contract in 2018 and it is thought he would like to be the highest-paid safety in the NFL at the least, which could mean roughly $14 million a season or so (though interestingly, La Canfora tweeted that Thomas' asking price may just be $11 million. If that's so, and Seattle doesn't want to match that, it may well further explain why the team is taking offers for Thomas).
Any thought the Seahawks have for trading Thomas is rooted in concern over being able to keep him long-term and whether they are better off cutting their losses and getting what they can now instead of potentially losing him in free agency and getting a third-round comp pick in return in 2020.
Thomas, recall, said at the Pro Bowl that he would consider holding out if he didn't get an extension prior to the 2018 season, which is the final year on his contract. Thomas is due to make $8.5 million in 2018 and the Seahawks would save that amount against the salary cap if he were traded (there is already a $1.9 million dead cap hit for Thomas).
The Cowboys have been regarded as a logical potential trade partner for Thomas since he's a Texas native and longtime Cowboys fan who somewhat bizarrely let it be known he'd love to play for Dallas someday when he told coach Jason Garrett to "come get me" following Seattle's game there on Christmas Eve.
Seahawks coach general manager John Schneider said at the NFL combine two weeks ago that he has talked with Thomas' agents but was vague on where things are headed.
"I've talked to his representatives in the meetings we've had down here," he said. "We are meeting with all our guys here, as well as other teams, you know. Trying to figure out where everybody is. We have a huge map, and we're just trying to put it all together."
At that same time, Schneider also said that there were no untouchable players on the roster.
Thomas was the second player drafted by Carroll/Schneider in 2010, taking with the No. 14 overall pick in the first round in 2010 after the team had earlier selected left tackle Russell Okung.
He has started all 121 games he has played for the Seahawks, as well as 12 more in the playoffs, and been named to six Pro Bowls – fourth most of any Seahawk behind only Hall of Famers Walter Jones, Steve Largent and Cortez Kennedy. But while each of those three played their entire careers with the Seahawks it's increasingly looking like Thomas may he headed elsewhere.
Local journalism is essential.
Give directly to The Spokesman-Review's Northwest Passages community forums series -- which helps to offset the costs of several reporter and editor positions at the newspaper -- by using the easy options below. Gifts processed in this system are not tax deductible, but are predominately used to help meet the local financial requirements needed to receive national matching-grant funds.
Subscribe to the sports newsletter
Get the day's top sports headlines and breaking news delivered to your inbox by subscribing here.
---