News > Spokane
Allegations of coercion raised in harassment case against former SFCC president
March 16, 2018 Updated Fri., March 16, 2018 at 10:12 p.m.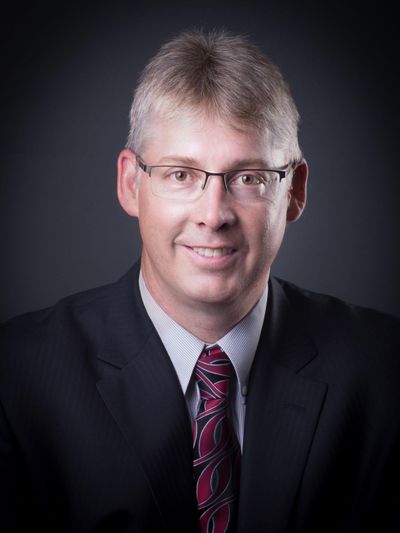 Newly filed court records reveal details of sexual harassment allegations against Darren Pitcher, the former acting president of Spokane Falls Community College who resigned last month in the middle of a human resources investigation.
Among other things, Pitcher is accused of exposing himself to a coworker and coercing subordinates to have sex with him. Court records state that "those subordinates either gained promotion as a result of the sexual relationship or were fired or demoted if his sexual advances were rebuffed."
The allegations are described in court records filed Friday by attorney Nicholas Kovarik, who is seeking to prevent the names of victims and witnesses from being disclosed in public records. The Spokesman-Review, the Inlander and KXLY each have requested records regarding the allegations against Pitcher, but the Community Colleges of Spokane has yet to fulfill those requests.
The injunction states that the human resources investigation began in mid-January, when one woman, referred to as Jane Doe No. 1, made a number of allegations against Pitcher. The injunction states that Pitcher exposed his genitals to the woman, groomed her for "a quid pro quo sexual encounter" and "engaged in inappropriate sexual intercourse with her," causing her "extreme emotional distress, embarrassment and humiliation."
At least eight other women gave interviews while the investigation was underway, according to the injunction filed by Kovarik.
"These individuals would not have given information or would have agreed to be interviewed had they known their names would be made public," the injunction states. "They are all fearful of retaliation from other employees and the public at large."
"Moreover, Jane Doe No. 9 was specifically targeted and was sent instant messenger messages of a sexual nature from Dr. Pitcher," the injunction states. "Disclosure of her name and identifiers associated with these messages would be humiliating, embarrassing and would cause irreparable damage to her reputation."
In a phone call Friday evening, Pitcher, 50, denied nearly all of the allegations, saying he had never had a sexual encounter with any of his colleagues, consensual or otherwise.
"These allegations are slanderous and untrue," he said. "When all the documents are released, that will become evident."
Pitcher admitted only that he had made "unprofessional" remarks to one colleague in an instant-messaging conversation, which he described as friendly banter. He said he later apologized for those remarks, and the woman was receptive.
Pitcher said nearly 30 people were interviewed as part of the investigation into his alleged behavior, and he noted that no finding of guilt was ever reached. (The investigation ended when he submitted his resignation letter on Feb. 26.)
Pitcher joined SFCC in 2012 after more than a decade in leadership roles at another community college in Montana. In his resignation letter, he wrote that the past two years had been particularly difficult for him. He was SFCC's vice president for student services, and last summer when President Janet Gullickson resigned, he took on the additional responsibilities of acting president.
"Although I have tried to perform at a high level, I have not taken care of myself and have not invested enough of myself towards my family life," he wrote. "For the sake of my own well being I must submit my resignation effective immediately."
Nancy Fair-Szofran, formerly the CCS provost, has served as SFCC's president since Pitcher resigned. A nationwide search for a permanent president is underway.
CCS previously told The Spokesman-Review that the public records would be made available next Wednesday, but the injunction is likely to delay their release. The three news organizations are named as defendants in the lawsuit, as is CCS.
The district's chancellor, Christine Johnson, who is in charge of the presidents at SFCC and Spokane Community College, was expected to speak Friday morning before Spokane County Commissioner Josh Kerns gave his State of County address. The audience was told Johnson could not attend due to "unforeseen issues."
The Spokesman-Review and many other news organizations generally do not identify victims of alleged sexual harassment or sexual assault without their permission. The injunction would force CCS to redact names and other identifying information before releasing any records related to the investigation.
Kovarik, the attorney, wrote that disclosing the names of victims and witnesses would "cause a chilling effect for those coming forward to give information about workplace sexual harassment, retaliation and discrimination."
Pitcher, meanwhile, said he was troubled by the effort to conceal the names of his accusers.
"I think I have a right, and the people have a right, to know who brought these allegations against me," he said, adding that he believes one woman's claims are particularly "far-fetched."
"It's destroyed my career and my life, and I think it's only fair that she gets named as well," he said.
Local journalism is essential.
Give directly to The Spokesman-Review's Northwest Passages community forums series -- which helps to offset the costs of several reporter and editor positions at the newspaper -- by using the easy options below. Gifts processed in this system are not tax deductible, but are predominately used to help meet the local financial requirements needed to receive national matching-grant funds.
Subscribe now to get breaking news alerts in your email inbox
Get breaking news delivered to your inbox as it happens.
---