Sports > Gonzaga women
Gonzaga respects, looks to emulate long-term success of Stanford
March 16, 2018 Updated Fri., March 16, 2018 at 11:27 p.m.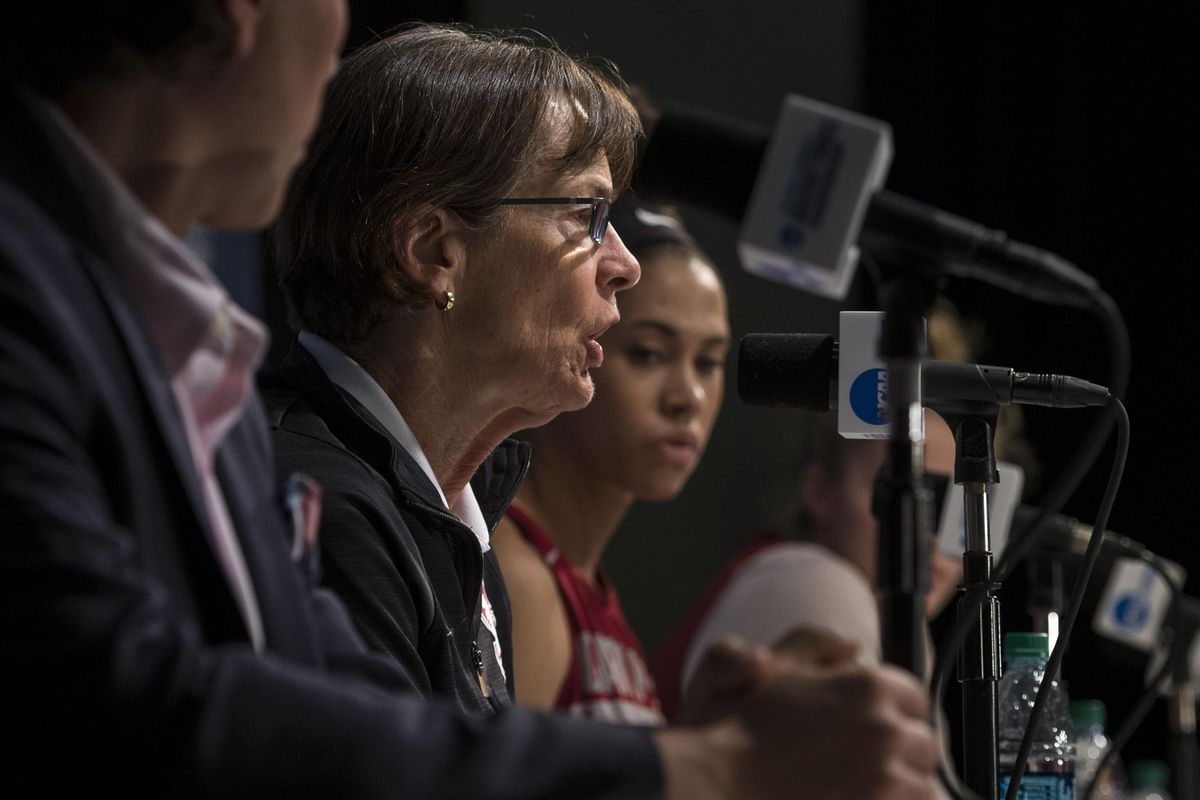 Stanford head coach Tara VanDerveer talks with the media on Friday at Stanford University in Stanford, California. (Colin Mulvany / The Spokesman-Review)
STANFORD, Calif. – Expectations are a bit different at Stanford University.
A walk to Maples Pavilion takes a visitor past the Taube Tennis Center – which holds 2,455 fans and 35 NCAA team trophies – and the Avery Aquatic Center, where Stanford athletes have, uh, pooled their talents to the tune of 50 national team titles.
In all, the Cardinal holds 115 NCAA team championships, with aspirations for many more.
It's the same at Maples, where longtime coach Tara VanDerveer has taken the Cardinal to 32 NCAA appearances, with 14 trips to the Sweet 16.
She's grasped the brass ring twice. The last one came in 1992 – more a testament to the rise of Tennessee, UConn and others than any malaise by the Cardinal, who have reached seven of the last 11 Final Fours.
At 64, VanDerveer is ready for another. On Friday, the Hall of Famer spoke more about how deep the Cardinal can go this year rather than its chances in Saturday's first-round NCAA matchup with Gonzaga.
She appreciates the praise from GU head coach Lisa Fortier, a northern California girl who worked VanDerveer's camps for several years and sometimes longed to learn at the feet of a "strong woman" like Stanford's veteran coach.
"That's a tremendous compliment," VanDerveer said. "Having, obviously, been coaching a long time, I do want to be a good role model for our young coaches and I want to set a good example and hopefully, I try to do that."
Then game the stinger.
"But when it comes down to it, I would like the mentor to win," VanDerveer said.
Against Gonzaga, she usually has. She was 5-0 against former GU coach Kelly Graves, and it was VanDerveer's squad that ended GU's best season in the Elite Eight in the Spokane Arena in 2011.
Fortier got her first chance in the fall 2015, but a one-point lead with 6 1/2 minutes left wasn't nearly enough against the grit and pedigree of Stanford, which pulled away to a 17-point win.
A year later, Gonzaga came to Maples and took a 68-63 win that was crafted the Stanford way, with discipline and tough defense.
But if that meant anyone thought GU might be gaining on the Cardinal, no one was saying on Friday.
"Of course I admire the way she pulls the best out of her team every time and demands greatness, really," Fortier said.
Gonzaga has expectations, too. Built from scratch by Graves and nurtured by Fortier, they include winning the West Coast Conference and reaching the NCAAs. They're done that 10 years in the last 12, and show no signs of stopping now.
But there's something more at GU, something even more experiential than raising another WCC Tournament trophy in Las Vegas.
Ask junior wing Chandler Smith, whose NCAA experience includes a game at Nebraska before the Brewster, Washington, native transferred to GU.
"For me, coming out to the gym 2 1/2 hours before the game and all the parking lots are full, it's just a different experience," Smith said.
"I mean, all of our fans are out there trying to get pictures with us going in the building.
"You feel like a celebrity or superstar, and it's actually a great feeling to have so much support. I'm biased, but I feel like we have the best fans in the world."
Expectations don't get any better than that.
Local journalism is essential.
Give directly to The Spokesman-Review's Northwest Passages community forums series -- which helps to offset the costs of several reporter and editor positions at the newspaper -- by using the easy options below. Gifts processed in this system are not tax deductible, but are predominately used to help meet the local financial requirements needed to receive national matching-grant funds.
Subscribe to the sports newsletter
Get the day's top sports headlines and breaking news delivered to your inbox by subscribing here.
---