Sports > NCAA basketball
Duke rolls into Sweet 16 with 87-62 romp over Rhode Island
UPDATED: Sat., March 17, 2018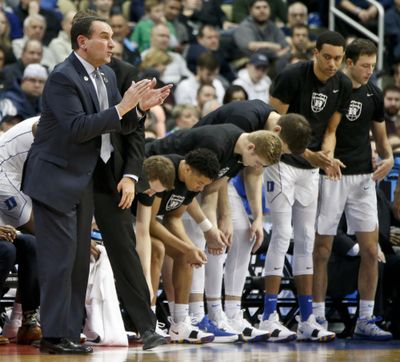 PITTSBURGH – The same message comes from Mike Krzyzewski almost daily. While the Hall-of-Fame Duke coach makes an effort to mix it up when talking to his ridiculously young and ridiculously loaded team, the theme never changes:
This moment in the NCAA Tournament is precious. Don't take it for granted. Especially if it turns out to be the only one you'll get.
Marvin Bagley III and the rest of his potentially one-and-done teammates appear to be all ears. The Atlantic Coast Conference Player of the Year poured in 22 points to go with nine rebounds and the second-seeded Blue Devils overwhelmed seventh-seeded Rhode Island 87-62 on Saturday to earn the program's 26th trip to the Sweet 16.
"After seeing these last couple games, these last few days of basketball, seeing what can happen, we have an idea that this tournament anything can happen," Bagley said. "We can't look ahead. We've got to worry about now."
And the rest of the field might need to start worrying about the Blue Devils (28-7), who will play either Michigan State or Syracuse in the Midwest Regional semifinal in Omaha, Nebraska on Friday. Duke shot 57 percent (29 of 51) from the floor, finished with 20 assists and never let the Rams (26-8) back in it following a 23-5 burst midway through the first half.
E.C. Matthews led Rhode Island with 21 points but the Rams looked confounded at times by Duke's much improved zone defense. A weakness during a mini-swoon in late January, the Blue Devils are no longer treating defense like a chore they're forced to complete before getting the ball back in their hands.
"They played and looked like an NBA team out there," Rhode Island coach Danny Hurley said.
Pretty much. Of course, the coach is pretty good too. The victory was the 1,099th of Krzyzewski's career, breaking a tie with late Tennessee women's coach Pat Summitt for the most wins by a basketball coach in NCAA history.
"It's an honor because she was a pioneer in her sport," Krzyzewski said, adding "someone will have more eventually."
Local journalism is essential.
Give directly to The Spokesman-Review's Northwest Passages community forums series -- which helps to offset the costs of several reporter and editor positions at the newspaper -- by using the easy options below. Gifts processed in this system are not tax deductible, but are predominately used to help meet the local financial requirements needed to receive national matching-grant funds.
Subscribe to the sports newsletter
Get the day's top sports headlines and breaking news delivered to your inbox by subscribing here.
---