Host families give a boost to WSU med students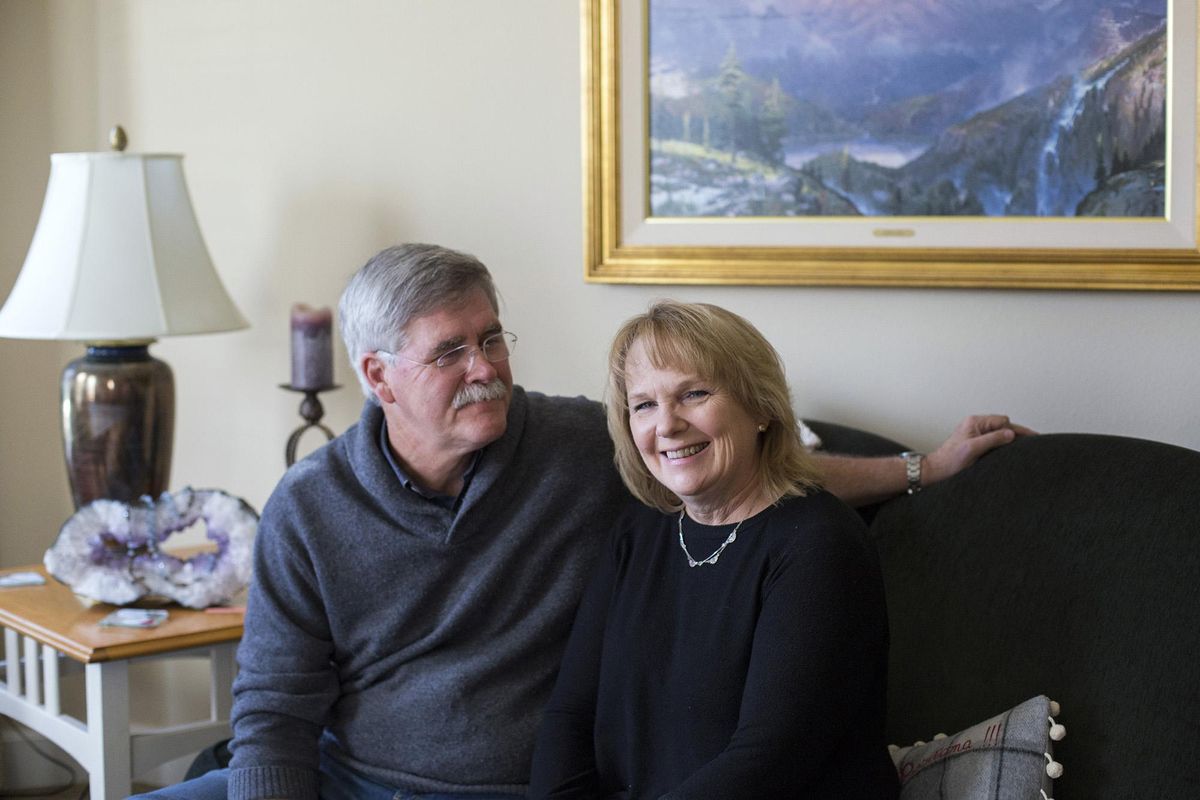 Having a host family in a city you grew up in might seem odd. But it's worked out surprisingly well for a group of Washington State University medical students.
Student Nick Randall is a Vancouver, Washington, native whose hands-on clinical work is in his hometown. During the weeks he traveled there, he opted to stay with a local couple, Nancy and Robert Ellis, rather than his parents.
Robert Ellis is an oncologist and Nancy is a former nurse, so he's been able to learn more about what a doctor's life in Vancouver is like through his homestay. He said before his time with the Ellises, he wasn't sure what kind of medicine he wanted to practice.
"Now he's converted me. I want to be an oncologist," Randall said.
As part of its effort to be a community medical school, each of the 60 students in WSU's inaugural class is assigned to a city for clinical rotations: Everett, Vancouver, the Tri-Cities and Spokane.
Those rotations typically start during the third year of medical school. But students spend a week at their site three times during the first year and another three during their second to get to know the community and get early hands-on experience with patients.
Some host families work in the medical field. Others are just community members who want to help out.
Amanda Hansen is in the latter category. She's a ballroom dance instructor and signed up to be a host for one of the Spokane-based students.
"I just liked the idea of helping somebody find their community here," she said.
And she likes the college's mission of encouraging doctors to practice in underserved areas of Washington.
"Let's grow our own doctors," she said.
Hansen's hosted student is Kendal Dean, who grew up in Spokane. Though Dean doesn't stay at Hansen's home, she attends events with the family, including their 16-year-old son, Trevin.
Dean was initially skeptical that she needed a host for her hometown, but said she has loved spending time with Hansen and has gotten to know a different side of the city, discovering new restaurants and going to events like the annual Christmas Tree Elegance at the Davenport Hotel.
"She's interested in a lot of outdoor activities so we talked a lot about hiking and going cross country skiing," Dean said.
Dean is also hoping to have Hansen teach her and her fiancé to ballroom dance before their wedding planned for January.
"We have a lot in common and we'll probably stay in touch for a long time," Dean said.
Last year, WSU received 106 applicants for 60 host positions across Washington state, said Kyle Holbrook, the community housing coordinator for the medical school.
They're now accepting applications for a second round of families to host next year's class. Medical experience isn't required, but the college is looking for people who are active in the community in some way, whether through work, volunteer activities, sports or something else.
"Basically, someone who is passionate about where they live and able to represent that area," Holbrook said. The college hopes these pairings will be among the things that encourage students to practice in the state.
In Vancouver, Randall has become part of the Ellis family, perhaps a little more than he bargained for.
He met the Ellises' 22-year-old dog, Custy, during his first week in Vancouver.
Nancy Ellis warned him she wasn't expecting the Bichon to live much longer. Custy died on the day Randall was scheduled to return to Vancouver after Thanksgiving, and Ellis' husband had asked her to leave the dog on the couch so Randall could pay his respects.
"Poor Nick pulled up Monday about 3 o'clock and I had to say, 'Custy died and he's on the couch and he's going to be there until about 7 o'clock,' " Ellis said. "When I went out and told him, he said 'Oh no, I missed it.' "
"I was so worried about intruding on something so personal, and she was so worried about me being weirded out that they had a dead dog on the couch," Randall said in an email. He was there for the backyard burial and the following day, when neighbors and friends came by to pay their respects with flowers.
In the end, he said, it made him feel like a family member, a feeling that goes both ways.
"He's a new medical student, all full of hope and wonder and excitement and it's fun to see that and get reminded of that," Ellis said.
Randall's wife is expected to give birth to the couple's first child sometime in March, and shortly after, Randall was scheduled to go back to Vancouver for more clinical experience.
It's something the Ellises have been through: They had their first child while Bob was in medical school.
Nancy Ellis told Randall, as nicely as she could, that both he and his wife were welcome in their home, but she hoped they would stay in Spokane.
"She told me 'I better not see you in March,' " Randall said, laughing. Instead, she encouraged him to talk to the college and take time to bond with his new son.
She's also requested photos and a name as soon as Randall and his wife have decided on one.
"We get to be a part of him having a baby. We can't wait," she said.
---