News > ID Government
Idaho health care gap bill once again pulled from House, despite tearful opposition
March 21, 2018 Updated Wed., March 21, 2018 at 9:50 p.m.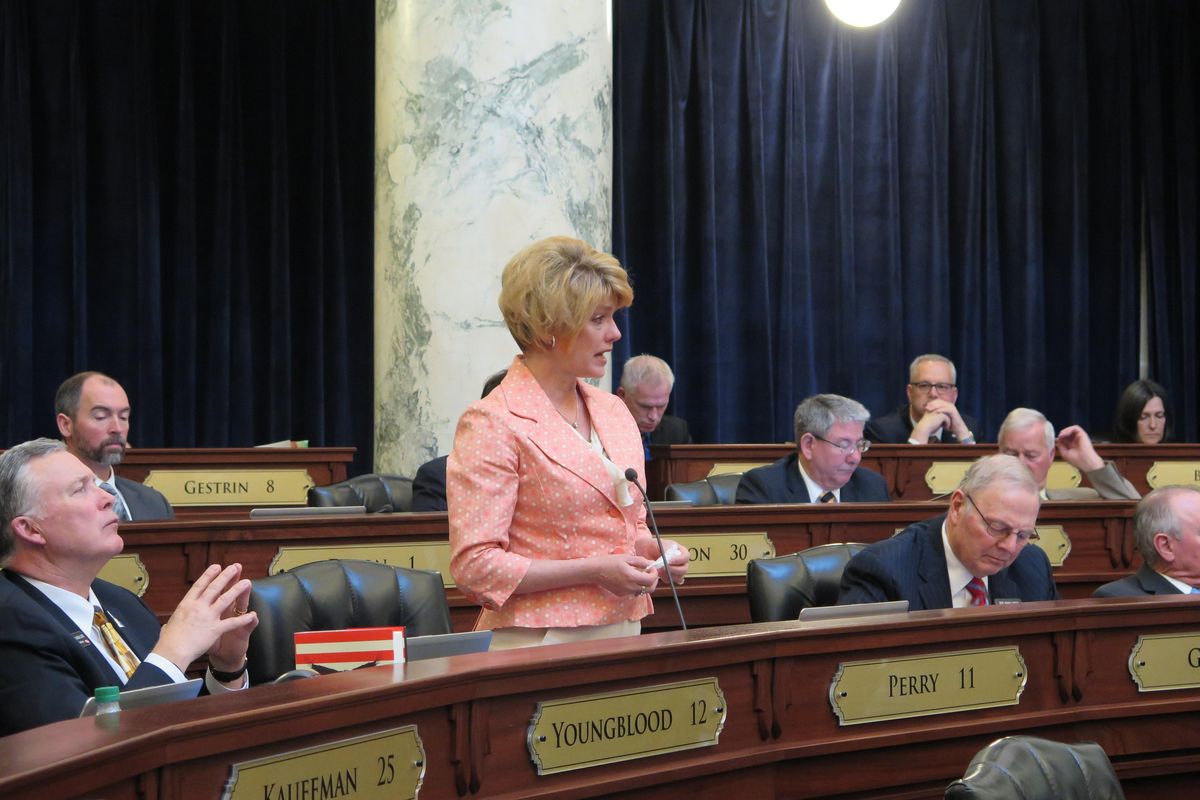 A tearful Rep. Christy Perry, R-Nampa, pleads with the House not to send the governor's Idaho Health Care Plan bill back to committee without a vote, on Wednesday, March 21, 2018. (Betsy Z. Russell / The Spokesman-Review)
For the second time this year – and after six straight years of inaction – the Idaho House declined to debate or vote on a health care bill that would help about 35,000 Idahoans afford insurance coverage.
A tearful Rep. Christy Perry, R-Nampa, spoke out against the move, which sent the health coverage gap bill back to committee.
"I have been all but spit on in this body for bringing it back," she told her House colleagues. Perry, who is leaving the Legislature after this year's session to run for Congress, pushed for the second successful committee vote to forward the bill to the full House.
"I don't give a damn what anybody thinks of me in this (House)," Perry said. "I came here not because of the people here, but to represent my people who have cried to have some movement in this particular arena. They can't get medical care, they can't get help."
Between 51,000 and 62,000 Idahoans fall into the coverage gap, according to the latest updated estimates from the state Department of Health and Welfare. They make too much to qualify for Medicaid, but not enough to be eligible for subsidized private insurance through the state insurance exchange.
The bill, proposed by Gov. Butch Otter, would cover about 35,000 of those in the gap population by allowing them to qualify for the subsidies. Had Idaho expanded Medicaid under the Affordable Care Act, all Idahoans in the gap would be covered through Medicaid, largely at federal expense.
To generate the savings to pay for the plan, the bill calls for shifting roughly 2,800 of the sickest Idahoans now covered by exchange plans onto Medicaid, which would more fully cover their end-of-life care needs. That move is projected to sharply drop premiums for exchange plans, by removing the sickest portion of the covered population.
Two waivers from the federal government would be required to accomplish the plan, and top Trump administration officials have indicated they'd look favorably on it.
"We have an opportunity here to work with the Trump administration and … bring forth an Idaho solution," Perry said. "I believe that the people in this body deserve this debate, that the people in this state deserve this debate, that the people in the gallery deserve this debate, and sending this back to committee is wrong. I know that a lot of people want to avoid the vote, but the vote is here."
House Speaker Scott Bedke, R-Oakley, cautioned Perry to "gather yourself," and noted that the debate was only on the motion – not the bill itself.
Lawmakers are pushing hard to adjourn this year's legislative session by Friday. Every seat is up for election this year, with the primary slated for May 15.
Rep. Eric Redman, R-Athol, who is retiring after this year, told the House, "I'm very disappointed. As I respect the representatives here, I do not respect the political process, and this is politics. I vote no."
Rep. Ilana Rubel, D-Boise, said, "People shouldn't suffer for refusing to be sheep," at which point she, too, was cautioned by Bedke. "We are not here to protect our incumbency and to protect ourselves from taking hard votes. It's our job to take hard votes," Rubel said.
Rep. Margie Gannon, D-St. Maries, said, "If you're that worried that your vote is going to look bad somewhere, maybe you need to rethink your vote."
Rep. Fred Wood, R-Burley, the House Health and Welfare Committee chairman, made the motion to return the bill to committee – even though he twice voted in favor of advancing it to the full House.
"We have to play the long game," Wood, a doctor, told the House. "This is a wonderful concept, the White House wants this concept. But we have to play the long game here. This bill will not go anywhere this year, never was going to go anywhere this year, for a variety of reasons, some of which are not political."
Reps. Luke Malek, R-Coeur d'Alene, and Vito Barbieri, R-Dalton Gardens, agreed, saying they believed that if the bill were voted down now, it could never come back.
"It would be a tragedy if this concept that is close but not ready yet were to die on this floor, because that would be the end of that," said Malek, who like Perry is running for the 1st District congressional seat rather than seeking re-election.
House Minority Leader Mat Erpelding, D-Boise, retorted: "That argument is not accurate."
He said that there's an election between now and next year's legislative session, and next year will see a new governor along with changes in the Legislature; lawmakers often pass bills that have been rejected in previous years. "The reality is we have a responsibility to our constituents to vote on things that have made it out of committee and to the House floor," Erpelding said.
Shortly before Wood made the motion, a group of chanting protesters disrupted the session, standing in the House's fourth-floor public gallery, holding small signs saying "SHAME," and chanting "Save Our Plan, Save Our Lives, Shame, Shame, Shame."
When the protesters began chanting, Bedke banged his gavel, and Idaho State Police officers escorted them out of the gallery, chanting all the way.
After the House session, Bedke said he wanted the bill sent back to committee because he didn't believe it had the support to pass. "Some would claim it to be for the good of the issue, long-term," he said. "Others would say it's just all political maneuvering."
The fact that the issue has confronted Idaho lawmakers for six straight years with no action, he said, "means there wasn't agreement."
"The issue stays alive better for what happened today," Bedke said.
Health care advocates strongly disagreed, and said lawmakers' inaction will boost a pending ballot initiative petition drive to expand Medicaid in Idaho at the voters' behest.
"Medicaid expansion is the only thing left to solve the problem with the gap in Idaho," said Tracy Olson, a leader with Medicaid for Idaho, the volunteer group pushing the initiative.
"It is incredibly disappointing that our Legislature wouldn't even give the Idaho Health Care Plan a vote today," said Neva Santos, executive director of the Idaho Academy of Family Physicians. "People will remain uninsured and health care costs will continue to rise."
Jim Baugh, executive director of Disability Rights Idaho, said many Idahoans with mental health issues fall into the coverage gap. "It isn't right that they have to face another year of suffering in the gap because leadership didn't want to take a vote," he said.
Local journalism is essential.
Give directly to The Spokesman-Review's Northwest Passages community forums series -- which helps to offset the costs of several reporter and editor positions at the newspaper -- by using the easy options below. Gifts processed in this system are not tax deductible, but are predominately used to help meet the local financial requirements needed to receive national matching-grant funds.
Subscribe now to get breaking news alerts in your email inbox
Get breaking news delivered to your inbox as it happens.
---