News > Spokane
Principal of Coeur d'Alene High School dies in apparent suicide
March 21, 2018 Updated Wed., March 21, 2018 at 10:44 p.m.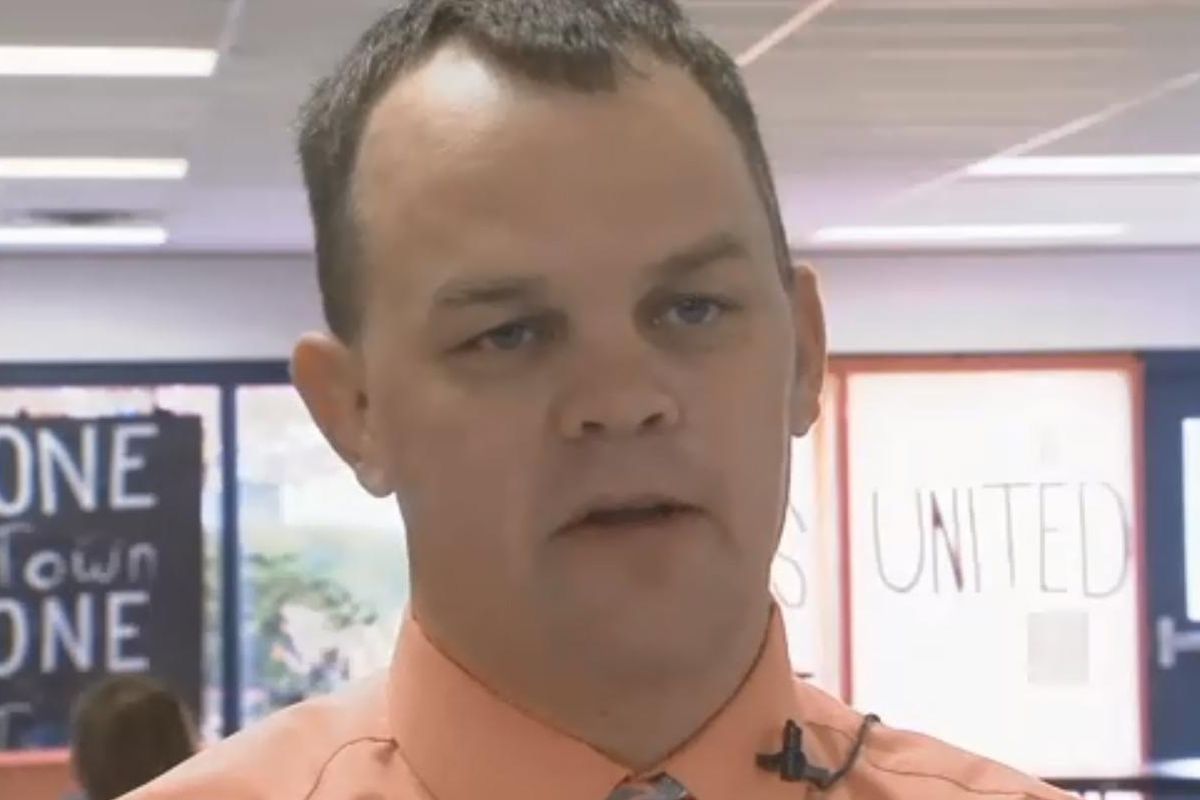 Troy Schueller, the principal of Coeur d'Alene High School, died in an apparent suicide Wednesday. (KHQ)
The principal of Coeur d'Alene High School died Wednesday in a hospital after he was found at home with a gunshot wound that appeared to be self-inflicted.
The school district said Troy Schueller died at about 2 p.m. at Kootenai Health. Faculty were notified during an after-school meeting.
"Our community is grieving the loss of our dear friend and colleague," Trina Caudle, the district's director of secondary education, said in a statement. "Troy truly, deeply cared about everybody. As principal at Coeur d'Alene High, his top priority was to improve the culture of the school and make sure all students and staff knew they were cared for."
Casey Morrisroe, chairman of the district's board of trustees, added: "Troy was a great husband, father and friend. His death is tragic and will leave a hole in our hearts for a long time. My thoughts and prayers go out to his family."
Coeur d'Alene High School canceled Thursday's classes, but crisis counselors will be on hand to help students and staff.
Anyone who needs to speak with someone about the tragedy is urged to seek out a member of the crisis team, school officials said. People going to the school Wednesday or Thursday are asked to use the gym entrance on the southeast side.
"This is a horrific incident that we all need to help each other recover from, and this will not be over in an hour or day or week," Superintendent Stan Olson said in a statement. "It will take time and focus and effort. The district will do all we can."
Schueller was a beloved educator with 10 years at the high school, the past two as principal. He previously spent 11 years in the Kellogg School District as a teacher, coach, activities director and principal.
His wife is a teacher at Canfield Middle School. He is also survived by two children and one grandchild, according to the school district. Schueller's son is a student at Coeur d'Alene High School.
Schueller was born in St. Maries and graduated from St. Maries High School in 1993. Four years later, he earned a bachelor's degree in elementary education from Lewis-Clark State College, and in 2003 earned a master's in educational leadership from the University of Idaho.
In a May 2017 interview with the Coeur d'Alene Press, Schueller rattled off some of his favorite hobbies and interests. Country music. Vacationing in Maui. Four-wheeling, fishing and hunting white-tailed deer. John Grisham novels and the movie "Top Gun."
In the interview, Schueller described working long hours, arriving at Coeur d'Alene High School at 5:30 a.m. and sometimes getting home around 10 p.m.
He also recounted some tragedies he had experienced during his time as an educator, including the death of a former student-athlete in a mining accident in 2010.
Schueller said he almost stepped down as Kellogg High School's wrestling coach after a bus crash in January 2001. The driver had a heart attack and died while en route to a tournament in St. Maries. Schueller and a student were credited with stopping the bus.
Schueller suffered the most injuries. He broke his jaw, which required surgery within hours of the accident. He also suffered broken teeth, and one leg was broken in two spots.
"I was just doing my job trying to protect my kids," Schueller said.
Local journalism is essential.
Give directly to The Spokesman-Review's Northwest Passages community forums series -- which helps to offset the costs of several reporter and editor positions at the newspaper -- by using the easy options below. Gifts processed in this system are not tax deductible, but are predominately used to help meet the local financial requirements needed to receive national matching-grant funds.
Subscribe now to get breaking news alerts in your email inbox
Get breaking news delivered to your inbox as it happens.
---