Analysis: Gonzaga struggles against FSU defense, falls to Seminoles in Sweet 16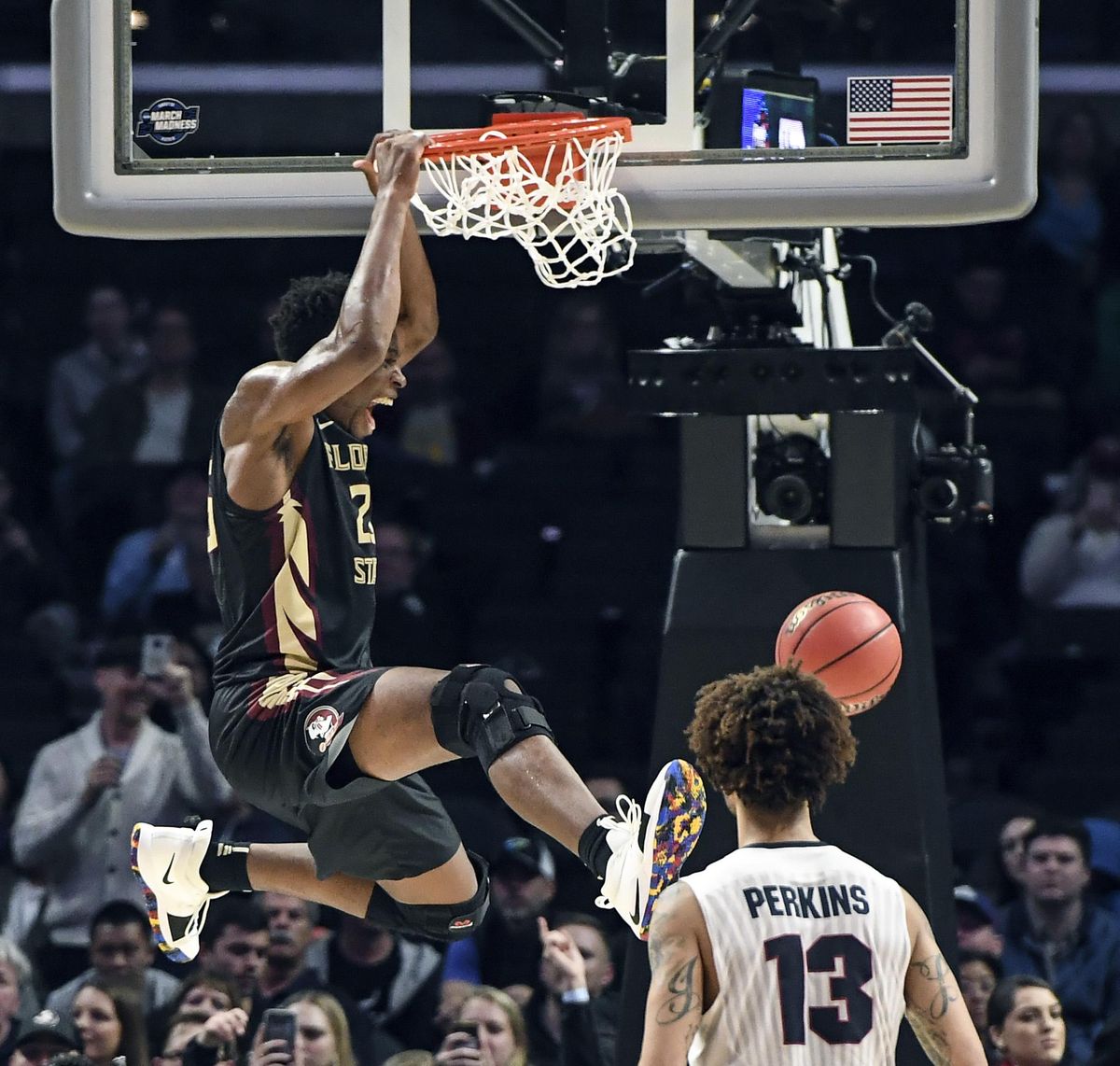 LOS ANGELES – Short-handed and nowhere near the top of its game.
That wasn't a good combination for Gonzaga against an athletic, deep Florida State team.
Fourth-seeded Gonzaga, playing without injured starting forward Killian Tillie, fell behind early and could never chase down the ninth-seeded Seminoles.
The Zags had plenty of want-to, but not nearly enough execution, perimeter shooting or offense in general against an ACC opponent that isn't an easy team to catch.
Gonzaga's NCAA Tournament run ended in the Sweet 16 as FSU led for nearly 33 minutes during a 75-60 Seminoles victory Thursday in front of 19,181 at the Staples Center.
Florida State (23-11) clipped the Zags' 16-game winning streak and advanced to face Michigan on Saturday for a spot in the Final Four. The Seminoles are in the Elite Eight for the first time since 1993.
GU, which kept it close before a rough final few minutes, finished 32-5.
"It's a tough, tough, tough loss," Gonzaga coach Mark Few said. "I knew after watching tape on Florida State how tough it was going to be to generate baskets."
The Zags were held to a season-low point total. They'd been below 70 points just three times prior to Thursday's game.
Tillie collided with another Zag during Tuesday's practice and suffered what Few described as a "really bad hip-pointer." Tillie had treatment on his hip leading up to the game and was ready to give it a go until aggravating the injury late in warm-ups.
Sophomore forward Rui Hachimura stepped into the starting five for just the second time and came up with 16 points and nine boards, but GU didn't have a starter make at least half of his shots. The Zags finished at a season-low 33.9 percent.
Zach Norvell Jr., a breakout star in GU's first two tournament wins, scored 14 points on 4-of-16 shooting. Josh Perkins added nine points, Johnathan Williams eight and Silas Melson seven, but the trio made just 9 of 27 field-goal attempts.
"They were really aggressive on the defensive end, denying the ball and adjusting our shots on goal," Norvell said. "It kind of took a toll on us. We could just never knock down that door like we have been in winning 16 straight."
GU lost some of its 3-point firepower with Tillie's absence. He's the team's top 3-point percentage shooter (48). The Zags finished 5 of 20 from distance.
"That's a key person on our team," Williams said of Tillie. "They're long and athletic. I felt like we missed easy shots around the rim, and that's on us."
The Seminoles swatted nine shots. Hachimura was rejected twice at the rim in the second half, both leading to run-out dunks by Terance Mann, who paced the Seminoles with 18 points.
FSU also made Gonzaga pay for its 13 turnovers. The Seminoles had a 16-10 edge in points off turnovers.
Still, Gonzaga was within striking distance most of the way. FSU closed the half with an 11-1 run to take a 41-32 lead.
The Zags pulled within four or five on several occasions in the second half. The Seminoles finished strong, using a late 8-1 run to create a double-digit lead.
"A couple of key stretches, one at the tail end of the half when we got it back to even and made a couple of tough decisions," Few said. "And also an important stretch from the 14-minute mark to 5 minutes left when we had it down to four or five and had a couple of empty possessions.
"We just never generated any really consistent offensive rhythm because of their length, athleticism, aggressiveness and switching."
Gonzaga fell behind 16-6 early as the Seminoles drove inside for buckets, free throws and a pair of draw-and-dish dunks.
The Zags trailed by as many as 12 before switching to a zone defense that temporarily baffled FSU. The zone closed off the lane for the most part and the Seminoles began misfiring from the perimeter.
Meanwhile, Williams and Hachimura got GU's offense untracked. The pair combined for 17 points, applied foul pressure on FSU's rotation of three centers and helped Gonzaga pull even at 23. Perkins' pull-up 3-pointer gave the Zags a 26-23 lead and it stayed tight until Hachimura and Williams each picked up their second fouls.
Both went to the bench – at one point Jeremy Jones was at power forward and Corey Kispert at center – and the Seminoles finally dialed back in from beyond the arc. C.J. Walker hit a pair of 3s and P.J. Savoy added another as Florida State grabbed a 41-32 halftime lead.
---