News > Education
Expressions of grief, disbelief after Coeur d'Alene High School principal's apparent suicide
Thu., March 22, 2018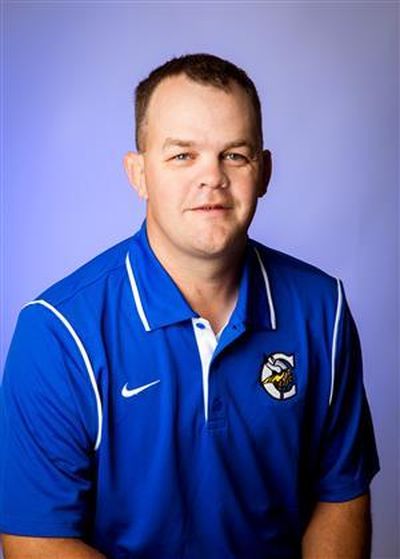 Thursday was supposed to be the eve of spring vacation at Coeur d'Alene High School, a regular school day in which Coeur d'Alene High students roamed the halls in anticipation of 10 days of freedom.
Classes were instead canceled as the school faced a moment of shock and grief.
The school and community learned Wednesday that its principal, Troy Schueller, had been found at home with an apparent self-inflicted gunshot wound. He later passed away at Kootenai Health.
Under gray skies Thursday morning, students and faculty placed flowers, notes and signs on steps in front of the school's entrance in a memorial to the educator of 21 years.
"Was hoping to wake up this morning and find out this was all just a dream," Coeur d'Alene High student Hailee Siron posted on Twitter, "and go to school today and walk through those doors and see him standing there greeting us and saying good morning like he has done every day for the past 2 years."
Schueller , 43, spent the last 10 years at Coeur d'Alene High, the past two as principal. The St. Maries native previously spent 11 years in the Kellogg School District as a principal, teacher, wrestling coach and athletic director.
Hundreds took to social media to voice their sadness and disbelief on the passing of Schueller, a man who left behind a wife, two children and two grandchildren.
Most comments were from former students. Others were from community members, faculty and friends and family.
Debora Paul, a retired Coeur d'Alene High custodian, said Schueller often went beyond the call of duty.
"He was one that truly cared about the students and the staff," Paul posted on Facebook. "He was always out there making sure the students were suppose to be on there way to classes. I can recall many nights that Troy was there way into the night."
Josh Watson, a Kellogg High School graduate, credited Schueller for his progression as a wrestler .
"Was the most supportive person out there when I actually made it to state in wrestling," Watson posted on Facebook. "Just a good human being. He was young enough that we 'kids' thought he was one of us but, he was respected enough that we listened to him."
Local politicians and coaches also gave their condolences.
"Thinking of each and every one of you associated and mentored by Coeur d'Alene High Principal Troy Schueller," EWU head football coach Aaron Best posted to Twitter.
Crisis counselors were be on hand Thursday to help students and staff.
Local journalism is essential.
Give directly to The Spokesman-Review's Northwest Passages community forums series -- which helps to offset the costs of several reporter and editor positions at the newspaper -- by using the easy options below. Gifts processed in this system are not tax deductible, but are predominately used to help meet the local financial requirements needed to receive national matching-grant funds.
Subscribe to the Coronavirus newsletter
Get the day's latest Coronavirus news delivered to your inbox by subscribing to our newsletter.
---