John Blanchette: Gonzaga can focus on what was rather than what might have been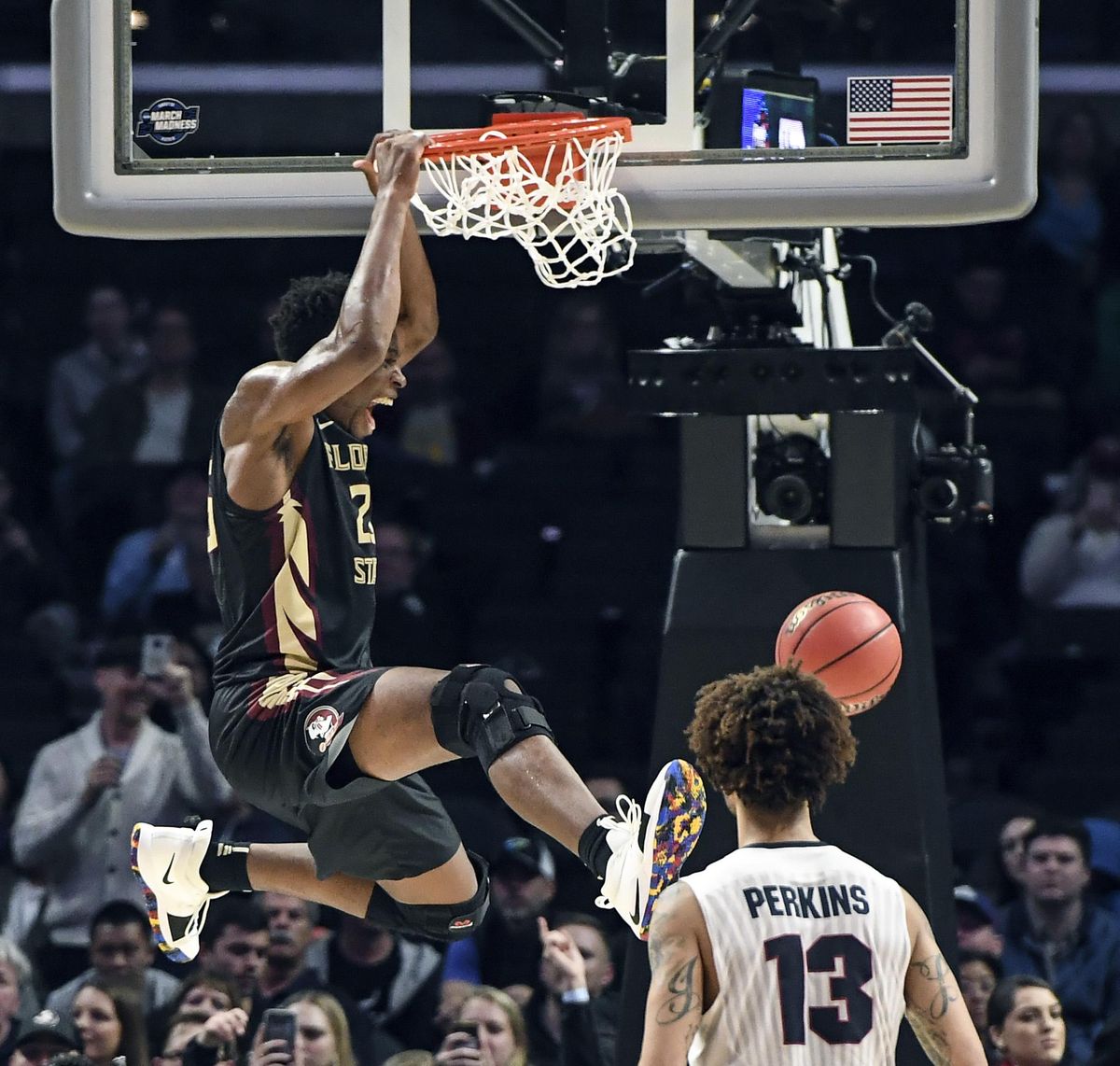 LOS ANGELES – There haven't been too many what-might-have-been endings in Gonzaga University's recent and glittery basketball history.
Might be tempting to put 2018 in that small file.
Don't do it.
The Bulldogs earned every bit of what they achieved this season, and their few disappointments, too. And that included Thursday's unsatisfying end, the 75-60 loss to Florida State which halted a remarkable winter-to-spring run in the Sweet 16 of the NCAA Tournament.
Yet more madness – a No. 9 seed advancing to the Elite Eight – on a day that had already seen more Sister Jean juju for Loyola-Chicago and nondescript Kansas State, yet another 9, knocking off Kentucky.
So the Zags had company in their misery, if no consolation.
And, yes, it's true – the Zags went down swinging having come to the plate with a 0 and 1 count.
Killian Tillie – their second-leading scorer, MVP of their conference tournament and general matchup nightmare –watched the game from the Gonzaga bench, his face suggesting a life sentence on Santa's naughty list. In the warm-ups prior to tipoff, the 6-foot-10 sophomore aggravated a hip pointer injury he sustained in a collision in Tuesday's practice. He would not play.
"It's terrible," he said. "It's the worst time to get hurt and it feels awful."
It is one thing to have a month in the preseason to make personnel changes and bring other players along, or even a week during the regular season. The Bulldogs had one more workout on Wednesday before the next one-and-out crucible in this unforgiving tournament. Treatment brought Tillie to the brink of playing, until he went up for a dunk in warm-ups and "I just couldn't do anything," he said.
"He said he felt like he was 80 years old," teammate Corey Kispert said. "I feel just awful for him. I've been in that position where you can't play in a big game."
But the games don't get canceled.
And the fact is, the Zags had chance upon chance to make this latest hora with hard times turn in their favor, and the Seminoles simply refused to let it happen.
"It's part of why they're so tough," Kispert said. "Every time we thought we had something going in, something going forward, they took it right back. They got the big stop, the big bucket.
"Those are the things that usually happen for us down the stretch."
This time, it only happened in the first half. Looking more than a little dispirited being down an important comrade, the Zags fell behind 23-11 – the Seminoles blocking or altering nearly everything at the rim, and slicing through Gonzaga's defense at will. Then coach Mark Few ordered up a zone – trying to stop that penetration and get more mileage over the only other two big men in his regular rotation, Johnathan Williams and Rui Hachimura.
Fifteen straight Gonzaga points followed, including the only 3-pointer – by Josh Perkins – the Bulldogs would have in the game's first 23 minutes.
But FSU drilled three 3s in the final 2:30 of the half – and against the long, stretchy, confounding 'Noles, the Bulldogs would spend the rest of the game trying to scale Everest in deck shoes, and too seldom making the right play.
"Against really, really good teams and on a night like the one we were having offensively, you can't do that," Few said. "You've got to make hay when the sun's shining."
The numbers were telltale – 33.9-percent shooting for the Zags, 5 of 20 from 3. The Seminoles blocked nine shots. Zach Norvell Jr. – the breakout star of GU's first weekend – made just 4 of 16 shots, hounded by former North Idaho College standout Braian Angola.
There was a fine next-man-up effort by Hachimura –16 points in season-high 36 minutes. But the Zags needed all their men at their best, and didn't get it.
One bad night at the worst time – in a season in which there were surprisingly few. Coming off a Final Four appearance with half the rotation moving on, the needle on the Sweet 16 meter tilted toward long shot and not likelihood.
Thirty-two and five – the kind of record that's starting to look routine at Gonzaga, when it's anything but.
"I'm proud of every single one of us this year," senior Silas Melson said. "I mean, we lost last year and you looked at our roster and probably not one of you guys thought we were going to the Sweet 16.
"We didn't end how we wanted to, but that doesn't define anything about our season."
Nor did having the man of the hour being the one who couldn't play.
Because this season what might have been mostly was. And definitely was this night.
---