Recap and highlights: Florida State uses depth to down Gonzaga 75-60 in Sweet 16 of NCAA Tournament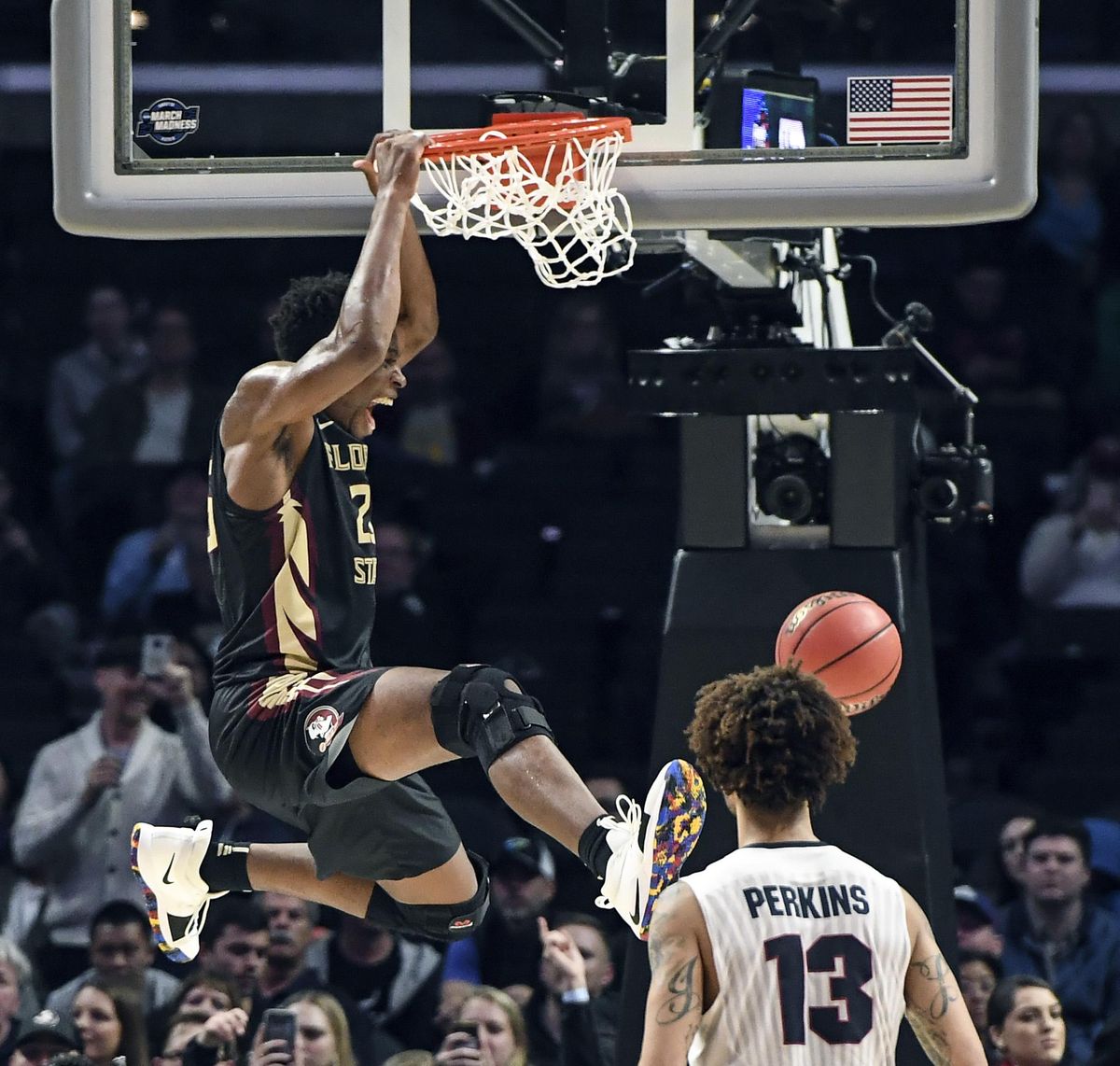 LOS ANGELES – Terance Mann scored 18 points and ninth-seeded Florida State used its depth and took advantage of a late Killian Tillie injury to top fourth-seeded Gonzaga 75-60 in the Sweet 16 of the NCAA Tournament on Thursday in the Staples Center.
Gonzaga (23-11), which rarely uses more than three bench players, was without starting forward Tillie after he re-aggravated a hip injury in warmups. Rui Hachimura started in Tillie's place and finished with a team-best 16 points for the Bulldogs.
The Seminoles (23-11) played a total of 11 players, all of whom were on the court for at least 11 minutes.
Mann added five rebounds, two assists, a steal and a block for FSU. Former North Idaho College standout Braian Angola added nine points, six boards and five assists for the Seminoles. Mann was the only Florida State player in double figures.
Zach Norvell Jr. added 14 points, including three 3-pointers, for the Zags. Gonzaga was appearing in its fourth straight Sweet 16, and was seeking its third Elite Eight appearance in four seasons.
The Bulldogs finished the game shooting 33.9 percent from the floor and just 25 percent from 3-point range, while the Seminoles shot 46.6 percent overall and 30 percent from deep.
Florida State will now face third-seeded Michigan with a spot in the Final Four on the line. That game will be played Saturday in Los Angeles.
Gonzaga ends its season with at least 30 wins for the fourth time in six seasons.
Second half
Final – Florida State 75, Gonzaga 60: Depth and Tillie injury too much for GU to overcome as Florida State heads to the Elite Eight.
Recap coming shortly.
1:36 – Florida State 73, Gonzaga 60: Teams trade buckets, but FSU breaks Gonzaga's press and Cofer finishes at the basket while being fouled. Officials review for a flagrant as Norvell came down around Cofer's head, and call a flagrant one to give FSU the ball back after Cofer's free throws.
2:17 – Florida State 67, Gonzaga 58: Big 3-pointer in the corner from Norvell gets GU within nine, but the whistles are starting to come out quicker as FSU will likely spend the rest of this game at the charisty stripe.
Time called for something, likely blood, on the court, giving both teams a chance to breathe.
4:00 – Florida State 66, Gonzaga 55: Johnathan Williams putting in work on both the offensive and defensive glass to give the Zags some second-chance looks.
Florida State also not helping its case with some sluggish offense, including just one bench point this half.
Terance Mann continues to keep FSU on top with a huge dunk on Kispert, but the freshman responds on the other side with a 3-pointer to get him to six points.
Florida State with a couple of high-percentage buckets though, including a massive put-back slam from Cofer.
Mann up to 18 for FSU.
7:41 – Florida State 57, Gonzaga 51: Rui roaring to life with a pair of blocks and a jumper.
Norvell adds a wide-open triple as Gonzaga once again storms right back into the game.
Rui up to 16 points, nine boards and a pair of blocks to lead GU in all three categories. Problem so far for GU coming from bench production, as Corey Kispert's first-half free throw is the only bench point so far.
Former North Idaho star Braian Angola with a strong take to the bucket for the Zags to get him to eight points. Kispert also gets a bucket on a nifty move at the basket.
11:42 – Florida State 52, Gonzaga 44: Zags get the scoring run to 8-0 before an Angola triple for FSU. Johnathan Williams also picks up his third foul for the Zags, grabbing at the arm of Koumadje on a rebound.
Speaking of foul trouble, four FSU players now with three fouls.
Nice dribble and jumper for Hachimura gets him up to 14 points along with eight rebounds.
Hachimura again blocked from behind as Mann throws down another breakaway dunk.
15:46 – Florida State 45, Gonzaga 38: Hot start to the half from the Seminoles, as GU looked out of sorts in the first two minutes. FSU attacking the paint, trying to draw a third foul on either Hachimura or Williams.
Fast FSU start emphasized by a massive block on Hachimura after a sweet no-look pass from Perkins, resulting in an easy slam on the other end for the Seminoles.
GU snaps a nearly six-minute scoring drought with a Melson 10-footer, as he's up to seven points. That's followed by a Norvell triple, his first of the game.
First half
Halftime – Florida State 41, Gonzaga 32: Foul trouble took a toll on the Seminoles in the first half, as Cofer picked up his second and Angola has three.
Unfortunately for GU, CJ Walker found his stroke from deep and has hit three 3-pointers so far to lead the Noles with nine points.
Zags led in scoring by Rui with nine points, while Williams has eight.
Seminoles end the half on a steal and buzzer-beating two-point bucket from Brandon Allen.
GU shooting 34.5 percent overall and just 10 percent from deep, while FSU is shooting 46.4 percent from the floor and 38.5 percent from 3-point range. Zags 11 of 18 from the free-throw line.
Gonzaga outrebounding FSU 22-20, but has seven turnovers to six for Florida State.
3:20 – Florida State 30. Gonzaga 29: Bulldogs finally get one to fall from deep as Josh Perkins hits GU's first 3-pointer of the night.
Worth watching every foul for GU as Johnathan Williams is the first to pick up two. With Tillie out, the GU bigs will have to keep it clean the rest of the game.
Add Rui to the two-foul lost as he picks his up just a minute after Williams.
Bulldogs doing a great job on FSU standout Phil Cofer so far. The senior forward has been held scoreless after averaging 12.9 points per game this season.
7:29 – Florida State 23. Gonzaga 21: Good news for the Zags as they get into the bonus with more than half of the half to go as FSU is up to nine fouls, including two on 7-foot-4 Christ Koumadje.
Bulldogs doing most of their damage inside as the guard combo of Perkins and Silas Melson have yet to get it going on offense. Hachimura has seven for GU, while Williams is up to six.
GU uses an 10-0 run to climb right into this one
Bulldogs shooting 36.8 percent from the floor, but have yet to make one from deep.
Both teams have turned the ball over five times as well.
Bulldogs have shut down the FSU offense by switching to the zone defense. Seminoles look lost against it so far.
11:37 – Florida State 18. Gonzaga 11: Quick 11-0 run from Florida State, sparked by a PJ Savoy 3-pointer. Hachimura answers back with five straight points of his own, but the Seminoles are dominating in the paint with great ball movement.
Florida State has also played 10 guys already. Incredible depth that Gonzaga will have to challenge tonight.
Adding to GU's troubles inside is an 0 for 6 start from 3-point range, including a couple very deep misses by Josh Perkins.
Terance Mann and Ike Obiagu with four points apiece for Florida State.
15:52 – Gonzaga 6, Florida State 5: Big news right at the start of this one as Killian Tillie is out for Gonzaga after re-aggravating a hip injury in warmups. Hachimura with the start in his place.
Both teams still looking to get in an offensive groove to start this one, especially after seeing the fireworks Michigan put up in the first game.
Johnathan Williams, Josh Perkins and Zach Norvell Jr. all with two points for GU. Florida State's Braian Angola with a tough opening stretch. He has one point, two turnovers and a foul.
Jeremy Jones the first Gonzaga player off the bench, as GU's normal bench options now limited to Jones, center Jacob Larsen and guard Corey Kispert.
---