Sports > NCAA basketball
Freshman phenom Chennedy Carter, Texas A&M ready for showdown with top-seeded Notre Dame in the Arena
March 23, 2018 Updated Fri., March 23, 2018 at 10 p.m.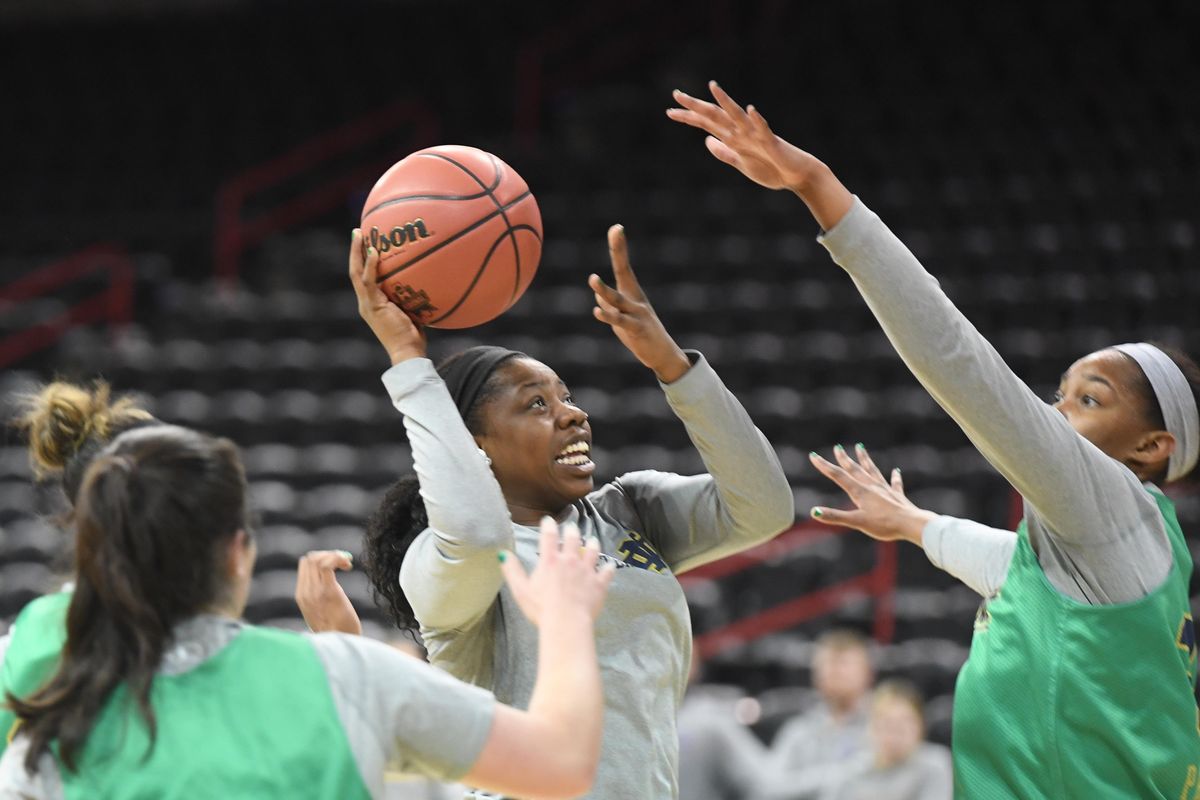 Notre Dame's Arike Ogunbowale drives into the lane during open practice, Friday, Mar. 23, 2018, at the Spokane Arena on the day before the regional Sweet 16 games kick off. (Jesse Tinsley / The Spokesman-Review)
It was the shot heard 'round the NCAA Tournament.
And it was a shot viewed time and time again this week thanks to the internet.
The Texas A&M women's basketball team is in Spokane because 5-foot-7 true freshman guard Chennedy Carter hit a winning 3-pointer to cap a 17-point comeback against DePaul.
Carter's heroics landed fourth-seeded Texas A&M (26-9) a Sweet 16 date against top-seeded Notre Dame (31-3) this afternoon in the Spokane Regional at the Arena. Tipoff is at 1 p.m.
After a missed DePaul shot, Carter demanded the ball and juked past two defenders before using a between-the-legs dribble and crossover to gain enough separation to launch the final shot.
"I turned to coach and he wasn't going to call a timeout," Carter said about the final seconds. "I figured that he would let me do what I do. I knew that I had to make a big shot."
Carter, the national freshman of the year, had five points on 2-of-9 shooting at halftime before breaking loose for 32 in the final two quarters.
"I'm on the court just watching her and I'm like, 'Man, this is incredible,' " senior teammate Khaalia Hillman said. "She's only 19 years old. She's only 19 years old. She's got three more years. Y'all get three more years of that, so y'all better enjoy it."
It wasn't Carter's first winning shot this season. In mid-December, when she broke the Aggies' single-game scoring record with 46 points, Carter had the final shot in a 75-74 road win over USC.
Longtime Aggies coach Gary Blair has tried to let Carter be who she is and not try to control her.
"This isn't just a kid just slipping in through the cracks. This is the most highly recruited kid that we've ever had since probably Kelsey Bone," Blair said. "Her basketball IQ is off the charts.
"Sometimes when you're coaching a point guard it's a love-hate relationship until they get on the same page as you as a coach. You have to adjust as a head coach. You have to let a kid feel her way. … But she can do it all."
Carter is humbled by the success and accolades.
"I don't actually think that I can do things until I get out there and do them," Carter said. "I try to be very humble in regard to what I can do on the court, but I'm confident in the things that I've done, because I've put a lot of work in.
"I didn't imagine a season like this, but I'm blessed enough to have one like this. It's been a big special journey for me so far."
The Irish are quite aware of the freshman phenom.
"We've been working on some defense (against Carter)," Notre Dame guard Jackie Young said. "I think with what the coaches have planned, we'll be fine."
Irish Hall of Fame coach Muffet McGraw has watched much video of Carter going back to last summer.
"She's a phenomenal player," McGraw said. "She's really transformed her body. She's really hard to guard, because she can put it on the floor, get it to the rim, pass (and) score from just about anywhere on the floor.
"She's really, really dangerous. She's going to be a huge challenge for us."
Keys to the game
Notre Dame: Containing Texas A&M guard Chennedy Carter, who averages a team-leading 22.4 points per game.
Texas A&M: Staying out of foul trouble, especially inside.
Local journalism is essential.
Give directly to The Spokesman-Review's Northwest Passages community forums series -- which helps to offset the costs of several reporter and editor positions at the newspaper -- by using the easy options below. Gifts processed in this system are not tax deductible, but are predominately used to help meet the local financial requirements needed to receive national matching-grant funds.
Subscribe to the sports newsletter
Get the day's top sports headlines and breaking news delivered to your inbox by subscribing here.
---