Sports > National sports
Martin Truex Jr. on the pole after weather washes out qualifying
UPDATED: Sat., March 24, 2018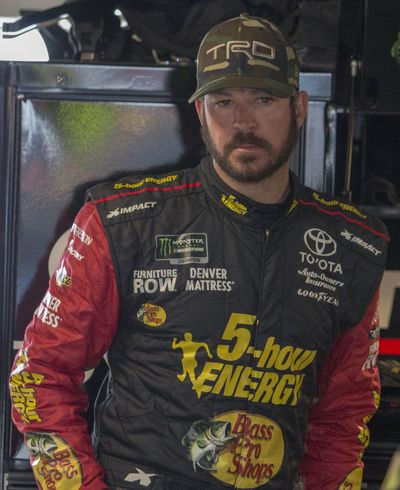 AP Photo VAMB111
MARTINSVILLE, Va. – Weather washed out qualifying for NASCAR's first stop this season at a short track and Martin Truex Jr. will start Sunday from the pole at Martinsville Speedway.
There was no qualifying session because of a wintry mix that moved through the Virginia area and halted the Truck Series race after just 23 laps Saturday. NASCAR postponed the Truck Race and set the Cup field by owner's points.
The Truck Race is now scheduled to resume after Sunday's Cup event.
Truex is the defending Cup Series champion and is coming off his first victory of the season last week in California. He led both of Saturday's practice sessions, which NASCAR was lucky to get in before the weather disrupted its first two-day "enhanced weekend" of the year.
NASCAR is trying a new attack in certain markets in which cars are only on track for two days instead of three, it saves teams money and gives the drivers time to do fan events.
NASCAR was hopeful the weather would clear and both Cup and Trucks can be completed on Sunday. Next weekend is the first scheduled break for the Cup Series since the season began in early February at Daytona.
Brad Keselowski is the defending race winner and Jimmie Johnson, who has opened this season in a slump, leads all active drivers with nine victories at Martinsville. When asked how he can get a 10th victory at Martinsville, Johnson quipped: "I think survive the snowstorm and see what happens with the weather."
Much has been made about the slump for the seven-time champion, who is in a 28-race winless streak dating back to last June. One driver who didn't have much sympathy for Johnson's plight was Keselowski. "It's hard to feel bad for a guy who has won 83 races. There are a lot worse problems going on in the world," Keselowski said.
Local journalism is essential.
Give directly to The Spokesman-Review's Northwest Passages community forums series -- which helps to offset the costs of several reporter and editor positions at the newspaper -- by using the easy options below. Gifts processed in this system are not tax deductible, but are predominately used to help meet the local financial requirements needed to receive national matching-grant funds.
Subscribe to the sports newsletter
Get the day's top sports headlines and breaking news delivered to your inbox by subscribing here.
---