A&E > Books
Northwest Passages Book Club: Tod Marshall headlines 'My Town Poetry Night' on April 11
Sat., March 24, 2018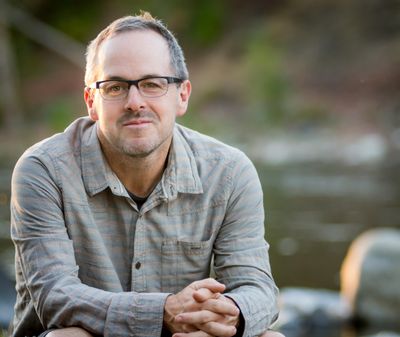 And after two years on the road as Washington's poet laureate, Tod Marshall is back home in Spokane and savoring the quiet.
He has sworn off Twitter. He's writing more than performing. And he's reflecting on his wildly contrasting speaking experiences at schools, libraries, museums, bars, coffee shops and prisons in all 39 Washington counties during this bizarre and divisive political era.
He describes his perfect Spokane day this way: Wake up. Read for an hour. Get a draft of a poem scribbled. Walk somewhere with his wife and dog. Shoot some baskets with his son, Henry. Shoot the bull with his other son, Lincoln. Cook a dinner with lots of vegetables. Walk by the river as the sun sets.
On April 11, Marshall joins The Spokesman-Review's Northwest Passages Book Club to talk about his experiences as poet laureate and how he's managed to build a successful career as a professional poet.
In an interview ahead of his book club visit, Marshall shared his thoughts about living and writing in Spokane.
Why he's a poet: "I've always been a reader; escaping into the worlds that language makes. Poetry became a pursuit when I was 19 or 20 – although many forms of writing matter to me, I found myself most interested in the musicality of poetry."
Favorite place to read: "On the couch with my dog; if I'm out and about – The Rocket or Atticus or Indaba. I'm not picky."
What brought him here: "I moved here in 1999 to teach at Gonzaga University. I had previously lived here from 1990 to 1992 when I attended Eastern's Masters of Fine Arts program in creative writing."
What keeps him here: "A sense of place drives many writers – and I know this city and region compel my work: from the topography (mountains and scablands, forests and plains) to the history (mining, railroads, and timber; exploitation and opportunity, booms and crashes) to the landmarks (Davenport, Ridpath, the falls, Manito, Cutter, Ming Wah, the twin spires of Gonzaga) to the tones and energies and voice of this city (a certain self-loathing and grittiness that characterize the struggles and charms and beauty of Spokane).
"Or to put it another way: I love living at the edge of the desert, where mountains meet fields and deserts; I love the old buildings in our largely intact central core; I love how our city struggles to define itself. I love the geological history – the Clark Fork Ice Cork and ravaging that became the Palouse. I love that (American poet) Vachel Lindsay lived here. I love when the springtime waterfall rages with all the force and desperation of those who want to leave the city, and I love when September turns the river into the slow current that is not unlike the steady return to this city of many of those who have left."
Favorite spot: "I love my 'hood – Peaceful Valley. Basketball and futsal and fishing and deer and marmots and raccoons and, hmm, maybe the best word is a certain, umm, 'character.' "
Favorite place to eat: "Well, I loved Milford's, and I'm very sad to see it close – from dates there with my wife, Amy, to Gonzaga Visiting Writing Series dinners there with Robert Hass and others. Wild Sage, the Lantern, Mizuna, Wandering Table – lots of good spots in our city."
Pet peeve: "Makes me sad how people tend to be tethered to their phones – but I guess that's not a pet peeve; how about this: off-leash dogs! Failure by drivers to yield to pedestrians! All the construction downtown!"
If he were mayor for a day: "Sponsor weekly community forums where citizens and elected officials engage in open dialogue about the arts, ideas, a common text –heck, maybe even a poem."
On his time as poet laureate: "My impressions tend to be driven by contrasts. I served in this role during a very divisive political time. Given that my messages revolved around asking people to think about how words matter, what words matter, and why words matter, I was (and am) continually struck by how few people seem to share this assumption.
"And yet I also found myself frequently stunned by how dedicated and enthusiastic people – particularly young people – were about the arts. Last of all, at a moment when so many people seemed so xenophobic, so closed-minded toward those whose ideologies were different from their own, I encountered generosity in so many communities throughout our state: I'll never forget how many people invited me into their homes, their schools, their libraries, their communities – where they asked me to break bread and share words. Such beautiful hospitality."
Tod Marshall's Top 10
What are you …
1. Reading: Essays and nonfiction. Charles D'Ambrosio, Joan Didion. Just finished "Evicted" by Matthew Desmond. Reading history books. I'm also trying to enjoy the rhythms of the sentence, the unique ways that phrase can break up the track of thinking, suspend conclusions, keep us guessing toward closure. I'm also interested in the quick finish: I'm reading lots of newspapers.
2. Recommending (a poem every person should read): Really hard to choose one. How about two poems and two essays? "One Art" by Elizabeth Bishop. "Those Winter Sundays" by Robert Hayden. "Life Without Principle" by Henry David Thoreau and "Claiming an Education" by Adrienne Rich.
3. Watching: "Dark," "Game of Thrones," "Homeland," "Mind Hunter" – lots of good ones. Gonna check out "The Alienist" next.
4. Listening to: Japanese Flute music. A big stack of things from KPBX record sale: Missa Luba, the Ramsey Lewis Trio, Louis Prima, Dan Hicks, Ella Fitzgerald.
5. Following on social media: I'm actually nixing social media from my life. Good riddance.
6. Planning: Going to Italy for three weeks this summer!
7. Inspired by: Reading. Music. The dedication and hard work of my wonderful wife. She's a high school teacher.
8. Imagining: A new political era in our country where words matter.
9. Challenged by: My inability to imagine No. 8.
10. Adding to my bucket list: Keep reading. Travel to several more countries. Improve my cast and drift. Keep working on my three-point shot.
Author bio: Tod Marshall
Career: Washington state poet laureate 2016-2018; Gonzaga University professor. 
Background: Born in Buffalo, New York, grew up in Wichita, Kansas.
Education: Studied English and philosophy at Siena Heights University, earned a Master of Fine Arts from Eastern Washington University, and graduated with his doctorate from the University of Kansas.
Books: His work includes "WA129," the 2017 anthology of Washington state poets he edited, and "Bugle," winner of the 2015 Washington State Book Award for poetry.
Website: www.todmarshall.com
Donna Wares is a senior editor at The Spokesman-Review and runs the Northwest Passages Book Club, a community forum featuring live events. You can reach her at donnaw@spokesman.com.
Local journalism is essential.
Give directly to The Spokesman-Review's Northwest Passages community forums series -- which helps to offset the costs of several reporter and editor positions at the newspaper -- by using the easy options below. Gifts processed in this system are not tax deductible, but are predominately used to help meet the local financial requirements needed to receive national matching-grant funds.
Subscribe to the Spokane7 email newsletter
Get the day's top entertainment headlines delivered to your inbox every morning.
---