Sports > NCAA basketball
Oh Blue!: Michigan nips Florida State 58-54 to reach Final Four
March 24, 2018 Updated Sat., March 24, 2018 at 11:16 p.m.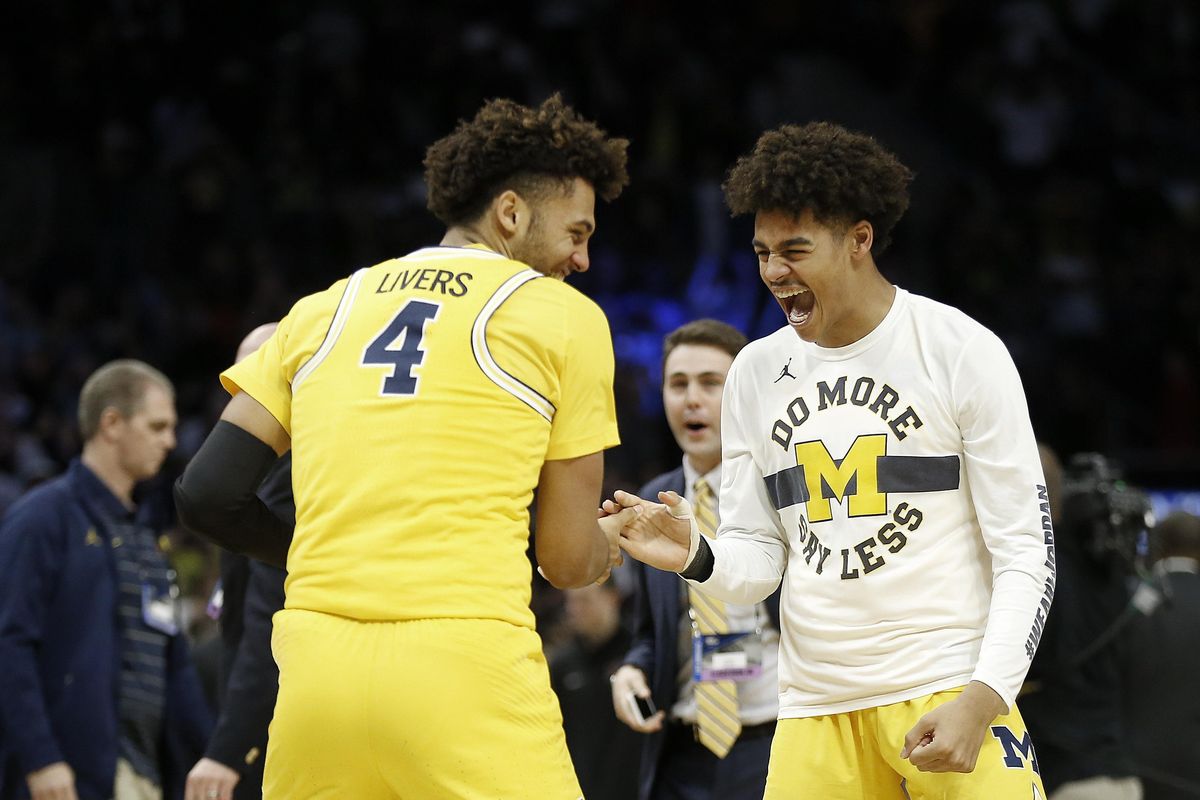 Michigan forward Isaiah Livers (4) celebrates with teammates after Michigan defeated Florida State in an NCAA men's college basketball tournament regional final Saturday, March 24, 2018, in Los Angeles. (Alex Gallardo / AP)
LOS ANGELES – Moe Wagner climbed the ladder, snipped the final strand and whipped the net around his head while thousands of Michigan's West Coast fans roared.
The Wolverines hadn't caused much disturbance to those nets at Staples Center during the West Region final. They also knew it didn't matter, because Florida State troubled the twine even less.
When shots aren't falling, Michigan knows it can rely on defense, discipline and tenacity. And by doing all the hard things, the Wolverines muscled their way to the Final Four.
Charles Matthews scored 17 points and Michigan earned its first Final Four berth since 2013 with a 58-54 victory over the Seminoles on Saturday night.
"I've never seen a team work so hard and be so connected on both ends of the floor," Michigan coach John Beilein said. "Even when things do not go right on the offensive end, they were exceptional on defense."
Wagner added 12 points as the Wolverines (32-7) earned their 13th consecutive victory by persevering through a defense-dominated second half despite shooting 4-for-22 from 3-point range.
After taking a 10-point lead on Duncan Robinson's 3-pointer with 2:26 to play, Michigan's lead dwindled to three before P.J. Savoy missed a potential tying 3-pointer for Florida State with 58 seconds left. The Wolverines held off a late charge from the Seminoles (23-12), who had already knocked off three higher-seeded opponents, including Gonzaga, on their school's longest NCAA Tournament run since 1993.
"We take pride in our defense, so we believe in ourselves," said Michigan guard Muhammad-Ali Abdur-Rahkman, who scored nine points on 3-of-9 shooting. "We knew we had to get stops. We weren't making free throws. That comes with the game sometimes. We just had to continue to get stops."
With tenacious defense and just enough made free throws down the stretch, Michigan held on and advanced to San Antonio, Texas, next weekend to face the underdog heroes of Loyola-Chicago (32-5), who stunned the sport by winning the South Region.
The third-seeded Wolverines are much less of a surprise, but the achievement is no less impressive for Beilein's squad, which wore its "Do More, Say Less" shirts throughout the week.
Michigan let its fans do the talking: The Wolverines had a distinct home-court advantage from thousands of vocal fans packed into the lower bowl of the Lakers' and Clippers' home arena.
"I felt like we were in Ann Arbor," Beilein said.
Phil Cofer scored 16 points for the ninth-seeded Seminoles, who couldn't match their late rally past top-seeded Xavier last Sunday because they simply couldn't score consistently, going 7 for 30 from the field in the second half.
"Even though we were getting good stops, we couldn't get into our offensive flow because they were doing a good job defensively," Florida State coach Leonard Hamilton said. "When we did get into the lane, we didn't finish our plays. The thing about Michigan's team, they are not totally defined by one particular player. They're a complete basketball team."
Savoy trimmed the Wolverines' lead to 55-52 on a 3-pointer with 1:17 to play. With Michigan fans holding their breath, Savoy then missed a potential game-tying 3-pointer and two more 3-pointers in the final minute, including a final shot under pressure with 12 seconds left.
"They call themselves the junkyard dogs," Beilein said, referring to Florida State's nickname for its defense. "Well, we're pit bulls."
Michigan's Zavier Simpson and Robinson combined to hit three free throws in the final minute to keep Florida State at bay.
And with Michigan up by four, Florida State allowed the Wolverines to dribble out the clock without fouling again.
Local journalism is essential.
Give directly to The Spokesman-Review's Northwest Passages community forums series -- which helps to offset the costs of several reporter and editor positions at the newspaper -- by using the easy options below. Gifts processed in this system are not tax deductible, but are predominately used to help meet the local financial requirements needed to receive national matching-grant funds.
Subscribe to the sports newsletter
Get the day's top sports headlines and breaking news delivered to your inbox by subscribing here.
---