Sports > NCAA basketball
Ruthy Hebard leads Oregon to 83-69 win over Central Michigan in Sweet 16
March 24, 2018 Updated Sat., March 24, 2018 at 11:14 p.m.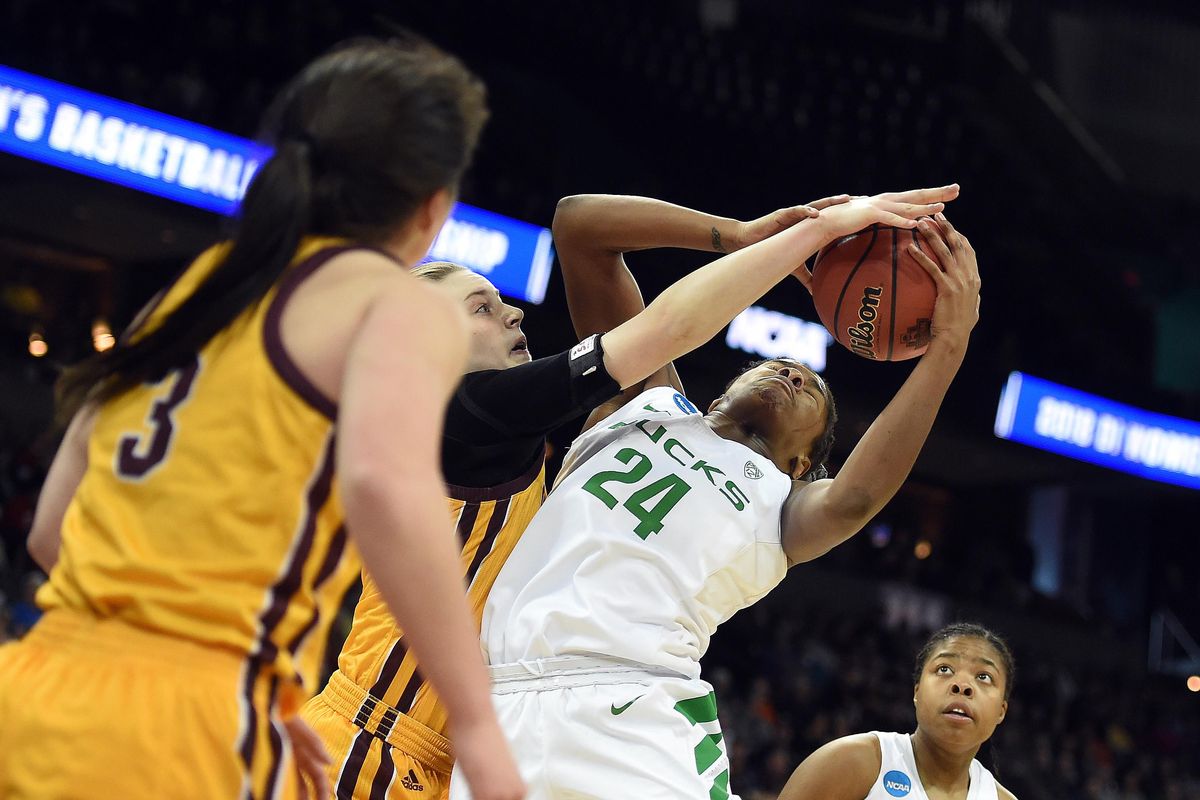 Oregon forward Ruthy Hebard (24) hauls in a rebound during a NCAA regional semi-final basketball game, Sat., March 24, 2018, in the Spokane Arena. (Colin Mulvany / The Spokesman-Review)
The Oregon women faced a different kind a pressure Saturday afternoon, and they handled it just fine.
A year ago, the Ducks were the surprise team of the NCAA Tournament, a double-digit seed on a deep run – just like this year's Central Michigan Chippewas.
They met at the Arena on Saturday to decide an Elite Eight berth – and something just as important: This deep in the tournament, could the Ducks handle being the heavy?
Oregon answered both questions emphatically, beating the Chippewas 83-69 to advance to Monday night's regional title game against Notre Dame.
For coach Kelly Graves, that said a lot about the Ducks' emotional growth since their surprise Elite Eight run last year.
"Last year we didn't know what the heck we were doing, and that kind of ignorance really helped us," Graves said. "We were playing well, but we didn't know."
They know it now. Owners of Pac-12 regular-season and tournament titles and a 33-4 record, the second-seeded Ducks know they belong.
"We deserve to be where we're at, we worked very hard to get here the last two years," said sophomore guard Sabrina Ionescu.
"So we have to come out and play with an edge, play as hard as we can, just enjoy the moment."
The Ducks had a few early jitters on the offensive end against Central Michigan, which came into the Sweet 16 having won 22 of its previous 23, including a 95-78 win at Ohio State on Monday.
Except for a brief letdown in the third quarter, the Ducks played stellar defense against one of the best 3-point-shooting teams in the nation.
The Ducks set the tone in the first quarter, holding the Chippewas to 5-for-17 shooting and just 2 for 9 from long range.
While Chippewas coach Sue Guevara lamented long-range "open looks that usually go in, but didn't today," the Ducks had something to do with that.
"I thought we did a pretty good job actually on their shooters for the most part," Graves said. "I don't know what she (Guevara) would define as 'open,' but we all miss some."
CMU trailed 24-12 after one quarter and 40-25 at halftime, its lowest first-half point total of the season. Guard Presley Hudson, one of the top 3-point shooters in the nation, didn't score until hitting a buzzer-beating 3-pointer at the end of the half.
At the other end, Oregon got the ball to forward Ruthy Hebard. Four minutes in, Hebard had six points and four rebounds while battling with CMU's Tinara Moore.
"Yeah, she's definitely a great post player, really physical," Hebard said of Moore. "Fun to go against an elite post, best in her league. Yeah, it was really fun."
The fun only got better for Hebard, who was 11 for 16 from the field and finished with team highs of 23 points and 14 rebounds. She also had six blocks.
The Oregon lead grew to 16 early in the third quarter before CMU found its range and got within nine points at 55-46 with 4:36 left in the third.
"We just kept fighting," Guevara said. "We just couldn't get over that hump."
Ionescu,who found her groove in the second half, finished with 16 points, 10 assists and nine boards.
Asked later if she knew that she was so close to a triple-double, Ionescu glanced at the stat sheet and said, "No, I wasn't. Now I am."
Lexi Bando added 14 points and Spokane native Oti Gildon had 10, along with seven rebounds.
Moore had 23 points and 14 boards for the Chippewas (30-5).
Local journalism is essential.
Give directly to The Spokesman-Review's Northwest Passages community forums series -- which helps to offset the costs of several reporter and editor positions at the newspaper -- by using the easy options below. Gifts processed in this system are not tax deductible, but are predominately used to help meet the local financial requirements needed to receive national matching-grant funds.
Subscribe to the sports newsletter
Get the day's top sports headlines and breaking news delivered to your inbox by subscribing here.
---