News > Spokane
78 percent of gun deaths in Washington are by suicide. A new program to change that targets gun owners.
Sun., March 25, 2018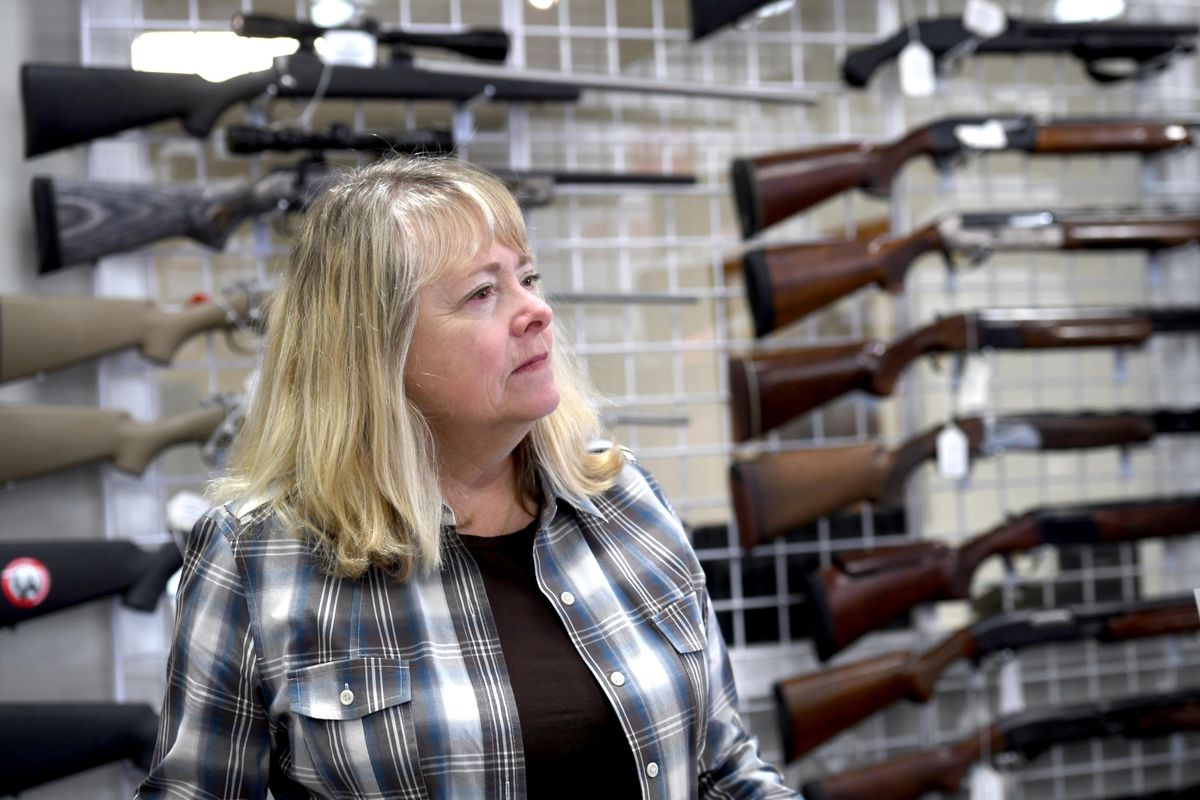 Robin Ball, owner, Sharp Shooting Indoor Range and Gunshop talks about home safety at her shop in Spokane on Monday, March 19, 2018. (Kathy Plonka / The Spokesman-Review)
The young man was alone when he walked into Robin Ball's gun shop.
Ball, the owner of Sharp Shooting Indoor Range and Gunshop, recognized him because he often came in to shoot with his uncle. He rented a gun to take out on the range. It was a normal transaction.
Ball said she believes he waited until the range was quiet. Then he turned the gun on himself and took his own life.
"It rocks your world. You kind of look at that and say, 'What could we do to stop it?'" she said.
As student activists from Parkland, Florida have put a national spotlight on school shootings and gun violence, an unlikely coalition of public health workers and members of the gun industry have been working together to stop a far more common, far less talked about cause of deaths involving firearms: suicide.
According to a Spokesman-Review analysis of state death records, 4,164 people in Washington ended their lives with a firearm between 2010 and 2017. That accounts for almost half of all suicides and 78 percent of gun deaths.
Among other findings:
85 percent of gun suicides are men and boys, whereas men and boys make up 77 percent of suicides overall

The youngest of the dead were a pair of 12-year-olds, and a total of 208 teenagers killed themselves over the eight-year period

The oldest suicide was a 101-year-old man, and 63 people were 90 or older

Handguns were the cause of death in 59 percent of gun suicides, and rifles and shotguns in 18 percent.
The toll is especially pronounced in rural counties, where suicides rates are typically higher, and where a greater percentage of suicides involve a firearm, according to Department of Health data.
Ball has had people close to her die by suicide. Some used a firearm, and some chose other methods. But the young man's death in her shop pushed her to re-train her staff.
She's now one of the first Spokane gun retailers involved in the Safer Homes Coalition, an effort to train firearms retailers and pharmacists on suicide prevention to help them avoid supplying the means for someone to take their own life.
On a daily basis, that mostly means talking to customers about safe storage at home. Gun owners often think about making sure young children can't reach firearms at home, but Ball's job is to point out that older family members in crisis are a far bigger risk.
"Do you have crazy hormonal teenagers in your home?" she asks customers. "They can't go to a store and have one, and why would you let them have one at home?"
The coalition's work is based on decades of research showing that limiting a suicidal person's access to a means of suicide is effective at reducing risk.
That idea isn't always intuitive, and many people mistakenly believe that if someone wants to end their own life, they'll find a way to do it. But in many cases, a suicide attempt is made impulsively.
A number of studies cited by Harvard's T.H. Chan School of Public Health found that the time between when somebody begins having suicidal thoughts and the time they attempt to take their own life is under an hour. In one study interviewing 153 survivors of a suicide attempt, nearly one-quarter said they'd deliberated for less than five minutes.
"Oftentimes, people are experiencing an inordinate amount of pain and it's not that they want to die, they want their pain to end," said Sabrina Votava, president of FailSafe for Life, a Spokane suicide prevention group. "If you reduce ready access to a method, then our rates go down."
Firearms are usually at the top of the list for people focused on prevention because they're an especially effective method of suicide. About 83 percent of suicide attempts with a firearm are fatal, compared to just 61 percent of suffication or hanging attempts, and 1.5 percent of drug or poison ingestion attempts, according to a 2000 study in the American Journal of Public Health.
The Safer Homes Coalition is a partnership between Forefront Suicide Prevention, a University of Washington social impact center, and the Second Amendment Foundation, a Washington group that educates and lobbies in favor of the right to private gun ownership.
Jennifer Stuber, a UW social work professor, is the founder of Forefront and is a co-chair of the coalition. She started working in suicide prevention in 2011, after losing her husband to a suicide by gun.
"My husband walked into a gun store and within two hours came out of the gun store and ended his life," she said. She realized that even with her social work background, she'd been ill-prepared to help him and pushed for a 2012 law in his memory that required suicide prevention training for mental health professionals in Washington.
Through surveys with firearms retailers, she's found few have any idea how common gun suicides are. Most guess they represent about 20 to 30 percent of gun deaths, rather than 78 percent.
"The numbers are staggeringly off," she said. "I don't think that's any coincidence. It's the way we cover this in the news."
Gun homicides, especially mass shootings, are given attention, while suicides are often not reported on at all to avoid copycat attempts. And people often cite numbers about "gun violence" generally, without separating homicides, suicides and accidental deaths.
The Washington Department of Health typically looks at suicides over a five-year period to determine a rate, since the number in some rural counties is very small.
Washington's suicide rate was 14.9 per 100,000 people from 2012-2016, but there's significant variation from county to county. In Spokane County, the rate is 18.3 per 100,000 people, with about half of those suicides using a firearm. Ferry County has the highest suicide rate in the state with 41.5 deaths per 100,000 people, with 60 percent involving firearms.
Alan Gottlieb, founder of the Second Amendment Foundation, said Stuber approached him about three years ago wanting to partner on suicide prevention. They talked about ways to stop firearm suicides "without demonizing guns or gun owners or gun rights groups," Gottlieb said.
Gottlieb is a well-known conservative political commentator and gun rights activist who's written more than a dozen books in support of the right to bear arms. The foundation has filed suit against a number of states and cities over gun control laws, including Washington's initiative requiring background checks for all private gun transfers outside of immediate family.
If Gottlieb and Stuber were to talk about federal gun policy or how to stop mass shootings, there's probably little they'd agree on. But that doesn't come up in their work, and Stuber said that's essential for success.
"What really makes folks in the firearms community distrustful of these kinds of efforts is they ultimately think it's just a way to take away guns," she said.
Even if there was a significant political push to do it, regulating a way out of high gun-suicide rates would be difficult. Gun control measures proposed after mass shootings typically involve restricting access to high-capacity magazines or particular types of guns with the ability to fire many bullets quickly. While there's significant debate over the effectiveness and constitutionality of those measures, they're typically less controversial than attempts to regulate handguns or hunting rifles.
But 59 percent of Washington gun suicides involve handguns, and, absent a buyback effort, new laws would do nothing about the guns Washingtonians already own.
Washington had more than 585,000 active concealed pistol carry licenses on June 20, 2017, according to an annual report from the Department of Licensing. In February 2018, 53,915 Washingtonians initiated background checks through the FBI's National Instant Criminal Background Check System to purchase a firearm.
Stuber said working with people on the front lines – gun owners, gun retailers and their advocacy groups – is a better strategy for preventing suicides using firearms.
That's what brought Gottlieb to the table. He said the public health approach to gun suicides often treats gun ownership itself as a health problem.
"That pushes gun owners from wanting to work on these areas because what happens is they feel their rights are under attack and they feel threatened," he said. "You can't attack the person, their lifestyle, the fact that they own firearms and expect them to work with you on suicide prevention."
The prevention work they do is targeted at nearly every stage of the supply chain for both firearms and medication. Safer Homes representatives attend gun shows to talk to people about safe storage for both guns and medications, and hands out lockboxes so people can keep potentially lethal items safe. They also educate people about signs someone is in crisis, and what to do in those cases.
They've worked with veterans groups and hunting instructors to train people. And they tell people that when someone is in crisis, the best thing they can do is temporarily limit their access to firearms and other means. That means taking guns out of the home if someone is temporarily in crisis, or at least removing ammunition.
Gottlieb said they also want to encourage gun owners to seek help proactively if they're the ones in crisis. For a veteran who's struggling with thoughts of suicide, that might mean calling up a buddy and asking if he can hold on to your guns until you're feeling better.
"If they're having a crisis, they don't want to hand their gun over to the government because they don't necessarily trust the government with their gun rights," Gottlieb said. Calling a friend or family member is often more doable.
That temporary transfer is legal under Washington law, though it was briefly illegal after Washington's Initiative 594, passed in 2014, began requiring background checks for all private gun sales or gifts other than those between immediate family members. Meant to close background check loopholes on private gun sales, the measure effectively made it a crime for a friend to temporarily take their friend's guns to prevent a suicide.
A new law passed by the Legislature in 2017 added an exemption to temporary transfers to prevent suicide or bodily harm, so long as the person receiving the transfer does not use the guns and returns them after the period of crisis.
It's hard to measure suicides that don't happen, but Gottlieb said he's had people approach him and talk about relatives they've had who were in the midst of a crisis, or tell the group that their training may have saved a life. He's hopeful they're helping create a culture where suicide is openly discussed among gun owners.
"In the gun community it wasn't really talked about much at all," Gottlieb said. "Somebody in your family dies by suicide and you don't really want to talk about it."
For retailers like Ball, having that awkward conversation is part of the battle. She tells new gun owners that safe storage methods need to be factored into their budget for a firearm, and explicitly brings up the possibility of suicide when talking about risk reduction.
If her staff deny a gun sale for any reason, even if it's just a general feeling of uneasiness, she'll back them up. And they're all trained to look for signs someone might be planning a suicide with a gun and to ask the customer directly about their plans. If a customer questions their policies about rentals for the range or anything else, "We'll just tell 'em – this is suicide prevention," she said.
Stuber said there's a lot of progress to be made by educating people about how common firearm suicide is, and how simple steps can drastically reduce risk.
"Let's make sure people understand that when we're talking about firearms, the most important risk we need to prevent against is suicide, and we can do some thing about that right now, today," she said.
Local journalism is essential.
Give directly to The Spokesman-Review's Northwest Passages community forums series -- which helps to offset the costs of several reporter and editor positions at the newspaper -- by using the easy options below. Gifts processed in this system are not tax deductible, but are predominately used to help meet the local financial requirements needed to receive national matching-grant funds.
Subscribe now to get breaking news alerts in your email inbox
Get breaking news delivered to your inbox as it happens.
---