Sports > NCAA basketball
Fighting Irish toughen up in second half to fend of Ducks
Mon., March 26, 2018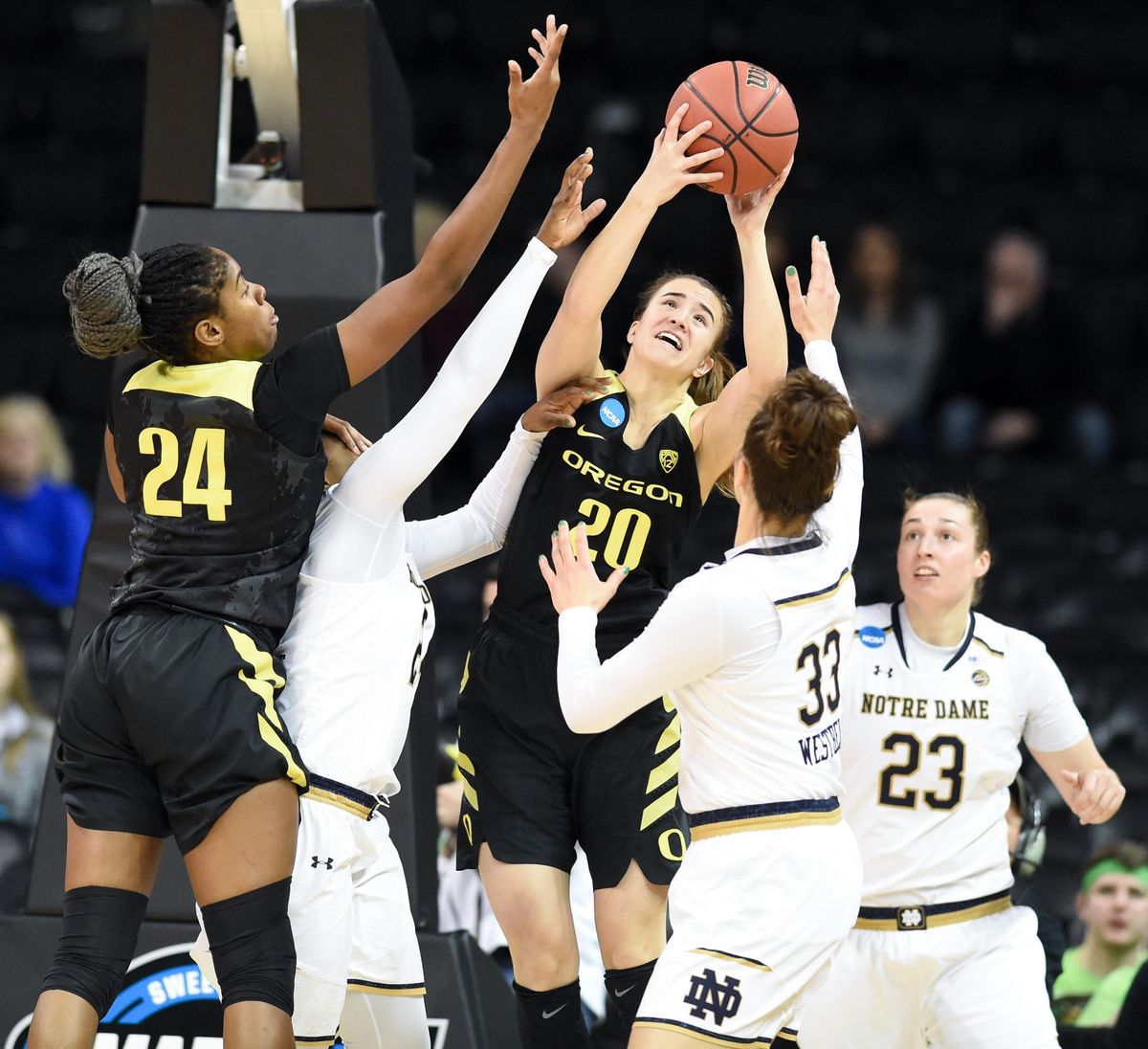 Oregon Ducks guard Sabrina Ionescu (20) rebounds the ball against the Notre Dame Fighting Irish during the first half of a 2018 NCAA Women's Elite Eight basketball game on Monday, March 26, 2018, at Spokane Arena in Spokane, Wash. (Tyler Tjomsland / The Spokesman-Review)
Losing coach Kelly Graves called it before the game: The toughest team will win.
All season long and again on Monday night, that was Notre Dame, which outfought Graves' Oregon Ducks, 84-74, in the NCAA women's regionals at the Arena.
"We're just relentless," Notre Dame forward Jessica Shepard said.
And unyielding.
In the paint and especially on the boards, the Fighting Irish (33-3) dominated the Ducks to earn a date with 11-time NCAA champion UConn in the national semifinals on Friday in Columbus, Ohio.
It will be Notre Dame's eighth trip to the Final Four. But if Notre Dame has been there, done that before, this one was special to the seven scholarship players who've gutted out the entire season.
Monday's game was no different. Starters Marina Mabrey, Jackie Young and Arika Ogunbowale were on the court all 40 minutes.
After overcoming half a decade's worth of injuries and their own self-doubt to get this far, a six-point halftime deficit was almost trifling.
"We felt we couldn't be worse defensively than we were in the first half," said Notre Dame coach Muffet McGraw, whose team allowed the Ducks to shoot 59 percent from the field and take a 46-40 lead into halftime.
In particular, they Irish struggled to contain Oregon guard Sabrina Ionescu, who earlier on Monday was named to the Associated Press All-America first team.
The Irish came into the game determined to take away the 3-point shot from Ionescu and guard Lexi Bando. Oregon, the most accurate long-range shooting team in the nation this year (40.6 percent), didn't even shoot until early in the second quarter.
Ionescu adjusted on the fly, finding her range on short jumpers on the way the 19 first-half points. Teammate Ruthy Hebard also benefitted from the holes in Notre Dame's defense with 12 points and nine boards.
Fortunately for the Irish, Shepard and senior forward Kathryn Westbeld were doing the same at the other end of the court, combining for 24 points.
The top-seeded Irish stepped up their game in the third quarter.
Said Shepard: "We knew we were a better team than them offensively, we knew it ultimately came down to defense, just getting stops," Shepard said.
"We knew that first five minutes of the third quarter would be really important for us," Shepard said.
It was even more than that, as the Irish utterly dominated every phase of the game, with a 15-4 opening run that was fueled by a ridiculous 11 to 1 rebounding advantage in the first five minutes. They finished with a 51-29 rebounding advantage.
The Irish also threw more double-teams at Ionescu, who was held to nine points in the second half. Her teammates couldn't take advantage, as Oregon shot 3 for 17 in the third quarter.
Asked about Notre Dame's physical play, Graves said "I don't think that's been an issue with us this year."
"It kind of was tonight," Graves said.
"Sure, games like this where they're letting you play, and they did let us play, we didn't respond as well as we should have," Graves said.
Oregon (33-5) was still within six going into the fourth quarter, and got to 65-63 on a layup by Hebard with 5:48 left.
However, the Irish shrugged off the mostly pro-Oregon crowd of 5,226 with more big plays inside: an offensive rebound by Westfeld that led to two foul shots.
At the other end a few seconds later came a game-defining play: Shepard's block of an attempted layin by Hebard. Shepard, who finished with 18 points and nine rebounds, got the baord and later found Westbeld for another layin to put the Irish ahead by eight.
Westbeld, still recovering from an ankle injury, finished with a game-high 20 points.
"The ankle's all right," Westbeld said. "It's sore. It's going to be sore. But this is my senior year … I'm just going to give it my all."
Oregon got back within six with 3 1/2 minutes left, but tournament MVP Ogunbowale and her teammates clinched the game at the foul line in the final two minutes while Oregon continued to misfire.
Notre Dame made 19 of 21 free throws overall.
Local journalism is essential.
Give directly to The Spokesman-Review's Northwest Passages community forums series -- which helps to offset the costs of several reporter and editor positions at the newspaper -- by using the easy options below. Gifts processed in this system are not tax deductible, but are predominately used to help meet the local financial requirements needed to receive national matching-grant funds.
Subscribe to the sports newsletter
Get the day's top sports headlines and breaking news delivered to your inbox by subscribing here.
---