News > Business
Lowe's Chairman and CEO Niblock retiring
Mon., March 26, 2018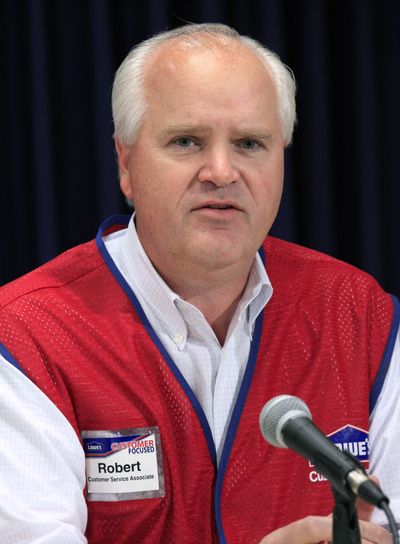 MOORESVILLE, N.C. – Lowe's chairman and CEO is retiring at a time when the home improvement chain is looking to rev up business and compete better with its rival Home Depot.
Investors approved of the move, sending Lowe's shares up more than 5 percent.
Robert A. Niblock, a 25-year Lowe's veteran, will stay in his roles on an interim basis while Lowe's looks for a successor. He has served as chairman and CEO for 13 years.
The company hasn't capitalized as well as Home Depot on the solid housing market, and last month Lowe's posted a 16 percent drop in profit for the fourth quarter and a nearly 2 percent drop in revenue.
Analyst Neil Saunders of GlobalData Retail concluded at the time that "Lowe's ability to capitalize on key trends and dynamics is hampered by the shadow Home Depot casts over the sector." For its fourth quarter, Home Depot saw revenue and profits both rise.
Both Lowe's and Home Depot are heading into their busy spring seasons in a healthy housing market, though there is concern of a slowdown. Mortgage rates have been creeping higher, hitting their highest level in four years in the most recent report. That, coupled with rising home prices, could hamper what has been a persistently strong housing market.
Lowe's has more than 2,390 home improvement and hardware stores.
Its shares had risen 7 percent over the past 52 weeks, and gained $4.47 to $88.24 on Monday. Over the past year Home Depot, which operates more than 2,200 home improvement stores, has seen its shares rise 17 percent to around $174.
Local journalism is essential.
Give directly to The Spokesman-Review's Northwest Passages community forums series -- which helps to offset the costs of several reporter and editor positions at the newspaper -- by using the easy options below. Gifts processed in this system are not tax deductible, but are predominately used to help meet the local financial requirements needed to receive national matching-grant funds.
Subscribe to the Coronavirus newsletter
Get the day's latest Coronavirus news delivered to your inbox by subscribing to our newsletter.
---