A&E > Stage
Review: Spokane Civic Theatre nails classic take on 'Dial M for Murder'
Mon., March 26, 2018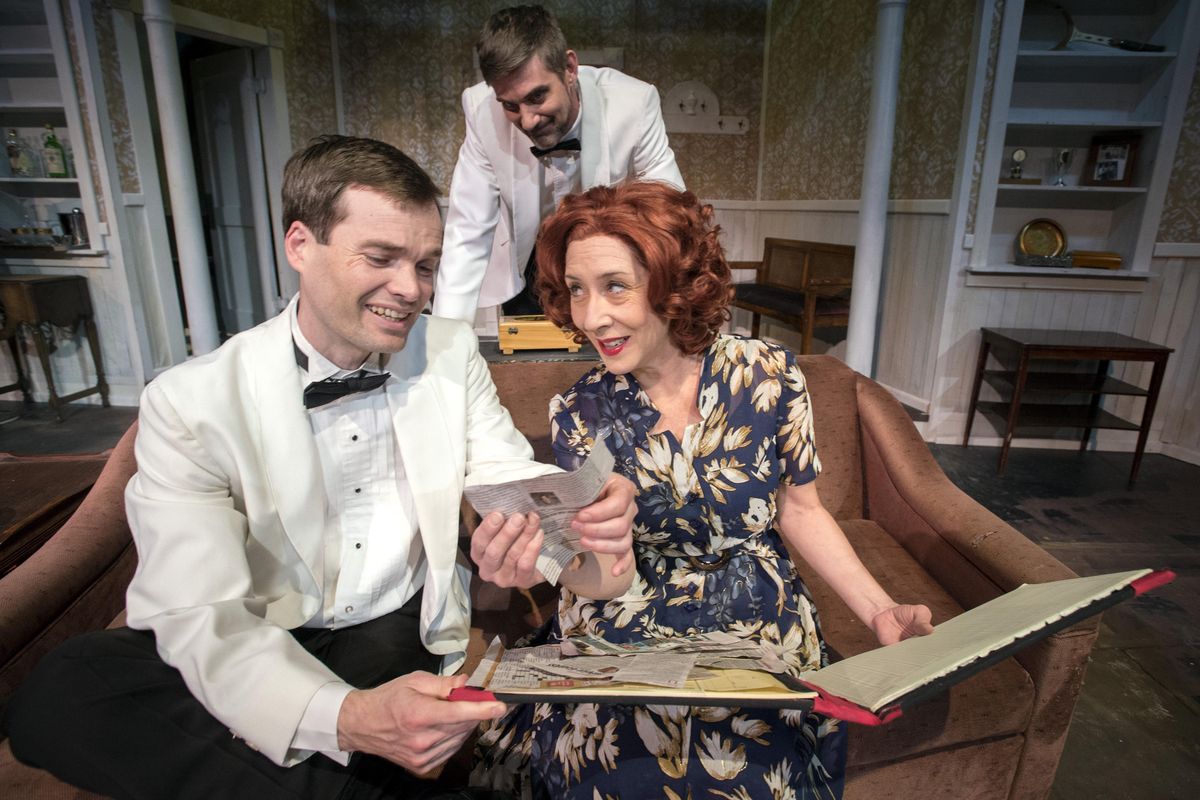 Actors (on couch) Andrew Biviano (Max Halliday), Molly Allen (Margot Wendice) and Patrick McHenry- Kroetch play a scene from Spokane Civic Theatre's production of "Dial M for Murder." (Colin Mulvany / The Spokesman-Review)
In "Dial M for Murder," there's no whodunit, at least from the audience's standpoint, as the person behind the crime makes himself known from the very start.
What isn't known, however, is how everything will turn out for him or the other characters involved in his plot, which makes Spokane Civic Theatre's production of the Frederick Knott play, which he adapted for the Alfred Hitchcock film of the same name, just as suspenseful.
In "Dial M for Murder," directed by Heather McHenry-Kroetch, retired professional tennis player Tony Wendice hires a hit man to murder his socialite wife Margot after discovering her affair with writer Max Halliday and in an attempt to get his hands on her inheritance.
But things start to go awry for Tony after the hit man, not Margot, is killed. He then does all he can to ensure Margot is charged with murder so his original plan is not found out.
"Dial M for Murder" stars Patrick McHenry-Kroetch as Tony Wendice, Molly Allen as Margot Wendice, Andrew Biviano as Max Halliday, Matt Cardoza as Lesgate, Thomas Heppler as Inspector Hubbard and Kaylan Martin as Bobbie and various voices.
Henry-Kroetch was fantastic as Tony, bouncing effortlessly between the charming former tennis player in scenes with Halliday and early scenes with Lesgate, concerned husband and conniving husband who's only after his wife's money.
The sly smirk he gave the audience at one point in the show when it looked like things were going to go his way was perfect.
Allen too was great in her role of Margot, wonderfully portraying the fear, confusion and frustration the character felt throughout the whole ordeal.
Heppler's Inspector Hubbard was so fun to watch as he commandeered the crime scene, and the stage, to piece together what actually happened through a bit of scheming of his own.
Biviano was just right as the usually exasperated Halliday, who tried to use his background as a TV crime writer to figure out what actually happened in order to free Margot.
Biviano and Allen played off each other well, as did Allen and McHenry-Kroetch. Well, when the latter's character wasn't trying to frame the former's for murder, that is.
Though he met an untimely demise, Cardoza was great as Lesgate, going from an old friend of Tony's to co-conspirator in a matter of minutes.
And though he had the smallest role of the night, Martin's brief appearance as Bobbie drew the biggest laugh from the audience.
Scenic and lighting designer David Baker's set was, unsurprisingly, beautiful, and Jan Wanless, in charge of costume design and construction, chose some gorgeous pieces for the cast, especially Allen's dresses.
They say "If it ain't broke, don't fix it" and Civic's true-to-the-original take on this classic stage thriller would surely get playwright Knott's stamp of approval.
Local journalism is essential.
Give directly to The Spokesman-Review's Northwest Passages community forums series -- which helps to offset the costs of several reporter and editor positions at the newspaper -- by using the easy options below. Gifts processed in this system are not tax deductible, but are predominately used to help meet the local financial requirements needed to receive national matching-grant funds.
Subscribe to the Spokane7 email newsletter
Get the day's top entertainment headlines delivered to your inbox every morning.
---