Idaho Legislature wraps up 80-day legislative session without overriding Otter's vetoes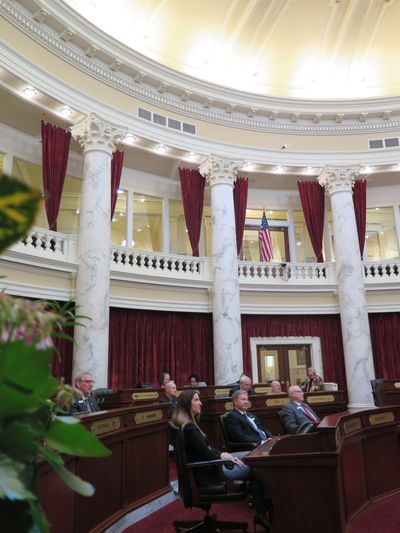 The Idaho Legislature wrapped up an 80-day legislative session Wednesday, opting at the end not to try to override a veto from Gov. Butch Otter, though lawmakers had remained in session five extra days just for that purpose.
Otter on Wednesday vetoed legislation to set up a new certification standard for charter school chiefs that would let them skip the educational requirements other school administrators in Idaho must achieve.
"Effective teachers are the biggest factor in determining student achievement. However, strong school leaders are essential to fostering and supporting effective teachers," Otter wrote in his veto message. "Idaho needs administrators in all public schools, including charter schools, who are not merely building managers or finance officers but also instructional leaders who can establish a positive school climate and nurture collaboration among educators. Asking educators to follow a leader who shares neither experience nor educational preparation in the field undervalues the teaching profession."
The House delayed its afternoon session for an hour, reviewing its options on a possible veto override vote. It then proceeded toward a vote – which takes two-thirds in both houses to overcome a veto – with the alarm bell ringing in the House chamber signaling that House members should cast their votes.
But then Rep. Judy Boyle, R-Midvale, the sponsor of the bill, stood and asked for unanimous consent to return the bill to the House Education Committee before any votes were counted; she was the bill's sponsor. There was no objection, so the bill was sent back to committee – signaling its demise.
House Speaker Scott Bedke, R-Oakley, said House members concluded they didn't have the votes to hit the two-thirds mark.
The measure was one of three that Otter told lawmakers he was considering vetoing on the session's final day, but he opted to allow the other two to become law without his signature instead.
One of those was a controversial revamp of Idaho's trespassing laws that was backed by some landowner groups but opposed by sportsmen and recreationists. The other was a measure repealing a far-reaching 2016 law on noncompete clauses that brought Idaho a wave of negative national publicity, saying it had become the toughest state for employees to quit their jobs and start new businesses.
Backers of the charter school bill said charter schools have different needs than regular public schools, and should have the freedom to hire, say, a business executive or a building specialist as the head of a school.
The original bill, as Boyle proposed it, would have required only a bachelor's degree, three semester credits of training in teacher evaluation and a criminal background check. The Senate amended it to add requirements for either five years of teaching experience, or five years experience running a public charter school, or completion of a "nationally recognized charter school leaders fellowship."
Otter said that was not enough.
House and Senate Democrats, who held a news conference Wednesday afternoon to respond to this year's legislative session, agreed with the governor. Senate Minority Leader Michelle Stennett, D-Ketchum, said, "A public charter school is public under the same constitutional requirements as a regular public school – so holding to a different standard is basically unconstitutional."
Otter issued two vetoes this year; the other was of a teacher-evaluation bill. The House attempted a veto override vote Tuesday, but it fell well short of the required two-thirds margin, not garnering even a majority.
Lawmakers passed their final bills last Thursday, but opted to continue their session this week so they could preserve the option to override any vetoes. If they had adjourned, only the governor could have called them back into session.
The Idaho Legislature this year passed 359 bills and 47 resolutions or memorials, up from 241 and 28 the previous year. That included major tax-cut legislation reducing Idaho income tax rates. For a sixth straight year, the Legislature took no action to address the state's health coverage gap, though Otter again proposed legislation. The House twice refused to vote on the governor's bill.
---