A&E > Art
Megan Perkins explores Spokane one sketch at a time
Fri., March 30, 2018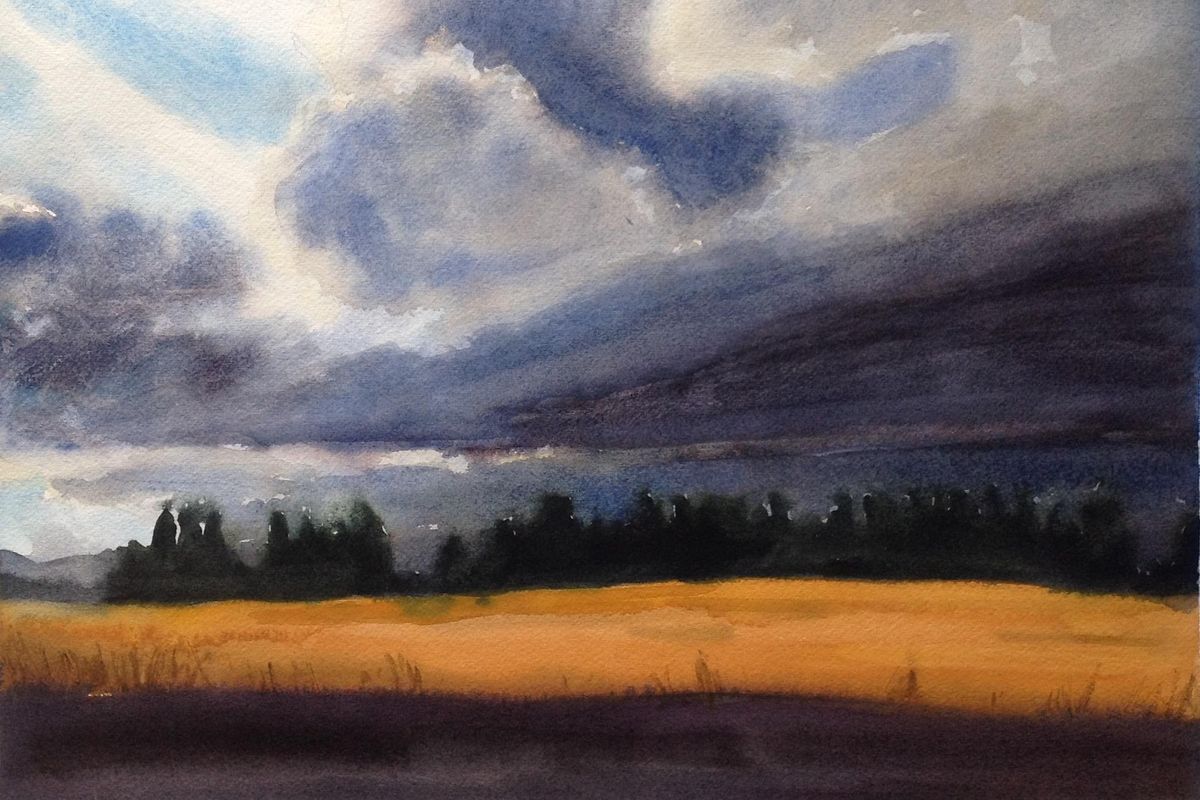 Autumn Interlude (Megan Perkins)
Megan Perkins, 30, will whip out her pens and paints to sketch just about anything. Whether she's been sketching on a Spokane sidewalk or on a boat on a river in Costa Rica, she's been questioned, admired and even laughed at for her artistic antics in public places.
The former Gonzaga University student once froze in her tracks on the way to class and plopped down on the ground to sketch a trash can with smoke billowing out of it. (A passerby had failed to extinguish a lit cigarette.)
"It was in Italy, and so the trash can was ornate, and the smoke was curling up," Perkins recalled. "Eventually, someone I knew walked by and just laughed at me."
Fascination with finding beauty in everyday places is part of Perkins' longtime embrace of the Urban Sketch Movement. The global community of artists practice drawing on location in the places where they live or visit. The movement was started on Flickr in 2007 by Gabriel Campanario, a Spanish journalist and illustrator living in Seattle (where Perkins grew up). Campanario, who has the "Urban Sketcher" column in the Seattle Times, coined the USk manifesto: "We show the world, one drawing at a time!"
"Anything in our day-to-day life can be beautiful just by virtue of paying attention to it," Perkins said. "And drawing is a way to pay better attention to the world."
Lately Perkins has been paying a lot of attention to the world of Spokane, which is the focus of a yearlong adventure she calls "Artist's Eye on Spokane." Her project is an exploration of the city and "all the amazing things it offers." Her goal has been to sketch at least one local place or happening per week. As the year nears its close, she figures she has produced at least two sketches per week, often three.
Perkins had dreamed of undertaking the ambitious 52-week sketch project for years. To ensure success, she planned out most of the places and events she wanted to try to capture before kicking it off last spring. But things can change, depending on what catches her eye. Also, she takes requests and suggestions from her social media followers.
By posting her weekly art works on the Artist's Eye on Spokane's Facebook page, Instagram and website, Perkins has built in an external responsibility mechanism. The deadlines are relentless. Her list of followers keeps growing. And the audiences keep her honest.
"There has been some hysteria in meeting my deadlines," laughed Perkins. "The trick was not to think about the whole project at once."
Perkins' Artist Eye works are done quickly, in the lively and loose style that differentiates sketches from more fussed over, finished drawings. The first sketches she undertook for the series were of the annual Bloomsday race and runners last May. Since then, she has sketched Pig Out at the Park, pumpkin patches at Greenbluff, the Wheatland Bank carriage rides, the Fox Theater, the Bing, the Spokesman-Review building, the Milk Bottle restaurant in Garland, Best Asian Market on East Sprague and Hillyard neighborhood scenes.
She's drawn Buddhist monks making a sand mandala, the Gathering at the Falls Pow Wow, the Holiday Lights show at the Gaiser Conservatory and a plate of French fries at Wolffy's diner in the University District. She's sketched toys at the White Elephant and poets reading at local slams.
Her eye takes in the big picture, but often drills down on specific details, highlighting them for viewers. At the Steam Plant's remodeled restaurant, she painted a closeup of a porthole, reflecting a couple enjoying their meal in the glass. At the Fox, she focused on the elaborate Art Deco details of the ceiling and walls inside the theater. At Bennedito's, she sketched a vintage car, shadows from a bike rack and a bright yellow hydrant.
Perkins views drawing as a form of healing meditation.
"Frankly, lately, we need all the help we can get. Life is stressful, social media is making us all crazy and news is always coming at us," Perkins said. "It's really therapeutic to sit quietly and focus on one thing with careful attention. Being in this sort of practice puts me in the mindset of gratitude.
"Also, I'm attuned for beauty. For searching for and finding beauty every day. Like why do those clouds look so beautiful today? Maybe it's darker, and so the color of it is popping out, or maybe it's the way the light is hitting it.
That's just to say that drawing rather than taking a picture is a way to sort of inhabit your life rather than letting it get away from you. And it leaves a physical record like a journal. It helps me pay attention to what I'm doing in my life."
Perkins' sketches have struck a chord, earning her regular placement in the last five issues of Spokane Coeur d'Alene Living magazine, along with pithy blurbs she writes herself. Of the Spokane Courthouse she wrote: "It has always reminded me of a fairy tale castle. The many turrets, warm stone walls, and elaborate carved decorations make me dream of wandering its halls to find elegant ballrooms, sweeping stairs and a grand library, but, alas, this castle contains mostly paperwork."
Perkins has also been tapped to teach sketching classes at the Spokane Art School and Corbin Art Center. She plans on offering a free "sketch crawl" as soon as the park reopens to visitors this summer after it warms up and the park renovations conclude. Other future projects include starting work on a book of her Artist's Eye on Spokane series.
Her works, prints and cards are currently available for purchase at Pottery Plus downtown where she is a sustaining member. She also has an exhibit up at Bellwether Brewing Co. that runs through the end of March. In April, she will display her pieces in the newly renovated lobby of the City Hall building. This summer, two of her watercolor landscapes will be included in the Jundt Art Museum's first-ever Inland Northwest juried landscape art exhibition, "Close-In."
Just last month, several of Perkins' sketches were projected during Mayor David Condon's speech at the State of the City Address. While her optimistic images of favorite Spokane places and icons flashed on a large screen, the Mayor talked about noticing "what you see" during a typical week. "I hope you see progress … a more vibrant neighborhood and a thriving community," he said.
At the event, Perkins wound up sketching the Mayor speaking in front of her own sketches.
How's that for finding beauty in the every day?
Local journalism is essential.
Give directly to The Spokesman-Review's Northwest Passages community forums series -- which helps to offset the costs of several reporter and editor positions at the newspaper -- by using the easy options below. Gifts processed in this system are not tax deductible, but are predominately used to help meet the local financial requirements needed to receive national matching-grant funds.
Subscribe to the Spokane7 email newsletter
Get the day's top entertainment headlines delivered to your inbox every morning.
---