News > Business
For $30, you can destroy TVs, stemware, and much more at new Spokane business
May 1, 2018 Updated Tue., May 1, 2018 at 6:51 a.m.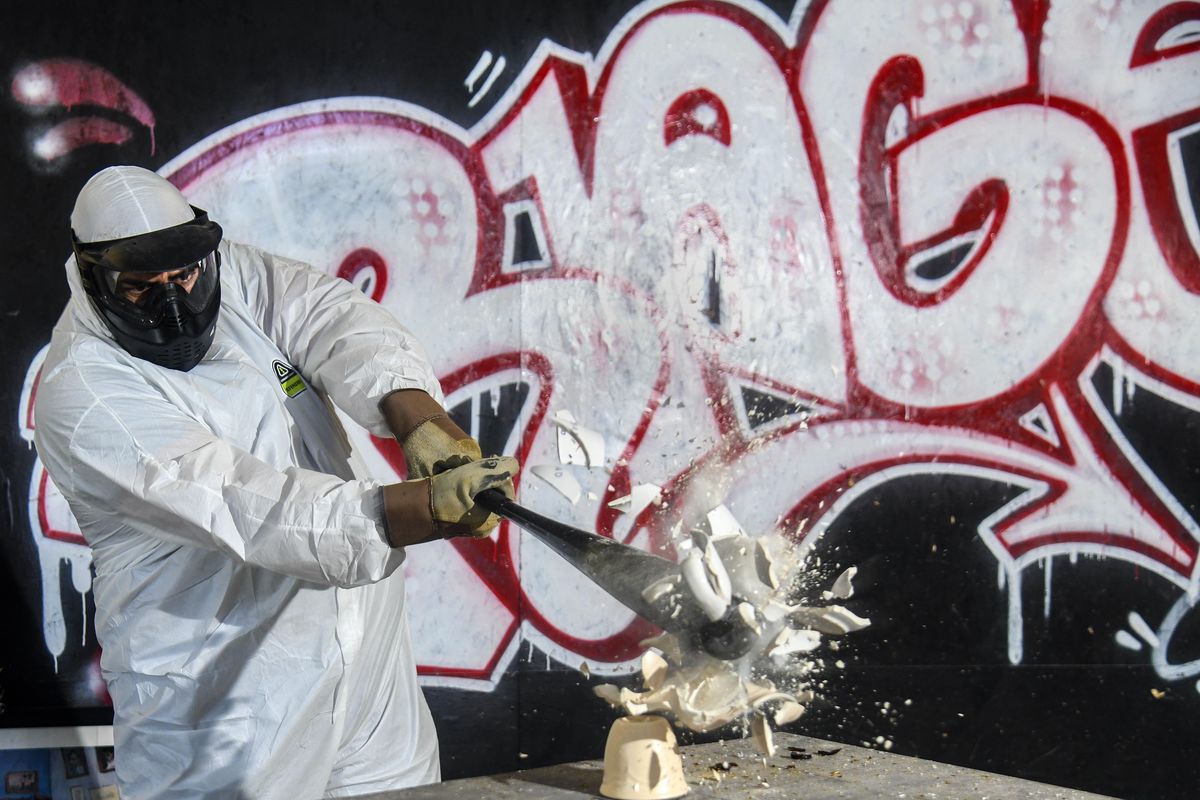 Dan Williams takes a might swing with a baseball bat and smashes stacked ceramic ware, Monday, April 23, 2018, at Rage Spokane. (Dan Pelle / The Spokesman-Review)Buy a print of this photo
It's no secret that there's a lot of anger in the world today. A quick dip into Twitter or other social media platforms reveals people are mad about everything from politics to sporting events to relationships gone wrong.
What if you could release your rage in a safe but satisfying way?
That's the idea behind Rage Spokane, a new business that invites customers to smash, shatter and splinter stuff in a controlled environment.
Co-owners Blake Crossley and Jason Bryant opened the 900-square-foot rage room in north Spokane in February.
"We saw it online about four months ago," Bryant said. "We had the idea and had it up and running in two weeks."
He credits their swift opening to the fact that they both own and operate other businesses. Bryant owns The Decal Factory, and Crossley is a professional photographer.
The concept is simple: $30 gets you 20 minutes in the rage room, where you get to smash 15 to 20 items, like dishes, computer monitors and stemware, plus a bonus item.
Add-ons include televisions, tables and toilets.
There's a 20-foot smash wall to hurl items at, or you can choose your weapon of destruction and pound things to pieces.
Bryant placed a selection of implements on the specially made solid steel table.
"You can use a golf club, hammer, baseball bat, crowbar, small sledgehammer or this splitting maul," he said.
Shelves filled with glassware and knickknacks line the room, and boxes of dishes are stacked nearby.
TVs, computer parts, bathroom sinks and toilets are also on view, as well as a couple of car doors.
Bryant said the car doors are hugely popular with auto body workers.
"They spend all day hammering dents out of cars," he explained. "They come here and get to put dents in cars."
As for where all the breakable stuff comes from, Bryant said that's the beauty of the business.
"We have partnerships with three nonprofits," he said. "We found out that, unfortunately, a lot of people use charities as dumping grounds, and their biggest bill is their garbage bill."
Rage Spokane pays the nonprofits to bring in their unsold breakables, or they will pick up items from the charities.
The business offers themed parties. The "I HATE Valentine's" proved popular.
"We had heart-shaped trinkets and vases, everything red, red, red," Bryant said.
And speaking of love gone wrong, you can bring in your post-divorce wedding memorabilia and take a sledgehammer to it.
Other special events offered: bachelor and bachelorette parties, birthday bashes and office parties.
"We re-create your office and you can smash it up," Bryant said, grinning.
The rage room is quickly becoming a date-night destination, but Bryant said, "Corporate events are our bread and butter."
Apparently, there's a lot of workplace tension out there.
On a recent afternoon, Bryant hosted his employees from The Decal Factory.
Sales associate Celeste Calhoun was excited.
"I'm getting married in four weeks," she said. "It's stressful. I'm going to focus all the wedding stress into annihilation!"
Her coworker, LeeAnn Kime, had her own issues to work out.
"I'm the office accountant," she said. "I just finished our taxes."
But before they could get their smash on, they had to suit up in safety gear.
"We take safety very seriously," Bryant said.
Participants must be 13 or older, sign a waiver, and then don a hooded coverall, complete with booties, a paintball helmet or goggles, and gloves. They aren't allowed to stomp on anything, either.
Bride-to-be Calhoun was first at bat.
Bryant stacked stemware and vases on the steel table, but it was the punch bowl that caught Calhoun's eye.
"It's something you'd use at a wedding," she said, as she readied the sledgehammer.
With AC/DC playing in the background, she pulverized the glass bowl.
A grin split her face, and she reached for a baseball bat to finish the job.
Bryant said the most popular items to smash are TVs, computer monitors and alarm clocks. But breaking trinkets and knickknacks has its own satisfaction.
For example, he held up a ceramic Santa astride a flying goose.
"Ugly grandma trinkets," he said, pointing to the shelves behind him filled with discarded home decor.
His accountant grabbed a crowbar and made short work of a porcelain bowl.
"It's a lot of fun," she said. "I really do feel relieved."
Bryant wasn't surprised. Glassware isn't the only thing broken at Rage Spokane.
"We're always told to be careful. Don't spill the milk," he said. "But here you're breaking all the social norms. It's very therapeutic."
Local journalism is essential.
Give directly to The Spokesman-Review's Northwest Passages community forums series -- which helps to offset the costs of several reporter and editor positions at the newspaper -- by using the easy options below. Gifts processed in this system are not tax deductible, but are predominately used to help meet the local financial requirements needed to receive national matching-grant funds.
Subscribe now to get breaking news alerts in your email inbox
Get breaking news delivered to your inbox as it happens.
---