News > Local government
Bullying concerns brought by Burke against Stuckart unfounded, city says
May 2, 2018 Updated Thu., May 3, 2018 at 1:11 p.m.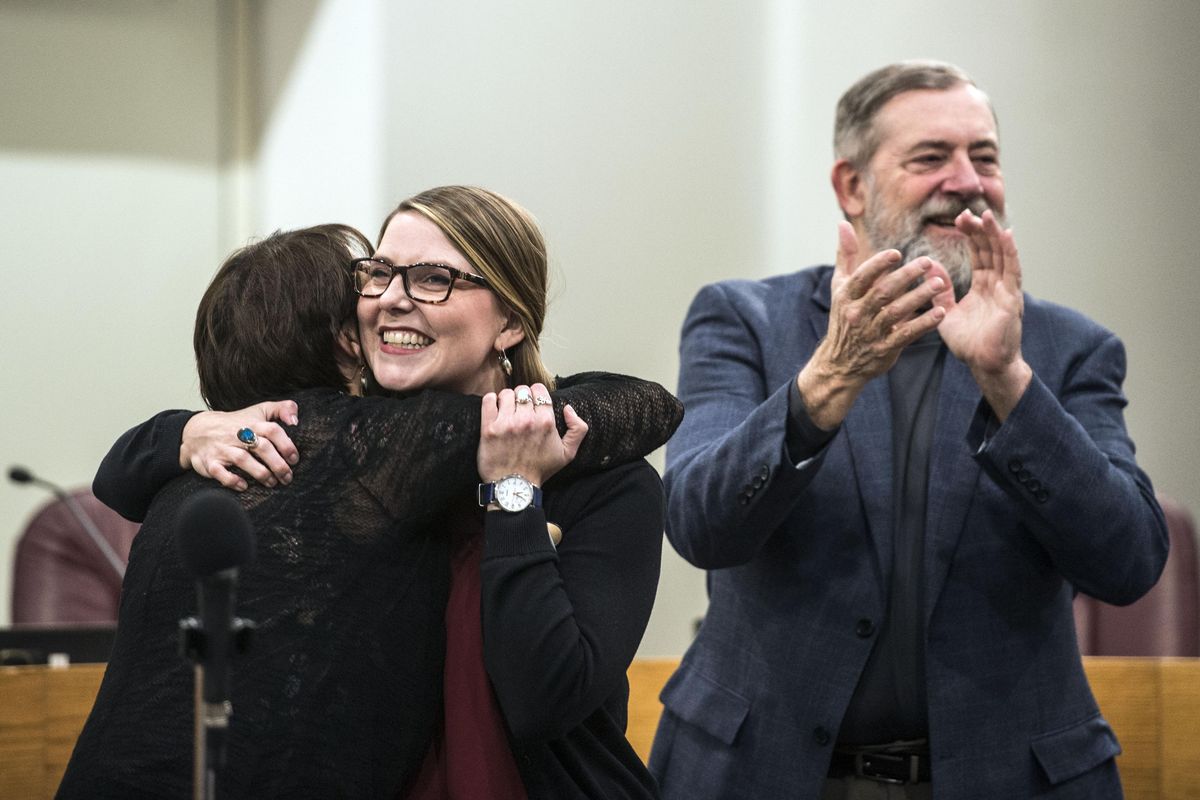 FILE - Kate Burke, center, beams with delight as she is hugged by her mother, Marggy Burke, and applauded by her father, Jim Burke, after she she was sworn in to replace Amber Waldref on the Spokane City Council, Thursday, Dec. 21, 2017 in the council chambers. (Dan Pelle / The Spokesman-Review)
Following an exchange at a City Council meeting in March, Councilwoman Kate Burke asked Spokane's human resources director to review whether Council President Ben Stuckart had bullied her from the dais.
The city, after an informal review, said he hadn't.
The request was prompted by Stuckart's admonishment of Burke for bringing forth a letter for council consideration after the councilwoman said publicly her policy was not to vote on amendments introduced the same night of a vote.
The human resources department looked at a video of the exchange and determined there was no violation of the city's anti-bullying policy, said Brian Coddington, a spokesman for the administration.
"There was no formal look," Coddington said. "The councilwoman came to human resources and asked for clarification about the policy, what was and wasn't a violation. That's about as far as it's gone at this point."
Burke and Stuckart have had a strained relationship stemming from Stuckart's response to her accusations of sexual harassment against former Spokane City Councilman Richard Rush, which were reported prior to Burke's election to the City Council in November.
Burke said in an interview she didn't want the request for clarification to get in the way of her work at the city, including on the rights of tenants in what she called a "housing crisis" in Spokane.
"We're all new at this. We just changed our policies," Burke said. "I was just asking (Human Resources Director) Chris Cavanaugh's advice on what to do."
The city changed its procedures for handling harassment complaints following the ouster of former Spokane Police Chief Frank Straub in August 2015. That includes a new anti-bullying policy, adopted in July 2016, that indicates instances of bullying "should be brought to the attention of the immediate supervisor in a timely manner, or the Human Resources department."
The policy also empowers employees to "assertively tell the offending person that the conduct is unwelcome and must cease immediately."
Burke declined to talk more about her concerns Wednesday via text message, saying that she wanted to focus on "housing issues, funding for (northeast Spokane), and many more things!" She has criticized the administration for its handling of harassment complaints in the past, saying at a pre-election forum held by The Spokesman-Review last October that the city took complaints about Straub's behavior and "threw it under the rug."
Stuckart said he'd been informed of the issues raised with city staff and believed they were dismissed.
"My understanding is that Kate Burke went to HR with complaints about bullying and they were determined to be completely unfounded," Stuckart said. "I think everybody's working really hard to help Kate get integrated on the new council."
At the City Council meeting March 12, Burke introduced a letter to be signed by her colleagues urging Gov. Jay Inslee to sign a state law expanding the Spokane County Commission. Stuckart pointed out that Burke had publicly stated her opposition to introducing measures the same night of a vote by the panel, saying it didn't give the public enough time to weigh in.
"A letter is just as significant as an amendment, so things do come up at the last minute," Stuckart said. "I hope we all remember that moving forward."
"Thank you for the lesson, council president," Burke responded.
The Spokesman-Review
City Councilwoman Karen Stratton said the tension has created a strained working relationship with some other council members.
"There's been some uncomfortable areas," Stratton said.
She said she hadn't seen any bullying behavior from Stuckart in his interactions with Burke or any other member of the council.
"I just don't think it's there," she said.
Her seatmate, City Councilman Mike Fagan, said he's worked with Burke on issues affecting northeast Spokane. Fagan sparked anger among many of Burke's supporters for comments made in a speech and online about the councilwoman posing for a photo with former President Bill Clinton ahead of her election.
"We do try to stay up on the issues we have going on in Hillyard," Fagan said, referring to efforts to revitalize the former industrial area as work continues on linking the north-south freeway with Interstate 90.
Local journalism is essential.
Give directly to The Spokesman-Review's Northwest Passages community forums series -- which helps to offset the costs of several reporter and editor positions at the newspaper -- by using the easy options below. Gifts processed in this system are not tax deductible, but are predominately used to help meet the local financial requirements needed to receive national matching-grant funds.
Subscribe now to get breaking news alerts in your email inbox
Get breaking news delivered to your inbox as it happens.
---