News > Spokane
Neighborhood cafe in Perry District clears hurdle
May 2, 2018 Updated Wed., May 2, 2018 at 9:02 p.m.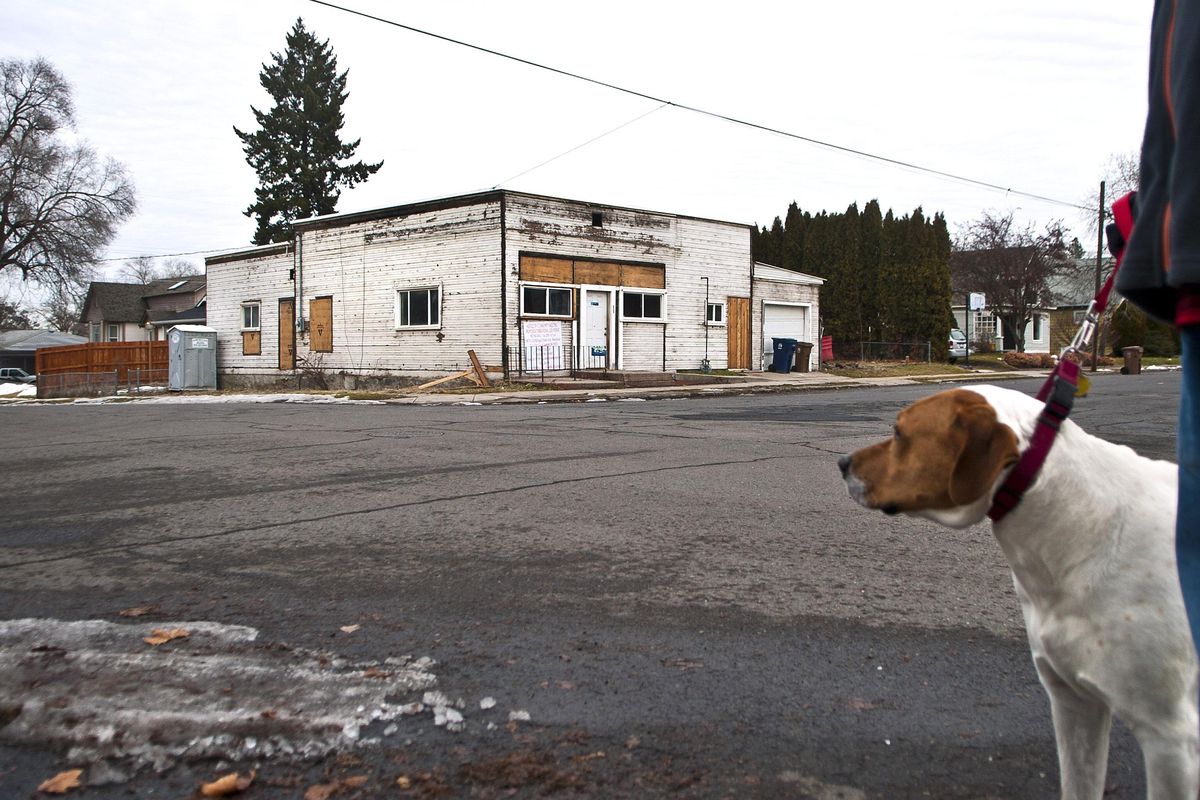 Bo, the St.Bernard/Mastiff mix, walks past the former grocery/residence in the Perry District in January. (Kathy Plonka / The Spokesman-Review)
Vessel Roasters is coming to Spokane's Perry District.
A new cafe in a former grocery store at 11th Avenue and Pittsburg Street will be its second location. The business will keep its popular North Monroe Street coffee shop, which opened in 2016.
"We really like being in a neighborhood," said Sean Tobin, Vessel's owner. "If there's any other place in Spokane we wanted to be, it's Perry."
The effort to return the building to commercial use cleared a procedural hurdle this week when the city's hearing examiner, Brian McGinn, found that the use was allowed under city rules.
The project by Seattle-based InterUrban Development is the second time a developer has sought to convert an old commercial building to its original use under the new rules adopted by the City Council in August. The building has been used as a residence since 1974, according to city records.
Steve DeWalt, who's leading the redevelopment effort for InterUrban, said McGinn's finding was the last major hurdle for the project and now work can begin in earnest. He anticipated the coffee shop would be open by the end of June.
"They draw a really great crowd of people who are more creative and work there every day, which is great," DeWalt said. "We really want to get the project going to get them in the building."
InterUrban purchased the building in December 2017 for $83,000. Documents filed with the city estimate construction costs at $220,000.
When plans to change the building from residential to commercial use were announced in January, some people raised concerns that the neighborhood would suffer.
A Spokane Valley resident, Sola Raynor, told McGinn the building had never been used commercially and, therefore, shouldn't be allowed to be used that way now.
McGinn rejected her assertion and pointed to decades of building permits showing commercial use, beginning with the structure's construction as 11th Avenue Grocery by William Woolsey in 1925.
Neighbors said they worried about increased traffic and parking troubles. McGinn wrote that the "concerns raised were legitimate. However, the issues of traffic and parking do not warrant denial of the proposal." He noted the City Council policy to help rejuvenate former commercial structures was created with the intent to "predominantly serve the nearby residents, rather than the motoring public."
DeWalt agreed with that assessment, noting the coffee shop "is very pro-walking and -biking. They have bike racks inside and out."
DeWalt said opposition to businesses in neighborhoods is a tired concept, adding Vessel would "bring a little more life and diversity to the neighborhood."
"Businesses have been in places where people live for centuries. This isn't a new concept to live next to a business," he said. "Modern America is probably the only place where we've segregated the uses to such an extreme extent.
"It's made our cities less interesting. We're trying to find an appropriate use that we hope they'll come to find they enjoy and really love."
Tobin, who employs seven people in roasting, production and barista positions, said he would hire more people to work between the two shops. He added that customers who like the Monroe location will like the Perry spot.
"All the values we have at this location, we'll have at that location," he said.
Local journalism is essential.
Give directly to The Spokesman-Review's Northwest Passages community forums series -- which helps to offset the costs of several reporter and editor positions at the newspaper -- by using the easy options below. Gifts processed in this system are not tax deductible, but are predominately used to help meet the local financial requirements needed to receive national matching-grant funds.
Subscribe now to get breaking news alerts in your email inbox
Get breaking news delivered to your inbox as it happens.
---