News > Spokane
Skade's slug: Newly discovered North Idaho species named for wildlife biologist's daughter
May 2, 2018 Updated Wed., May 2, 2018 at 6:30 a.m.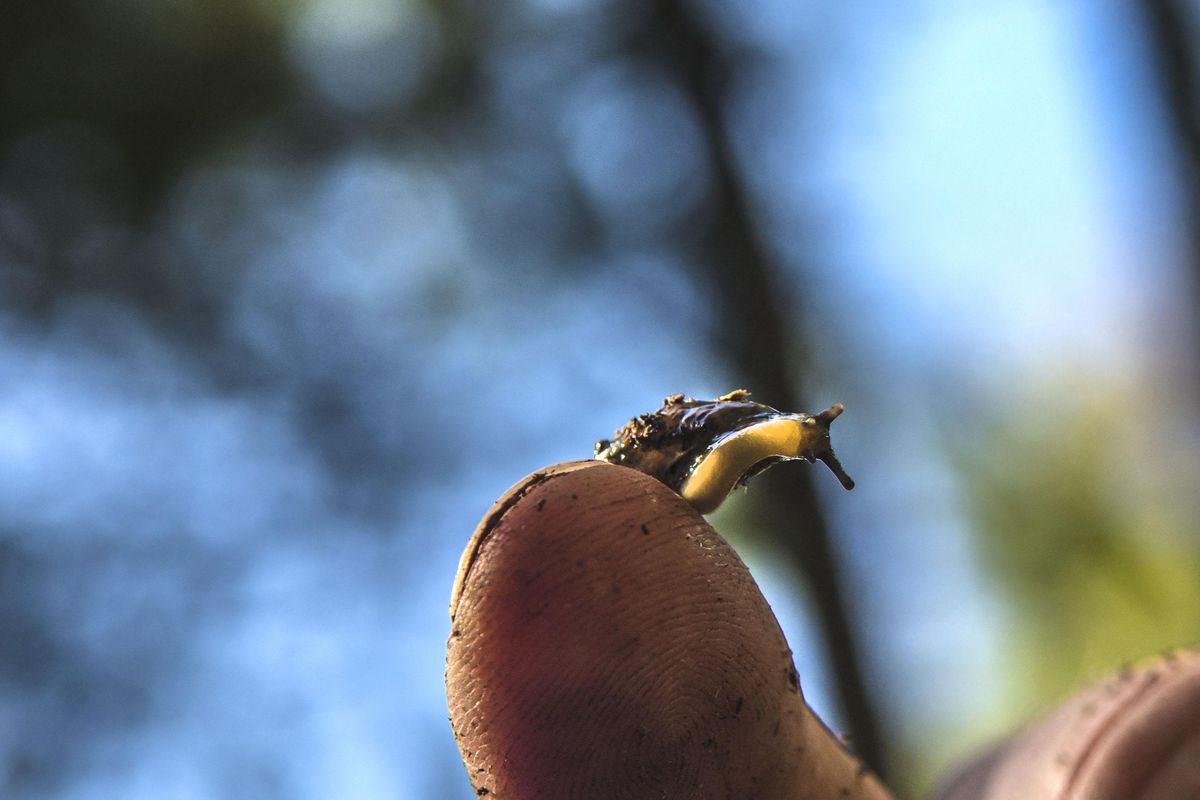 Michael Lucid of Idaho Fish and Game displays this Skade's jumping slug near Priest River on Thursday, April 19, 2018. (Kathy Plonka / The Spokesman-Review)
A new species of jumping slug has been discovered in the coldest glades of the Selkirk Mountains.
It was named Hemphillia skadei, or Skade's jumping slug, after a girl likely to experience significant changes to the climate during her lifetime.
Skade Lucid is the 2-year-old daughter of Michael Lucid, an Idaho Department of Fish and Game biologist who led the wildlife survey team that discovered the slug.
Documenting a new species conveys naming rights. Lucid and his wife Lacy Robinson – also a biologist – gave the moniker considerable thought.
The slugs live in areas about 2 degrees colder than the forest's average temperature. So the couple drew inspiration from their toddler. She's named for a figure in Norse mythology, Skadi, the goddess of winter, skiing and bowhunting.
"We thought about it for a long time," Lucid said. Then it was obvious. "Cooler air. Oh, it's Skade's slug."
Skade will be in her mid-80s at the turn of the next century, when modeling indicates the Pacific Northwest's climate could be 5 to 10 degrees warmer.
"When we think about our daughter, this place will be totally different when she's an old lady," Lucid said. "The future of the isolated cold spots that Skade's jumping slug calls home is uncertain."
The new slug species was discovered in 2011. Lucid and his teammates were working on a benchmark study, documenting the wildlife found at 2,300 sites across the Idaho Panhandle. The survey included smaller critters, such as gastropods and amphibians.
Samples of jumping slugs were sent to a genetics lab for testing. DNA sequencing indicated that besides the two previously known jumping slug species in North Idaho and northeast Washington, there was a third species.
To document the new species, Lucid worked with Lyle Chichester, a retired professor from South Carolina and noted slug anatomy expert. Chichester found differences in the reproductive systems of Skade's jumping slug and the similar, but more common, pale jumping slug.
Outwardly, the two species look identical. At some point during the most recent Ice Age, the populations became isolated and diverged enough that they ceased to interbreed, Lucid said.
An article on Skade's jumping slug appeared in the April edition of the Canadian Journal of Zoology.
Near Priest River
Seeing a specimen involved a trip to a forested area about 10 miles north of Priest River, Idaho.
Patches of snow lingered on the ground. A clump of tiny, glistening eggs in rotting wood confirmed that we were in slug territory.
Lucid overturned dozens of downed logs before finding a Skade's jumping slug, which wasn't jumping but was behaving in a, well – sluggish manner.
Jumping slugs (genus Hemphillia) are found only in the Pacific Northwest, and they actually writhe like snakes. The furious activity is a protective response, designed to encourage potential predators to search out a calmer, less troublesome meal.
This slug seemed to know it wasn't in danger. Its feelers came up as it slowly glided over Lucid's palm and knuckles. Lucid has shown Skade's jumping slugs to his daughter, but they didn't hold her attention for very long.
"She's much less impressed by slugs than I am," he said.
The spotted slug has a hump on its back, with a structure similar to a fingernail. It's an evolutionary throwback to the days when slugs and snails were more closely related.
Although the discovery of a new species is exciting, it's not that unusual, Lucid said. Approximately 15,000 new plant and animal species are discovered worldwide each year.
In North America, many gastropods haven't been documented yet. "We don't even know the baseline," Lucid said.
He hopes the slug's name inspires other Idaho families to learn about the changing climate – how it will affect the outdoor activities they enjoy and the area's native wildlife.
"We're so oriented to the outdoors in this area. I think it will change our lifestyle," he said.
Local journalism is essential.
Give directly to The Spokesman-Review's Northwest Passages community forums series -- which helps to offset the costs of several reporter and editor positions at the newspaper -- by using the easy options below. Gifts processed in this system are not tax deductible, but are predominately used to help meet the local financial requirements needed to receive national matching-grant funds.
Subscribe now to get breaking news alerts in your email inbox
Get breaking news delivered to your inbox as it happens.
---