Life in motion even at 106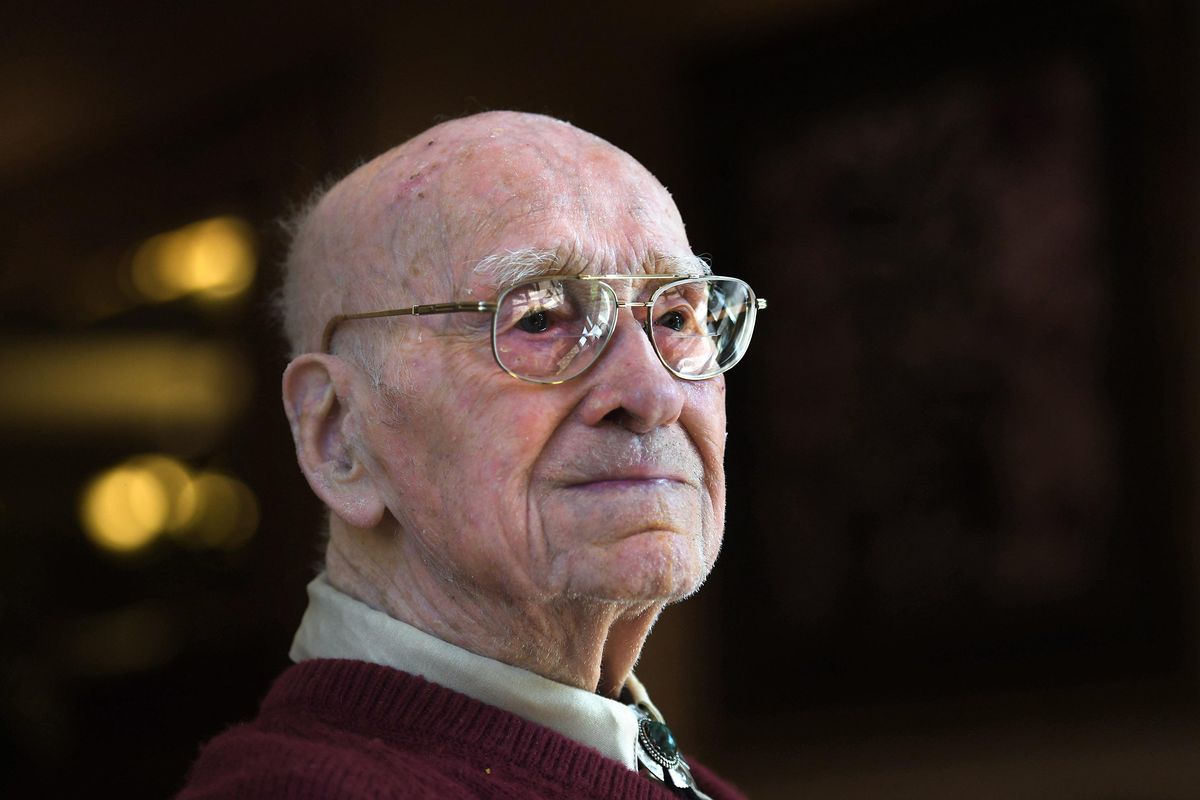 From Model Ts to jet airplanes, Noble Brewer has lived 106 years with life in motion.
Brewer celebrated his birthday Friday, receiving a tribute during a music program at Garden Plaza of Post Falls, where he's lived over five years.
The retired flight inspector remains active, staying in an independent living apartment. These days, he gets around mostly on a red motorized wheelchair. His secret to longevity applies simple logic.
"I tell these young kids, remember you only have one body, so take care of it," he said. "Don't drink the wrong things. You treat your body like a new car; you wouldn't put oil in your gas tank and you wouldn't put gasoline in your oil.
"When you're young, you only have one body – no trade-ins – so take care of it."
Born 1912 in Oklahoma, Brewer often cooks for himself, loves Jell-O, drinks a glass of wine most evenings and enjoys dancing at the center. And he likes witty one-liners.
"I'm shooting for 110," quipped Brewer. "Four more years to go."
Garden Plaza staff members say Brewer has endeared himself to them and other residents with his zeal. That includes being a cheerful conversationalist, loving music and keeping a pocketed bottle of Tabasco sauce, just in case, for meals.
"He's super witty," said April Howard, Garden Plaza sales director. "He's just a social butterfly, and he dresses so dapper. Even though he's in a scooter, he'll stand up briefly, and he spins the ladies around. He just loves his music, and he loves to cook."
Garden Plaza's executive director and manager, Terek Beckman, said Brewer received a veteran recognition award about a year ago.
"Noble, even though he's turning 106 years old, he's so active," Beckman said. "He still likes to cook for himself. His favorite thing to make is Jell-O. He loves his glass of wine.
"He's just one of those good souls you always love to be around. He's always happy."
That sharp dressing shows up, every day, staff says. On Thursday, he greeted guests in a beige button-up shirt, burgundy sweater, brown slacks and bolo tie.
Brewer was 6 when WWI ended. "I can remember when it was over, all the neighbors went out and shot off shotguns to celebrate," he said.
He only had one year of college, because of the Depression. The detour led to lifelong work in aviation. He keeps a picture of himself taken during the 1930s when he was flying biplanes.
"Two wings, single engine, no brakes, tires were smooth with no tread," he said. "I stayed with airplanes for the rest of my life."
In 1936, he got married and moved to Los Angeles, where he trained in aviation engine work. He worked briefly for United Airlines, then Western Airlines for 20 years. He spent another 20 years at McDonnell Douglas Aircraft, retiring and relocating in the late 1970s to the Coeur d'Alene area.
He and his wife, Wilma, raised two children – a son named Eugene and a daughter named Louise – and were married for more than 75 years. She died in 2014.
During this career, he trained as a pre-flight and test-flight inspector, earning the nickname of "Airplane Doctor." When certain airplanes had issues or were sold for delivery in another country, he went with the aircrafts, "like a spare tire," he said, including stints often overseas.
"I got into aviation with engines; my career was engines," he said. "My job was I was an inspector. Troubleshooting was part of my job. I've been in foreign countries all over the world."
During World War II, he described himself as a "different kind of veteran," serving as what he called a volunteer GI serving in the Air Transport Command. That unit was created during the war mainly for delivery of supplies and equipment.
He said his team could fly aircraft by compass and often went to Alaska from Edmonton, Alberta. The Japanese believed that control of the Aleutian Islands, Alaska, was of strategic importance to prevent a possible U.S. attack. They bombed Dutch Harbor on June 3-4, 1942, occupying Kiska and Attu.
"Alaska was isolated," he said. "When Alaska was shut off, we used to go up there and take wounded people from the island back to the States, all by compass."
Today, he said Garden Plaza is home and he enjoys most visiting with other guests. He'll even recite poetry, demonstrating while having his photograph taken.
"An apple a day keeps the doctor away; a hug a day keeps the blues away," he said. "I just heard another one on TV, 'An onion a day keeps everyone away.' "
When asked about his favorite foods, he didn't mention the Tabasco sauce, but apparently a little spice doesn't bother him.
"I can eat anything – everything agrees with me."
---