East Sprague considered as site for new Spokane library, instead of Thornton Murphy Park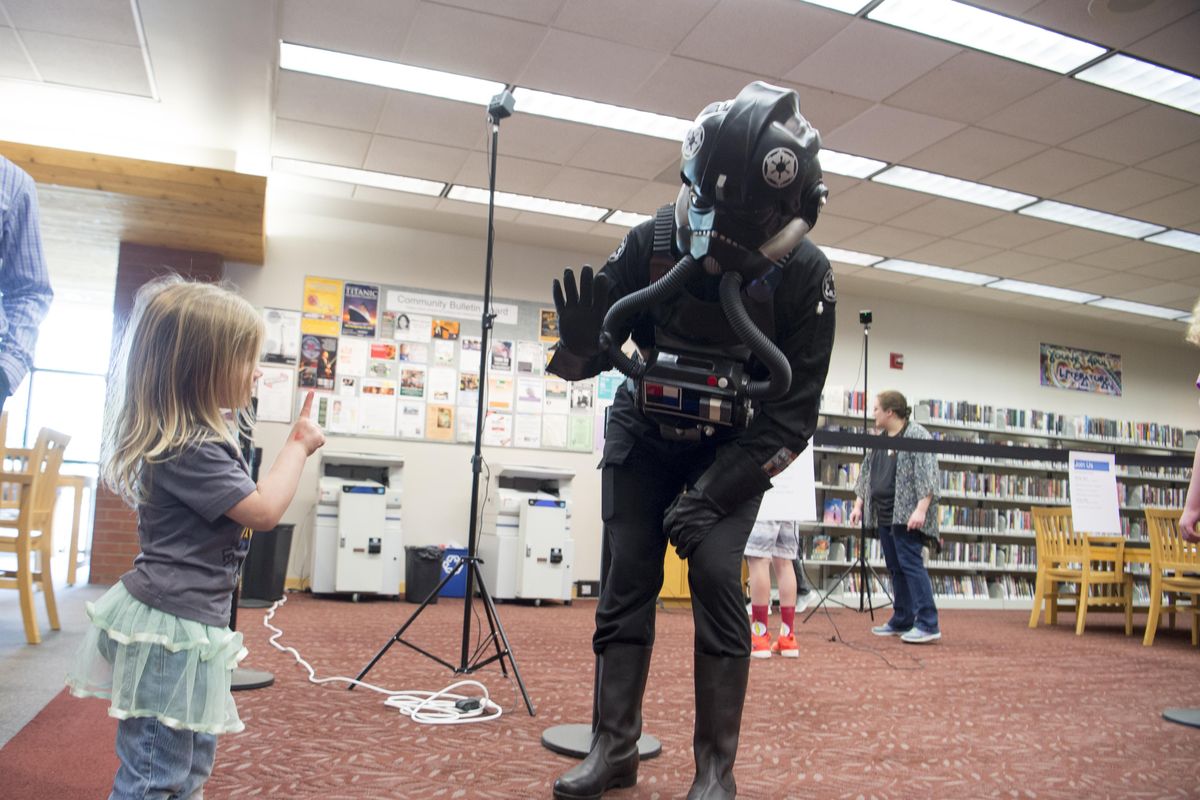 Library officials are turning their gaze from the South Hill to Spokane's East Central neighborhood as a possible location for the system's newest branch.
Following what officials called "mixed feedback" from South Hill residents about moving the busy branch on Perry Street to Thornton Murphy Park, library representatives are now asking if users would prefer a new branch on Sprague Avenue, replacing the East Side library.
The Spokane Public Library is gearing up to pitch a bond issue to voters this November intended to modernize the citys' library system, which received its most recent major taxpayer-funded upgrade in the 1990s. Voters would need to approve the bond in order to build the new facility.
"It's us doing our due diligence, essentially, and making sure there's support for what we want to do," said Andrew Chanse, the library system's executive director.
Planners have not pinned down a single potential site for a new library along Sprague Avenue, but Chanse said officials would like to keep the new location as close as possible to Altamont Street, the main north-south arterial near the East Side library's existing site, adjacent to the East Central Community Center.
The city is building one of its massive subterranean stormwater tanks on Riverside Avenue between Crestline and Lee streets on a parcel of publicly owned property that likely would make sense for a new branch, Chanse said. There's also some city-owned land on the east side of Altamont near the Libby Center that could work, he said.
After the library sought approval from the Spokane Park Board in December to explore the possibility of building in Thornton Murphy Park, residents of the Comstock neighborhood and elsewhere on the South Hill began advocating for the branch on Perry Street to stay where it was, said Spokane City Councilwoman Lori Kinnear, who represents the district.
"There was a lot of pushback from neighborhood groups, who said we really have to protect our open space," Kinnear said.
South Hill residents are used to the location on Perry, and were concerned about the potential price tag of a new building several blocks away on Freya Street, said John Schram, co-chair of the Comstock Neighborhood Council.
"Myself, and other neighbors, said leave it where it is, so they don't have to leave their neighborhood to go to the library," Schram said.
A study published in 2016 examining future needs for the library called for an expansion to the South Hill branch, which receives the second-most visits of any library in the system behind the Downtown facility. The South Hill library, built in 1996, is landlocked, with no room to expand other than a second-story addition, an option that is not preferred by planners.
The East Spokane branch, built in 1995 and the system's smallest facility, was recommended to receive an internal makeover and expansion of services, including new space for children's activities. A relocation was not included in the plans.
Chanse said that study was published two years ago, and the community's demands may have changed in the meantime.
"One of the benefits of moving across the freeway to the Sprague area, is we get to serve not only the East Central community, but also pick up some service in the Chief Garry neighborhood," Chanse said. "For us, it's an underserved community."
A move to Sprague Avenue also would put a new library branch near other social services and on the Spokane Transit Authority route running through the newly rebuilt corridor. But it could pose problems for community center attendees used to crossing a parking lot to reach the library, rather than the freeway.
Randy McGlenn, chairman of the East Central Neighborhood Council, said residents were excited about the possibility of a new library that would free up space to expand services at the nearby community center. But the issue of accessibility for schoolchildren, day care attendees and other center visitors would need to be addressed. Among the improvements needed are better pedestrian routes to cross Interstate 90, he said.
Library officials will continue to accept advice on options that include moving forward with the Thornton Murphy plan, or to pivot to the East Sprague option. Chanse said it's unlikely, given the potential cost, that two new branches would be proposed.
Users can complete an online survey of their preferences at spokanelibrary.org/future.
---