Sports > Seattle Mariners
John Blanchette: Marco Gonzales' education continues with each pitch for Mariners
Sat., May 5, 2018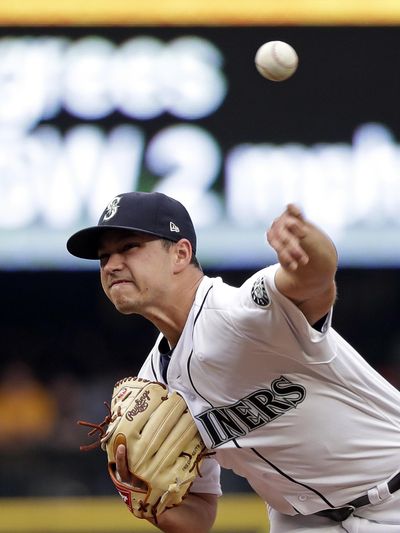 SEATTLE – There may be 70 or more credentialed media here specifically to itemize his every move, whether at the plate or on the mound or jogging through the outfield during batting practice or staring numbly at the sailboat race on MarinersVision (they must be saving money on hydro fuel). In two nights, nearly 79,000 have swept through the gates of Safeco Field out of curiosity.
This will happen when the big draw has credentials as a plus-.300 hitter and a sub-3.00 pitcher.
Oh, and maybe a few were here to see that Shohei Othani guy, too.
Marco Gonzales might have found that little exercise in irony more amusing had the 88 mph fastball he threw Jefry Marte in the sixth inning not been deposited over the fence in left field with two runners on base. It's the sort of thing that can ruin a pitcher's night.
That's what Gonzales is now, of course – a pitcher, strictly.
He'll leave the Superman cape to the phenom from Oshu.
Yes, once upon a time he was the Shohei Othani of college baseball – or the John Olerud, anyway. It was as a Gonzaga junior in 2013 that Gonzales won the national award named for the Washington State legend who more or less defined two-way greatness in the college game. In three years at GU, Gonzales won 26 games with a 2.34 earned-run average, and hit .311 and slugged .402 in the heart of the Zags' lineup on the days he wasn't pitching.
Seems like a long time ago. Five years later, the education of Marco Gonzales continues – on the job, as it must be. On Saturday night, the lesson was scuffling.
In his seventh start of the season, the 26-year-old Seattle Mariners left-hander allowed the leadoff batter to reach base in five of his six innings, gave up nine hits, stranded five runners in scoring position, struck out seven, kept his corner infielders hopping and still managed to trail just 1-0 until he ran out of luck or wile or stuff. Or all of them.
Eventually, the Mariners got him off the hook – a moon-shot home run by catcher Mike Zunino bringing them all the way back from a 4-0 deficit, though that was just the beginning of the bullpen meltdowns this night.
Nevertheless, Gonzales did all he was asked to do: Give the M's a chance to win.
Eventually, he'll have to do it better.
But then, that goes for Seattle's entire starting rotation. The Mariners' happy April was mostly the doing of a lineup living up to its potent potential and some nails – mostly – relief pitching. The starting rotation sports an ERA of 5.21, which somehow isn't the worst in the American League.
That happens to be Gonzales' neighborhood – 5.19, to be precise – though perhaps more troubling is that opposing batters are hitting .310 against him.
But in his two outings prior to Saturday, Gonzales had surrendered just two runs.
"He's a young pitcher – this is what you often get," M's pitching coach Mel Stottlemyre Jr. said. "Things haven't been rosy for him in the past. He and I have spent a lot of time trying to focus on enjoying some of those bright spots. I don't want to say he's a finished product yet, but I think he has a much better understanding of who he is and what he's capable of doing."
Though no one really knows.
Drafted with the 19th overall pick in 2013 by St. Louis, he found himself in the big leagues – and pitching in the postseason – the very next year. But a pectoral strain torpedoed him in 2015, and Tommy John surgery wiped out 2016 completely. His recovery teased M's general manager Jerry Dipoto into risking an unpopular trade of slugging outfielder Tyler O'Neill last July.
"There were things we liked about him," Stottlemyre said. "He has a plus changeup. When things are going bad, it can be a swing-and-miss pitch. He used to throw a cutter before his surgery. I knew once we added that back to his other pitches that it was going to make a big difference."
In the meantime, a natural adjustment in his arm slot and release point have triggered an uptick in his velocity – an average fastball of 92 mph.
Now it's about reliability – something the M's are desperate for at the back end of the rotation – and confidence.
"James Paxton talked to him – and I know they're two different styles of pitchers – about instead of trying to make a perfect pitch and steer it in there, just to stay aggressive," Stottlemyre said. "I've noticed him throw with more conviction since that.
"When you're young, you're in survival mode. You go out and you just try to hang around. Every young pitcher needs to get past that."
No two ways about it.
Local journalism is essential.
Give directly to The Spokesman-Review's Northwest Passages community forums series -- which helps to offset the costs of several reporter and editor positions at the newspaper -- by using the easy options below. Gifts processed in this system are not tax deductible, but are predominately used to help meet the local financial requirements needed to receive national matching-grant funds.
Subscribe to the sports newsletter
Get the day's top sports headlines and breaking news delivered to your inbox by subscribing here.
---