Perfect bike ride leads to toast to world's quiet experts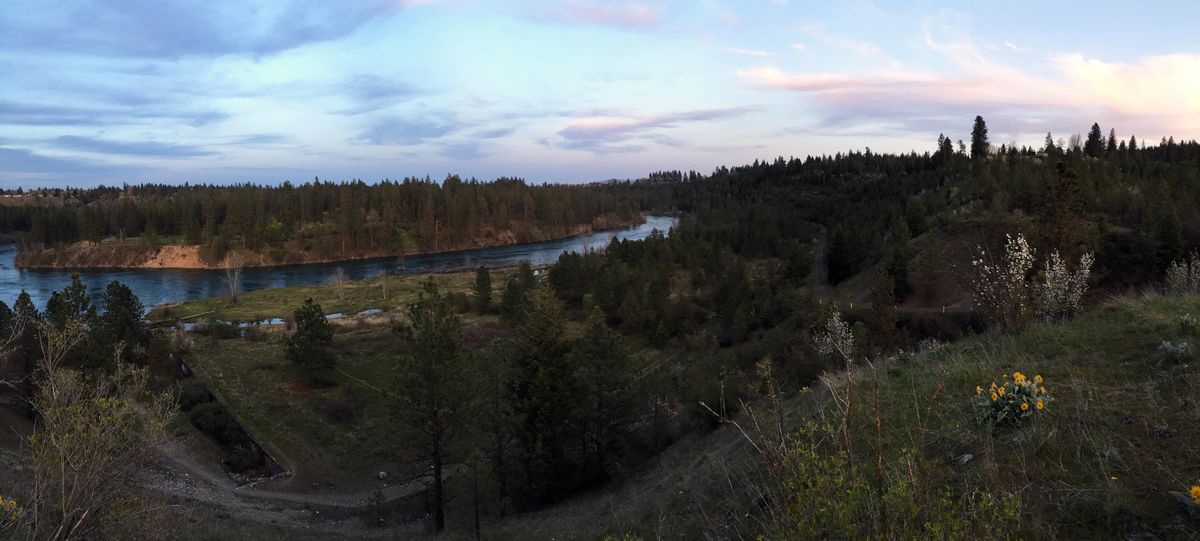 Up until a week ago, I'd all but forgotten the joy of whipping down a hill on a bike, the hum of rubber and the wind vibrating through my ears.
It's a joy to which any kid tooling around after school can relate.
It was a sunny day and my long-neglected bicycle was in mint condition after bike mechanic extraordinaire Dave Mannino worked his magic.
My bike is a middle-class Cannondale. I bought it in 2013, used. It had lived as a rental for a Spokane shop. Its summer was spent taking tourists up and down the Centennial Trail.
Since then, I've ridden all around the Pacific Northwest and the country on that bike.
My first tour, started a day after I bought the bike, took me through Republic and down the Okanogan Valley. I ended the trip slogging across the endless farm fields of Highway 2, the wind doing everything it could to send me backward.
I did a few shorter two- or three-day trips after that.
And then, in 2014, my brother and I rode the Pacific Coast Bicycle Trail. We started in Bellingham and finished, one grimy, sun-burned month later, in Tijuana.
As I mentioned before, my bike is a Cannondale. An aluminum racing frame. In other words, a frame not suited for the packhorse duties of a long bike tour.
By the end of my monthlong coast trip, it was in rough shape. The chain skipped incessantly. Everything felt loose, and the wheels wobbled worse than a drunk coming home to an empty house.
I took it to a local bike shop (I won't mention which one). They worked on it, charged me $100 and, as far as I could tell, did nothing more than fill the tires with air.
Even for me, a mechanically challenged millennial, that's something I can do.
I took it to another bike shop several months later. Same deal.
And then I gave up.
I'd ride it to work, a flat 1.5-mile jaunt that doesn't require much shifting. But I stopped really riding. I stopped heading out into the mountains or farm fields of Eastern Washington.
Biking became utilitarian, a means of transportation.
Luckily for me, I met Mannino earlier this year at his retirement party.
I could tell from the instant I met him that he was an expert. True experts are rare, but in my limited experience, they have an air of competence that goes beyond words. They need not say anything, although many of them do, and yet you still know that they know exactly what they're talking about.
The testimonials I heard about Mannino's bike prowess sealed the deal.
My predecessor, Rich Landers, calls him the "Mother Teresa" of bikes, a man who loves and cares for all bikes, regardless of cast, creed or color.
So, I took my bike to Mannino and he worked wonders.
I went on my first ride purely for pleasure in more than two years Tuesday night. After a long, antsy day sitting inside, I was dying to get into the sun.
The bike hummed. I did a 20-mile loop through Riverside State Park. I watched the sun set over the Spokane River. A deer jumped across the trail near the Bowl and Pitcher. I panted pedaling up hills and howled bombing down them.
It all got me to thinking about Mannino and the great service he did for me. (I paid him, of course, but in retrospect not nearly enough.)
I thought about mastery, competence and selfless service.
Mannino's not a flashy showboat. He hates the spotlight and is, frankly, a tough guy to interview. But he knows what he's doing. Completely. He's lived his work.
This, to me, is more admirable than any number of skills, accolades or accomplishments. People like Mannino work quietly in the shadows. They hone their craft for the betterment not of themselves but of those around them.
I will never be a bike mechanic, but I do hope I can learn from him.
Although I lust after recognition, fame and compensation as much as the next person, I'd rather be a quiet expert. Someone who lives and breathes his craft. Someone who does it not for his glory but for the enrichment of his neighbor, friends and community.
All that, and more, went through my head as I rode on an expertly repaired bicycle last week.
Correction: Due to a reporter's error the Pacific Coast Bike trail was incorrectly named. It has been fixed.
---