Bloomsday 2018: Buze Diriba outkicks Mamitu Daska in women's elite field second year in a row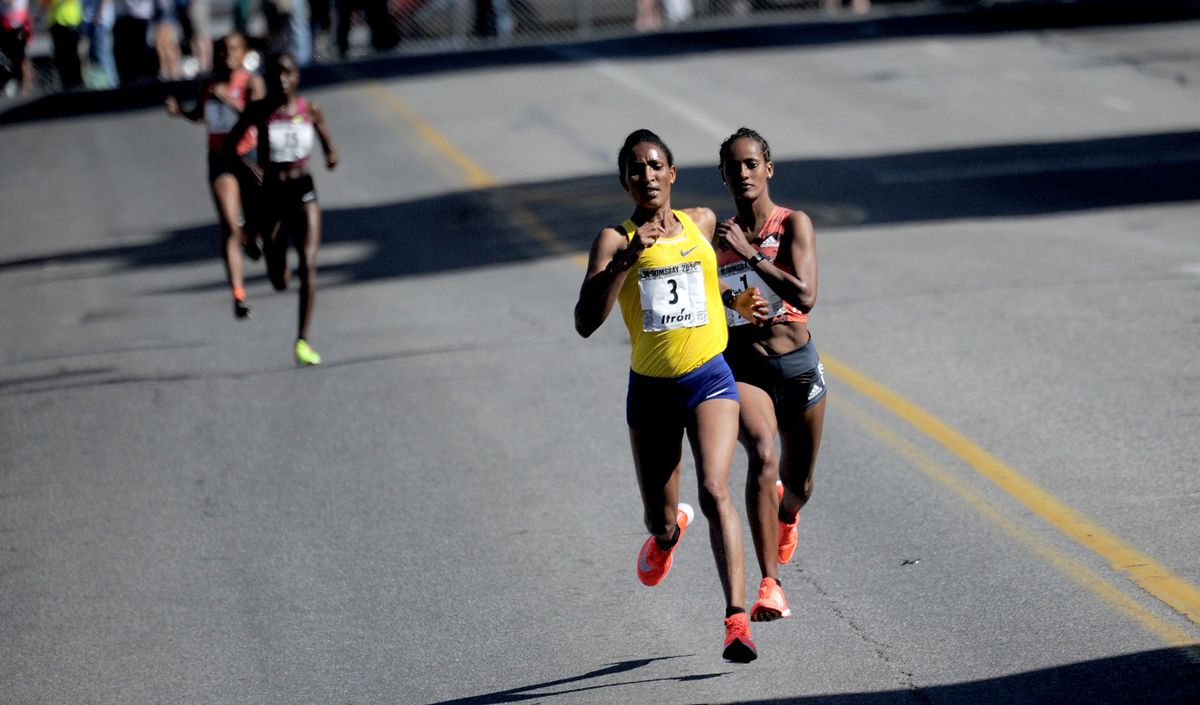 One thing is certain: Buze Diriba knows how to finish.
For the second year in a row, Diriba, 24, made the right-hand turn onto Monroe Street for the final 200 meters on the heels of fellow Ethiopian Mamitu Daska. And for the second year in a row, Diriba passed her countrywoman in a sprint finish to whisk away the woman's elite title in the 2018 Lilac Bloomsday 12K Run on Sunday in downtown Spokane, under sunny skies and temperatures in the upper 60s at the start of the race.
As in 2017, Diriba passed Daska on the right at the very last, leaving Daska to place second for two years running.
"That was (the) plan," Diriba said from a shady spot after the finish line. "Race was very tough, so I'm happy."
This was Diriba's second Bloomsday win in as many tries. Daska, 34, the 2012 Bloomsday champion and holder of the third and fifth fastest times for women, completed her fourth trip of the circuit.
Diriba's unofficial winning time was 39 minutes, 27 seconds, beating her time of 40:19 last year. The women's record is 38:03, set by Cynthia Limo of Kenya in 2016, who missed Bloomsday for the second year in a row.
Margaret Muriuki of Kenya finished third at 39:31.
A lead pack of 11 elite runners crossed the T.J. Meenach Bridge on Fort Wright Drive roughly four and a half miles into the race, bunched together at the bottom of Doomsday Hill.
American Emma Bates, 25, of Boise, took a strong – but very brief – lead one-quarter the way up the hill. But Daska built a several-stride lead midway up and by the top, she – along with Muriuki and Diriba – started to extract themselves from the rest of the lead pack, with Ethiopian Aselefech Mergia and Kenyan Iveen Chepkemoi just behind.
Once the runners reached the five-mile mark and made the veer onto Summit Blvd., though, it turned into a two-runner race.
Daska and Diriba picked up up the pace considerably, leaving the others in their wake – suffering from the strong rush up Doomsday. The pair pulled away and finished a 5:05 sixth mile, three seconds off record pace for Mile 6.
After passing the 10K mark, Daska and Diriba cruised down Broadway alone, mimicking their race from 2017, with Diriba calmly on the heel of Daska, stride for stride, with Mergia and Muriuki several seconds behind and left to only watch the competition.
"After (10K mark) I'm going fast," Diriba said. "Very tough race."
The pair made the turn onto Monroe Street and Daska tried to make a charge, opening up a two-step lead. But Diriba responded immediately and passed Daska on the right, as she had last year, and steamed across the finish line to defend her Bloomsday title.
After the starter's gun, Biruktayit Degefa, 27, of Ethiopia, broke loose and established a much quicker early pace than last year. A big main pack completed the first mile in 5:11, 33 seconds faster than in 2017.
"Last year's race was (my) first time," Diriba said of the slow pace in 2017. "(The) start much faster this time."
A pack of 14 established at the first water station just past Mile 2 on Government Way, with the runners exchanging the lead often. The group dwindled to 11 after the 3-mile mark and as the pack made the right turn on to Fort Wright Drive, Daska moved into the lead, with Muriuki and Mergia just behind her.
The runners completed a 5:23 split at Mile 4 and the pack of 11 was bunched as it went over the Spokane River before turning right on Pettet Dr. to climb Doomsday Hill.
Mergia finished fourth at 39:37 and Jane Kibii of Kenya was fifth at 40:22.
Bates was the top American finisher in ninth place at 40:46. Second-seeded Diane Nukuri, of Flagstaff, Arizona, finished 11th at 41:32.
"It wasn't my race. I just felt a little off, " Nukuri said, while admitting she left like dropping out at one point but powered through.
"I wish I was in it, because with a big group of us it would have been a lot of fun to be a part of."
First-time Bloomsday runner, 23rd-seeded AnneMarie Kirkpatrick, 36 of Fort Collins, Colorado, was impressed with the challenging course – including Doomsday Hill.
"It was actually tougher than I thought it would be," she said. "I run hills all the time and I thought it would not be that hard. But it was, yeah.
"It was a bit of a humbling experience."
---