Sports > International sports
Bloomsday 2018: Jemal Yimer pulls away from men's elite field for victory
Sun., May 6, 2018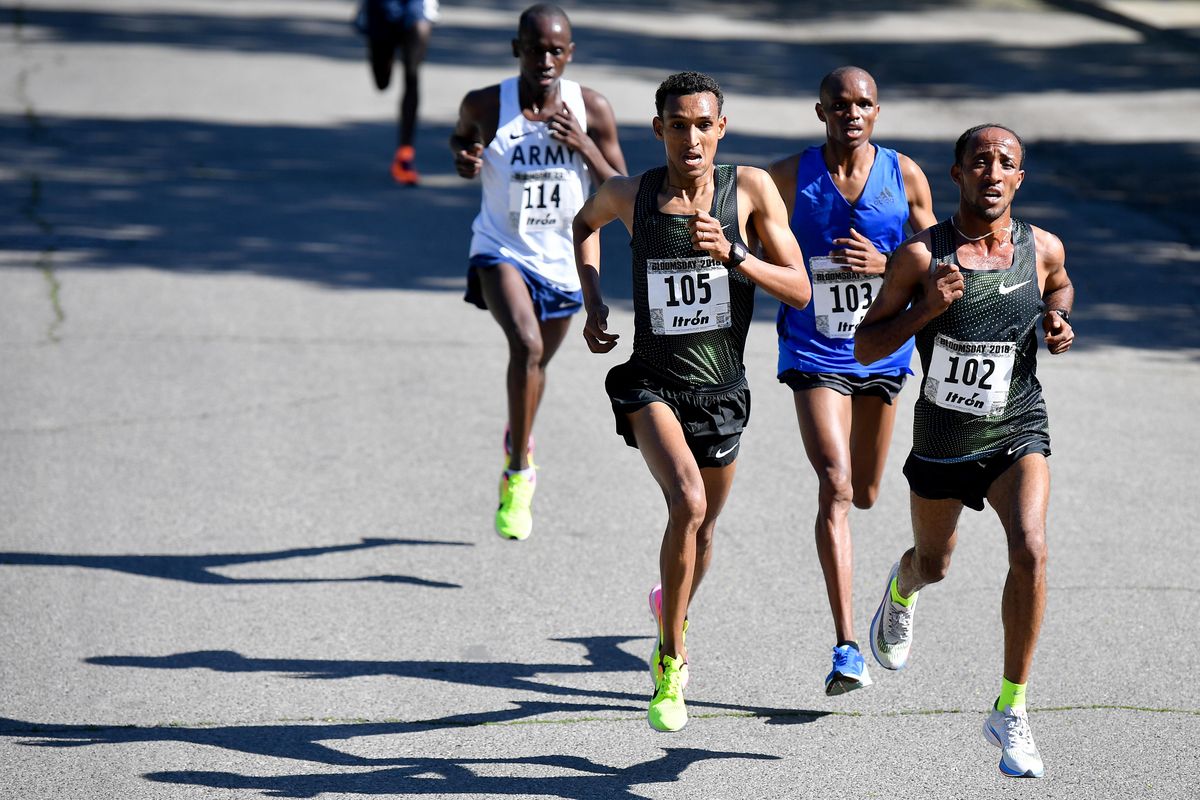 Jemal Yimer (102) pulls to the front of the Elite Men's Race during Bloomsday 2018 on Sunday, May 6, 2018, in Spokane, Wash. (Tyler Tjomsland / The Spokesman-Review)
With a mile and a half to go, Bloomsday was anybody's race.
Seconds later, it was all but over.
As a nine-man pack approached Broadway Avenue – each runner wondering who would make a move – Jemal Yimer answered their questions in a flash.
Using a kick that no one else could match, the 21-year-old Ethiopian suddenly pulled away and cruised to a 16-second win over countryman Teshome Mekonen on a warm Sunday morning in the 2018 Lilac Bloomsday 12K Run.
Yimer's secret? He wasn't telling.
After the race, Yimer waved off the media, leaving Mekonen to offer his perspective.
"It was a very good race," said Mekonen, who finished fourth in last year's race.
"But after the first 6 miles, it wasn't very good. He pushed very nice," Mekonen said.
So did Mekonen, who stayed with Yimer for almost half a mile before falling back as the pair passed the final aid stations on Broadway.
By the time Yimer made the final turn onto Monroe, he was at least 120 yards in front, checking his watch and smiling at the crowd.
Yimer's closing kick gave him a time of 34 minutes, 18 seconds. That was 13 seconds better than last year's winning time but outside the top 15 all-time.
Warm weather probably didn't help. With the temperatures in the upper 60s at race time, the elite men were content to hold down the pace in the early going.
They also reached for water at every aid station.
Eighteen runners were still in contention during the first half of the race. However, the pace was one of the slowest in recent history: 4:31 for the first mile, followed by a 4:32, 4:43 and 4:46 as they neared the turn onto Doomsday Hill.
Halfway up, it was difficult to see who was faltering in a pack that still numbered 16. Still, the pack began to thin at the top, leaving nine in contention as they made the sharp turn onto Mission Avenue.
Among them were 2017 runner-up Philemon Cheboi of Kenya, 2016 champion Philip Langat of Kenya and Emmanuel Bor, a naturalized American from Kenya who is one of three brothers in the United States Army and competes for the U.S. Army World Class Athlete Program.
The 22-year-old Mekonen was coming off a pair of top-four finishes, at a 10K in Dubai and in the United Airlines Half Marathon in New York City.
However, Yimer has been in top form. Four weeks ago, the half-marathon specialist won the Cherry Blossom 10-Mile in Washington, D.C., and has posted the fastest 10-mile time in the world this year.
In other words, Yimer was ready for anything.
A pack of nine had barely turned onto Lindeke Street when Yimer and Mekonen turned on the jets. Then Yimer found another gear and cruised toward the $7,000 first-place prize money.
Cheboi finished eight seconds behind Mekonen with a time of 34:42 for third place. Wilson Kibogo rallied to finish fourth, while Bor was fifth but took home $6,800 by finishing as the top American.
Last year's winner, Gabriel Geay of Tanzania, finished 15th.
Local journalism is essential.
Give directly to The Spokesman-Review's Northwest Passages community forums series -- which helps to offset the costs of several reporter and editor positions at the newspaper -- by using the easy options below. Gifts processed in this system are not tax deductible, but are predominately used to help meet the local financial requirements needed to receive national matching-grant funds.
Subscribe to the sports newsletter
Get the day's top sports headlines and breaking news delivered to your inbox by subscribing here.
---