Dorothy Dean Home Cooking Show: Disneyland Executive Chef John State brings a dash of magic to Spokane this week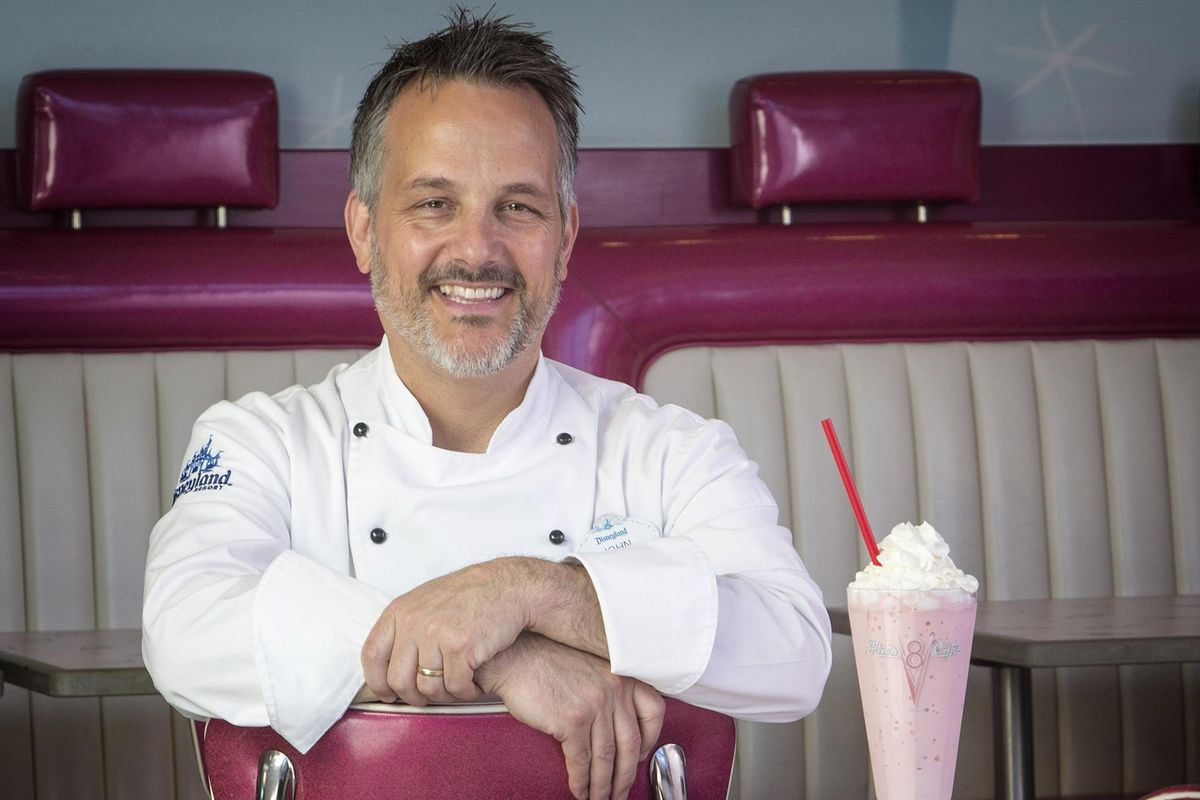 Chef John State always knew the kitchen was a special place.
It didn't matter whether it was hanging out in his grandmother's kitchen or with his five siblings in his parent's kitchen or on some wild trip with friends in foreign countries. The kitchen was a magical place.
And it doesn't get anymore magical than to be one of the executive chefs at the Disneyland Resort in Anaheim, California. State leads the culinary staff at the Disney California Adventure Park, the Downtown Disney shopping and dining district, the resort's impressive in-house candy production and central bakery, as well as all special event catering and all of the food for Disneyland's massively popular festivals.
State is part of the Dorothy Dean Home Cooking Show, which runs 10 a.m. to 4 p.m. Saturday at the Spokane Convention Center. (Tickets are for sale online through TicketsWest.) He joins a slate of chefs at the event, including "Top Chef" contestant Chad White and other local favorites.
If you've visited Mickey Mouse in Southern California, you've probably tasted State's food. And chances are, it changed your views on what food could be at a theme park.
This is much more than just hamburgers and hot dogs.
It's a cool mixture of surprisingly tasty and fresh, thoughtfully crafted and unmistakably fun … with a dash of Disney magic for seasoning. All that being said, you shouldn't overlook that corn dog when you're visiting the Disneyland Resort – but we'll come back to that a little later.
State has a unique view of Mickey's culinary kingdom. He's one of the few people to be an executive chef at both Walt Disney World in Orlando, Florida, and at the Disneyland Resort in California.
In 1995, he was asked to open one of Walt Disney World's signature restaurants, the California Grill – known as much for its stunning views of the Magic Kingdom's nightly fireworks show as it is its seasonal, farmers' market-inspired scratch-menu dishes. Which all went even better with the restaurant's impressive wine list.
This was around the time that Disneyland had opened its AAA four-diamond Napa Rose restaurant with rock-star chef Andrew Sutton. The bar for a restaurant like this was high because true fine-dining was proving it could not only work in a theme-park environment, but be hugely successful on several levels.
It's one of those moments that was key to State's culinary career.
Despite the success he was having, he was looking for something a little more "elevated." Or at least that's what he thought.
That led him to taking an executive chef job to help open a brand new, high-end JW Marriott Hotel, with responsibility for the resort's entire food and beverage operation. Then he became the executive chef partner for the Seasons 52 Restaurant in Chicago.
This was a high-profile restaurant in one of America's biggest cities. More importantly, it got him closer to his family and his Midwest roots.
It was good. It was elevated. And, at least on paper, it was exactly what he was looking for. Except it wasn't all that he hoped it might be.
At some point, State heard the Disneyland Resort in California was looking for someone with very specific skills and experience. But he had done that before. Did he really want to work for Mickey Mouse again?
As he talked with key leaders at Disneyland, he loved how natural it all felt to him. How much it felt like home. Only now he was armed with lots of life experience.
He also now knew that "elevation" is what you make of it.
And that being an executive chef for Disney is not only an amazingly high-profile and sought-after job in the culinary world, it's also rewarding and highly creative.
Look no further than the dishes State's team created for Pixar Fest, a festival that runs through the beginning of September at the Disneyland Resort and celebrates everything Pixar.
Imagine what it must be like to put together a menu for a world that's not even real.
For State and his team, that was the best part.
"As chefs, we can be fun, but we can sometimes be a little too serious about our craft," State said. "After a few minutes, we began to realize the permission we were getting from Pixar. The animators and storytellers from Pixar were telling us: 'Listen, we know we're not real, but we are having a blast!' "
The only parameter was that everything had to taste great. Other than that, there were no boundaries.
The results were some of the most colorful and creative dishes seen at a place known for its color and creativity.
Case in point: The Harryhausen's chilled noodle salad featured at the Lucky Fortune Cookery inside of Disney's California Adventure. To begin to appreciate all of the detail that went into the dish, you first have to know that Harryhausen's is the sushi restaurant that Mike Wazowski takes his date to in the 2001 Pixar hit movie "Monsters, Inc."
The only thing more unusual than the monsters at the restaurant in that movie was the food served in it. So that got the creative juices cooking for State and his team.
First, they realized that when boiled, red cabbage in water changed the color of the water. Then when they cooked glass noodles in the cabbage's water, it changed the noodles' color.
Then they added a vinaigrette and lime that are served on the side. Once you squeeze those on to the dish, well, let's just say that the reaction seems like it's from a movie. Yep, the noodles change colors.
They go from a purple to this weird reddish color and then they turn pink. There are also some herbs in the dish, along with pickled vegetables and toasted nuts. Let's just say it all looks pretty weird.
But it's also tasty.
"It just goes to show that one of our perks is that we do put the church in the center of the village," State said with a little laugh.
"We realize we're an entertainment company and we are a storytelling company, but as chefs, you sometimes need others to encourage that. Though I have to admit we never really had been told we couldn't create food like this before, but we now feel like we're going to be even better at this."
So, let's get back to the corn dog.
When State first started working at Disneyland a few years ago, he was in Southern California for a few months before his family could join him. So, he'd often talk with them on the phone.
Of course, they'd ask about the food at the Disneyland. He would say the things you'd probably expect a chef of his level to say.
Then he'd tell his family how much he loved the corn dogs at the resort.
A corn dog?!
He said they would almost make fun of him and remind him of all of the classical kitchens he was raised in.
"No, I'm telling you, this corn dog is amazing."
For anyone who has visited Disneyland in the past decade or so, this isn't a surprise. The biggest food line in the entire resort is to get one of those hand-dipped corn dogs.
But if you push him a bit, he'll tell you there's an even better version of Disneyland's famous corn dog. If only you know where it's at …
"We have this hot link corn dog at the Corn Dog Castle (inside of Disney's California Adventure), where it's the same batter we use on the normal corn dog, and we fry it golden brown just like we do the normal corn dog, but it's a hot link inside instead of our normal hot dog, and I think that's a game changer.
"I would say for me, that's the one dish I don't want to pass up when I'm walking through the resort."
So, don't be surprised the next time you're at Disneyland if you see one of the park's executive chefs enjoying a corn dog.
State will tell you it's just one of the perks of a really great job.
---