Idaho officials negotiating on 'state-based' insurance plan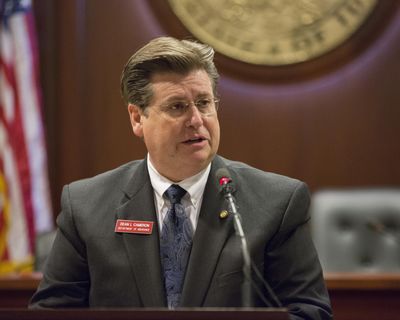 BOISE – Idaho officials say they may add more requirements from former President Barack Obama's health care law to their proposal to let health insurance companies sell so-called state-based policies that skirt some "Obamacare" rules.
Idaho Department of Insurance Director Dean Cameron says he and other officials have been negotiating with the U.S. Department of Health and Human Services in an effort to come up with a modified approach to the state-based plans that will pass federal muster while still ditching some Affordable Care Act provisions.
"You will probably see us acquiescing on annual limits and essential health benefits," Cameron said. Potential changes to the state's proposal include requiring maternity coverage, he said.
Meanwhile, Idaho officials are proposing a slightly different approach to determining premium costs and some other regulations, Cameron said, though the details are still under discussion.
Cameron says the state-based plans are needed to save Idaho's insurance exchange as premiums continue to rise and some healthy residents opt to go uninsured.
Idaho Gov. Butch Otter and Lt. Gov. Brad Little announced in January that they would allow insurance companies to sell cheaper policies that don't fully comply with "Obamacare," despite not yet having any federal approval for what critics called a legally dubious plan. Idaho was believed to be the first state to do so. Several weeks later, however, Seema Verma with the Centers for Medicare and Medicaid Services sent the state a letter warning that the proposal was illegal under the Affordable Care Act, and reminding Idaho that officials that her agency had a duty to uphold the health care law.
Still, Verma indicated her agency was sympathetic to Idaho officials' concerns, and the state has been deep in negotiations over the past few weeks. The agency also extended the 30-day deadline that Idaho had to respond, with a new deadline set for May 5.
It wasn't immediately clear if that deadline would be extended again, though emails and other documents obtained by the Associated Press through a public records request indicated both entities were working toward a solution.
Randy Pate, director of insurance oversight with the federal agency, noted in an email to Cameron last month that Idaho and the Centers for Medicare and Medicaid Services "are engaged in productive conversations regarding the sale of State-based plans."
Pate also asked Cameron to keep communications between the two confidential to maintain the integrity of the process. Some of the records obtained by the AP were redacted under federal Freedom of Information Act rules exempting certain "deliberative materials" from release.
"They've pushed us and challenged us in some ways, and we've pushed back and challenged in some ways, and it's been a helpful discussion," Cameron said.
---