This prom picture is about so much more than a hairdo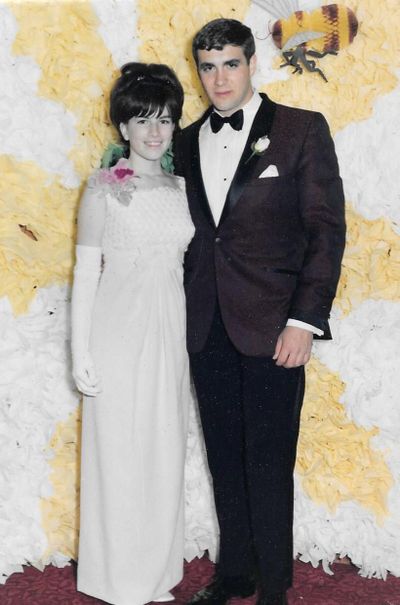 So the whole prom pictures thing was supposed to be a bit of a laugh.
When I asked readers last week to share their old photos, I was thinking of amusingly dated hairstyles and outlandish prom outfits.
You know, the sort of pictures that would make us smile.
Then an email arrived from Barbara Hill.
Attached was a photo of her and her boyfriend Lewis Allwardt at her 1967 Holy Names Academy senior prom.
He died last week and it put Barbara in a reflective mood. She recalls more than just the prom, but let's start there.
"I remember shopping everywhere before I found my dress at Mossuto's. The day of the prom, I went to a salon to have my hair done."
The results were not good. "It was awful. I looked matronly!"
That's definitely not the look teenage girls are going for, now or back in 1967.
All was not lost.
"My best friend was good with hair and she redid it for me."
The couple went to the Ridpath Roof for dinner.
"I remember these ancillary things but don't remember the theme of the prom, where it was or the music."
But she remembers Lewis.
They had first met up at Mount Spokane after a day of skiing. She thought he was good-looking.
Lewis had graduated from North Central and was attending SCC.
"He said he would call. He didn't."
A little time went by and they ran into each other again.
Barbara confronted him with "You are that guy who said he would call."
Proclaiming his innocence, he said he had lost her phone number.
"Yeah, sure," said Barbara.
But this time, he did call. They started dating.
That romance led to marriage. They spent a year in Germany and got to see Europe while Lewis was in the Army.
They had a child.
After five years, they got a divorce.
Things can go one of several different ways at that point. And Barbara remembers a couple of years of what she calls "post-divorce craziness."
Not happy times.
Then something happened. They more or less decided that they had to get along.
"We were able to be friends because we had a common goal of doing the best we could for our son."
Both remarried.
But Barbara and Lewis maintained a connection. "He remained a friend throughout and was very supportive. Our son was the light of his life, his 'sonny boy.' "
Sometimes the bitterness that led to a breakup fades, and some of the good stuff is what we recall. Sometimes.
"Our marriage didn't work but the friendship did. He could be infuriating but also a good friend, especially in time of need."
So when Barbara looks at her prom picture today, she sees a girl and a boy who once were in love.
"I realize that I'm getting far away from the prom but I was going down memory lane because he passed away."
There really is something about old pictures, isn't there?
Barbara Hill knows all about that.
"Isn't it interesting how the distance of time can soften the edges? And, when you're looking at old photos, the memories and emotions it brings up."
Some prom memories are about a different, more complicated sort of dance.
For the record
Does it bug you when media types spout inane predictions and then never follow up with a report on how things turned out? Me, too.
Well, long, long ago, I confidently proclaimed that Silverwood would never last. The reasons seemed obvious.
It was too far from a major population center, too pricey for frugal Inland Northwesterners and unlikely to attract repeat visits.
Uh, wrong.
Silverwood, which opened for the season this weekend, celebrates its 30th anniversary this year.
---