Zimbabwe couple weds after crocodile bites off bride's arm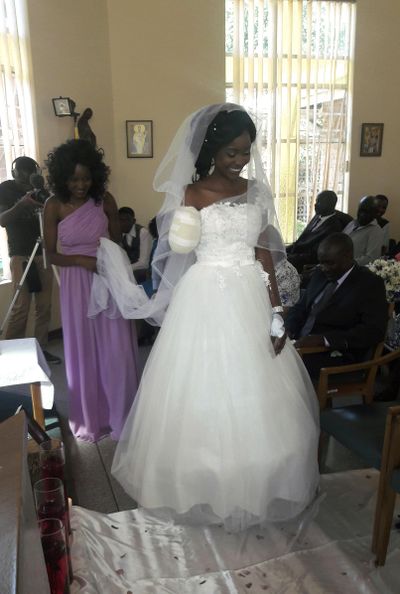 HARARE, Zimbabwe – A couple attacked by a crocodile wedded days later in a Zimbabwean hospital, where the bride was recovering after losing an arm.
"In one week we went from shock and agony to a truly amazing experience," 27-year-old Jamie Fox told the Associated Press Monday.
Fox and his then-fiancee, Zanele Ndlovu, were canoeing April 30 on the Zambezi, one of Africa's longest rivers, when a crocodile attacked them. Zenele lost her right arm and suffered injuries to her left hand. Five days later, they married in a hospital chapel.
"We were glad we still had our lives and managed to keep our wedding date, although we had to do with a much smaller venue. The celebrations went ahead at the original venue but Zenele and I had to remain at the hospital," Fox said.
He described the wedding as "incredible."
Victoria Falls Guide, a travel website, describes canoeing on the Zambezi above the Victoria Falls "the perfect activity for those who not only want to see the abundant bird and animal life but also want to experience the peace, tranquility and beauty of the Zambezi River."
For the couple, the experience turned into a terrifying incident.
"I was shouting, trying to save her. She was not complaining of pain when we managed to pull her out of the water, maybe because of the shock. We were hoping the doctors would save her arm but that was not to be," said Fox, adding that the couple had dated for about 18 months.
"I proposed in February. We are hoping to settle in the U.K. so we are sorting out her visa and then we will think of the honeymoon," he said.
Zanele was discharged from the hospital on Monday.
---