A&E
Dorothy Dean presents: perfect pavlova
Tue., May 8, 2018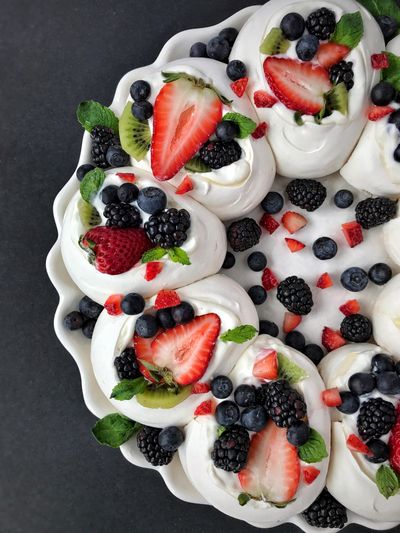 Homemade means so much more than just being made at home.
Behind the word is work, care, effort, time, sometimes tradition and, most of all, love.
Whether it's making a special treat or preparing a grand meal, making something at home from the heart is the sincerest gesture for someone who helps make your world go round.
Someone like mom.
This Mother's Day indulge her sweet tooth with the "fluff" dreams are made of.
Pavlova is a meringue-based dessert. It's widely popular in New Zealand and Australia. And while both countries claim fame to its creation, the two can agree it's named after Russian ballerina Anna Pavlova, who toured through the region in the 1920s.
This cloud-like dessert has a crisp crust and a light, marshmallow-like interior. It's topped with a silky, tangy Greek yogurt cream that counterbalances the sweetness of the delicate pavlova. And the fresh berries add bursts of sweet-tart flavor and plump, juicy texture.
Berries can be used to make pavlova seasonally appropriate for any holiday or time of the year. But, when adding your cream and berries, be sure to do so right before serving; the moisture and weight will begin to collapse the pavlova.
Nothing says "I love you" like homemade.
So start whipping those egg whites.
Pavlova Wreath
Adapted from marthastewart.com
For the pavlova:
6 large egg whites, room temperature
1 1/2 cups sugar
1 teaspoon distilled white vinegar
1 teaspoon cornstarch
1 teaspoon vanilla extract
For the topping:
1/2 cup heavy cream
1 teaspoon vanilla extract
1 tablespoon sugar
1 1/4 cups Greek yogurt, full fat
Strawberries, blueberries, blackberries, kiwi, or any berries of your choice
Mint, for garnish
Preheat oven to 250 degrees. On a piece of parchment paper with a pencil, trace a 10-inch-diameter circle and then a 5 1/2-inch-diameter circle in the center of that. Place tracing-side down on baking sheet.
Add egg whites to stand mixer, or medium sized bowl, and whisk until soft peaks form. Gradually add 1 1/2 cups sugar and beat to stiff peaks. Mix in vinegar, cornstarch and vanilla.
Place mixture into a large piping bag fitted with a large plain tip. A large zip-top bag with the corner snipped would work as well. Using the traced rings as a guide, pipe 9 to 10 evenly spaced mounds (each about 2 1/4 inches in diameter and 2 inches high) onto parchment in a circle. Create a hollow in each mound with the back of a spoon. These little "bowls" will hold your cream and berries. Bake for about 1 hour and 10 minutes. The ring should easily lift off parchment. Turn off heat; let stand in oven 1 hour or overnight.
For topping, beat heavy cream until almost stiff. Add in vanilla and sugar and beat until cream holds peaks. Gently fold in Greek yogurt. Cover and chill until ready to use.
When ready to serve, dollop cream into hollows in pavlovas. Garnish with berries and mint. Serve immediately.
Local journalism is essential.
Give directly to The Spokesman-Review's Northwest Passages community forums series -- which helps to offset the costs of several reporter and editor positions at the newspaper -- by using the easy options below. Gifts processed in this system are not tax deductible, but are predominately used to help meet the local financial requirements needed to receive national matching-grant funds.
Subscribe to the Spokane7 email newsletter
Get the day's top entertainment headlines delivered to your inbox every morning.
---