News > Nation
Purported son of Charles Manson drops out of estate fight
UPDATED: Tue., May 8, 2018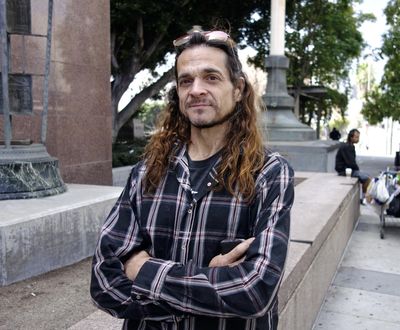 LOS ANGELES – The purported sons of Charles Manson could soon be out of the legal battle over his estate after failing to show up in court Tuesday.
Matthew Lentz, who claims he was fathered by Manson at a 1967 orgy, arrived late at Los Angeles Superior Court looking disheveled and frazzled after a brief hearing in the probate case of the late cult leader. Another supposed son, Michael Brunner, filed papers to drop his claims as an alleged heir to the convicted murderer.
If the two drop out, it would pit a purported grandson against a pen pal who has filed a will that names him as sole beneficiary to the estate.
Purported kin to Manson and so-called murderabilia collectors who befriended the inmate have emerged in the court fight since Manson, 83, died in a hospital in November while serving a life sentence for orchestrating the 1969 killings of pregnant actress Sharon Tate and eight others.
Upon learning he had missed the hearing, Lentz, who doesn't have a lawyer, lamented his late arrival and said he feared he would be out of luck because he had hoped to forge an alliance with Brunner, who has a lawyer.
"I blew it," he said outside court. "I wasted how many years of my life for this dumb crap? For what?"
Lentz is listed as sole beneficiary in a 2017 will that names memorabilia collector Ben Gurecki as executor. Others have claimed the will is a fraud.
Wearing an inside-out plaid shirt, Lentz clenched a hard plastic case overflowing with the rambling letters from Manson that he hoped would sway a judge to believe he was his son.
"You got the same father I got – a Hobo just left on a midnight train," one letter said. "Your mom's father ran me off saying you bad bandit OUTLAW BIKE TRASH – stay out of her life. It's not that I didn't care. It was free love and you paid the price."
Lentz, a musician, said he wasn't looking for much, maybe the rights to a song Manson said he wrote for him.
The judge gave Lentz until a July 13 hearing to show why he shouldn't also be dismissed from the case.
A lawyer for Brunner, Daniel Mortensen, filed papers to drop his case. He was not in court and did not return phone calls seeking comment.
Brunner's mother was a former Manson family member and he is widely believed to be Manson's offspring.
Mary Brunner was in jail on credit card fraud case in August 1969 when Manson instructed his followers to carry out killings that he hoped would spawn a race war.
Michael Brunner had been among those who also fought in court over the right to collect the body of Manson.
He lost that fight because he was adopted by his maternal grandparents and could not be deemed an heir. His bid for the estate was likely to meet a similar fate.
Lentz faces a similar problem. He was also adopted and later pieced his paternity together after tracking down his biological mother.
The fight over Manson's body was won by a purported grandson, Jason Freeman, a former mixed martial arts fighter from Florida. He had the decomposing corpse cremated and scattered the ashes after a brief private funeral in March.
Michael Channels, who befriended Manson by mail and sold his songs and artwork, is also fighting for the estate. He has filed a will that names him as executor.
The court that ruled against Channels in the body case, though, has said that will is problematic, in part, because he was one of the two witnesses while also sole beneficiary. That presents a possible conflict of interest.
Local journalism is essential.
Give directly to The Spokesman-Review's Northwest Passages community forums series -- which helps to offset the costs of several reporter and editor positions at the newspaper -- by using the easy options below. Gifts processed in this system are not tax deductible, but are predominately used to help meet the local financial requirements needed to receive national matching-grant funds.
Subscribe to the Coronavirus newsletter
Get the day's latest Coronavirus news delivered to your inbox by subscribing to our newsletter.
---