News > Idaho
Two GOP Idaho candidates to stay on ballot
Tue., May 8, 2018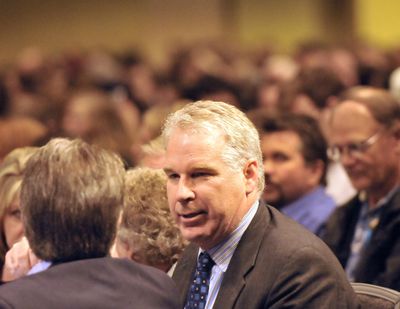 BOISE, Idaho – Two former Idaho lawmakers previously kicked off the May 15 ballot over residency concerns have been given second chances to run for legislative seats.
Deputy Secretary of State Tim Hurst on Monday said former Republican state Rep. Phil Hart will appear on the primary ballot. A judge ruled last week that former state Rep. Kathy Sims also was improperly tossed off the ballot.
Hart is running against incumbent GOP Rep. Paul Shepherd in Legislative District 7. Sims is running in the open District 4 seat against Republican Tony Wisniewski.
Hurst said a separate ruling had been handed down invalidating Hart's eligibility, but the judge has since rescinded that ruling because of filing errors.
Rather than address Hart's eligibility a week before the pending election, Hurst said the state will wait to see what happens and determine what steps to take after May 15.
"Long story short, rather than go back and forth this close to the election, we will evaluate that the primary," Hurst said.
Hurst acknowledged, however, that doing so means voters in District 4 will risk casting a ballot with a potentially ineligible candidate, but said the state didn't want to subject voters and county officials to uncertain and complicated legal decision for the next week.
"We have concerns what this is doing to the system, we don't want to do irrefutable harm," he said.
Hart's attorney didn't immediately return a request for comment.
The secretary of state's office in late April had ordered Hart and Sims removed from the ballot because of concerns that the two didn't meet the state's residency requirements.
The decision forced election officials to black out Hart and Sims names for voters participating in the state's early voting window. In Idaho County, 119 voters had already cast a ballot with Hart's name blacked out. In Kootenai County, 54 voters had cast a ballot with Sims' name blacked out.
Local journalism is essential.
Give directly to The Spokesman-Review's Northwest Passages community forums series -- which helps to offset the costs of several reporter and editor positions at the newspaper -- by using the easy options below. Gifts processed in this system are not tax deductible, but are predominately used to help meet the local financial requirements needed to receive national matching-grant funds.
Subscribe to the Coronavirus newsletter
Get the day's latest Coronavirus news delivered to your inbox by subscribing to our newsletter.
---