News > Washington
As coming floods threaten, Washington communities shore up and prepare for the worst
Thu., May 10, 2018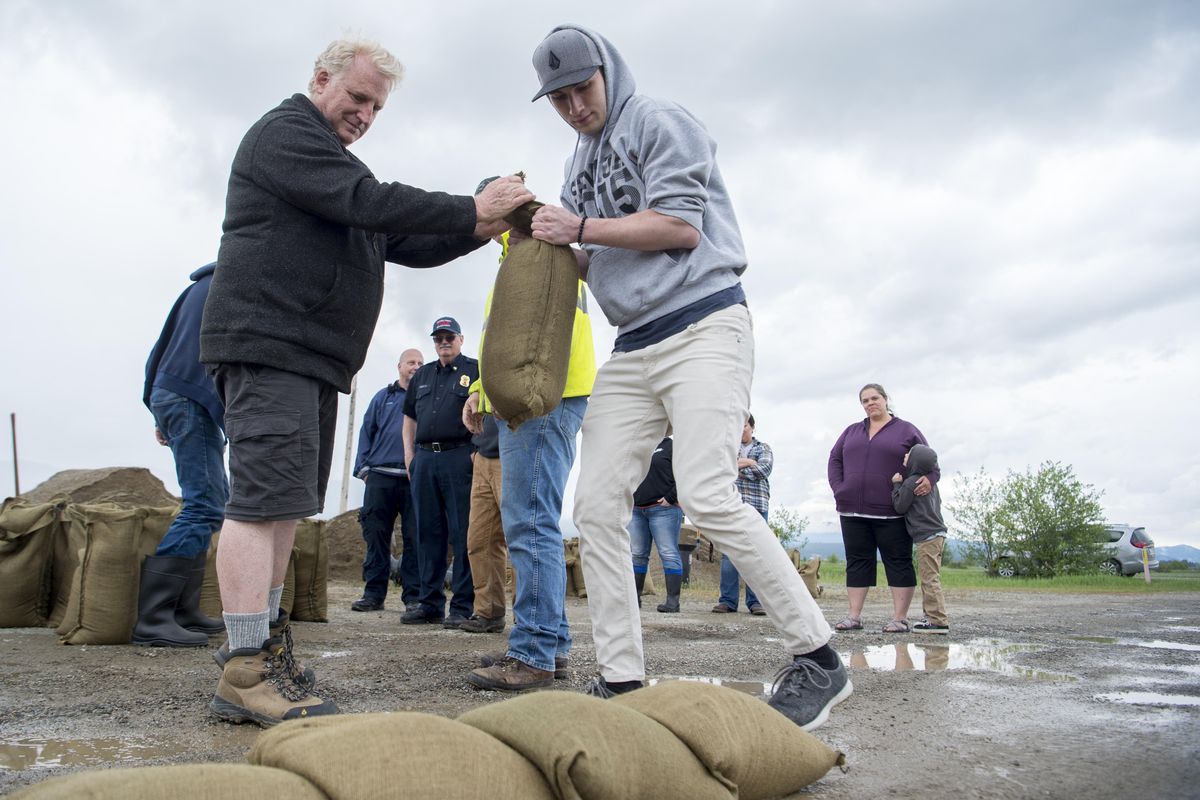 At a class to learn about sand bagging to keep flooding at bay, Joathan Hepp, left, and Ryan Revard, right, practice placing sand bags to build a dike Wednesday, May 9, 2018 at the Kalispel Tribe headquarters in Usk. (Jesse Tinsley / The Spokesman-Review)
Standing on the Kalispel Reservation's boat launch near Usk, Washington, tribal public works official Dan Rankin pointed Wednesday to the Pend Oreille River, its water flowing a couple of feet higher than a typical May runoff.
"Where we're standing right now, you could drive a boat," he said. "The water wasn't this high until June last year, so that's not a good sign."
The rising river, caused by rain and a recent wave of warm temperatures melting snow off nearby mountains, evoked memories of a 2011 flood that forced the tribe to cancel its annual Fourth of July powwow.
Pockets of the Inland Northwest, including Okanogan and Bonner counties, are in similar situations, with even greater flooding expected this weekend. In Washington, major flooding was reported Wednesday on the Okanogan River near Tonasket and on the Kettle River near Ferry, according to the National Weather Service. In Idaho, minor flooding was recorded on the Moyie River at Eastport and the St. Joe River at St. Maries.
The rising water levels prompted a visit from Seattle-based Army Corps of Engineers workers, who arrived Wednesday in Pend Oreille County to help local responders and residents in the event of a severe flood.
Their primary focus: sandbagging lessons.
Five mounds of sand were dumped in front of a cache of empty bags and shovels near the river at the tribe's boat launch, as about 25 people came to get a sandbagging tutorial by the Army Corps' flood expert, Cathie Desjardin.
One by one, the patrons learned how to quickly and efficiently bag the sand and safely carry the heavy bags.
"Anybody can fill a bag, but getting them consistently filled is the key," said Desjardin, who is slated to visit other flood-prone counties in the coming days. "You want to be effective with the least amount of bags."
Lake Pend Oreille water levels could rise above 2,062 feet for several weeks, according to a U.S. Army Corps of Engineers news release. Areas downstream from the lake, such as Cusick, Newport and Usk are likely to be affected by high river flows, while the Albeni Falls Dam is on free flow.
The Pend Oreille River had risen about 6 inches from Tuesday to Wednesday, and was flowing nearly 82,000 cubic feet per second, according to officials.
The Okanogan River, which runs through the town of Tonasket, reached crests of 18 feet Wednesday, well above the flood stage of 15 feet. It is expected to reach 19 feet by Saturday. Another group of U.S. Army Corps of Engineers was in Okanogan County to repair a levee, Desjardin said, and some of the area's roads were closed.
Desjardin pointed to flooding in Missoula County as the catalyst for potential flooding in Bonner and Pend Oreille counties. Missoula-area rivers crested in April, and nearby Plains, Montana, is also experiencing a damaged levee, Desjardin said.
Kalispel Tribe Fire Department Chief Corrie Johnson is preparing for the worst.
"I think it's going to be a problem," Johnson said of the water coming from Montana. "All that water is coming here, so I think it will be at least as bad as the flood in 2011."
About half of the Kalispel Tribe land is flood plains, Johnson said. The dike road in Usk is flooded, she said.
"Right now we're all working together to help as many people as we can," Rankin said. "That's why we came out here and to help people with sandbagging and learn."
The Army Corps of Engineers will give sandbag lessons at 5:30 p.m. today at the Selkirk Fire Department in Sagle.
Local journalism is essential.
Give directly to The Spokesman-Review's Northwest Passages community forums series -- which helps to offset the costs of several reporter and editor positions at the newspaper -- by using the easy options below. Gifts processed in this system are not tax deductible, but are predominately used to help meet the local financial requirements needed to receive national matching-grant funds.
Subscribe now to get breaking news alerts in your email inbox
Get breaking news delivered to your inbox as it happens.
---