Alex Ovechkin has goal and assist, Capitals beat Lightning 4-2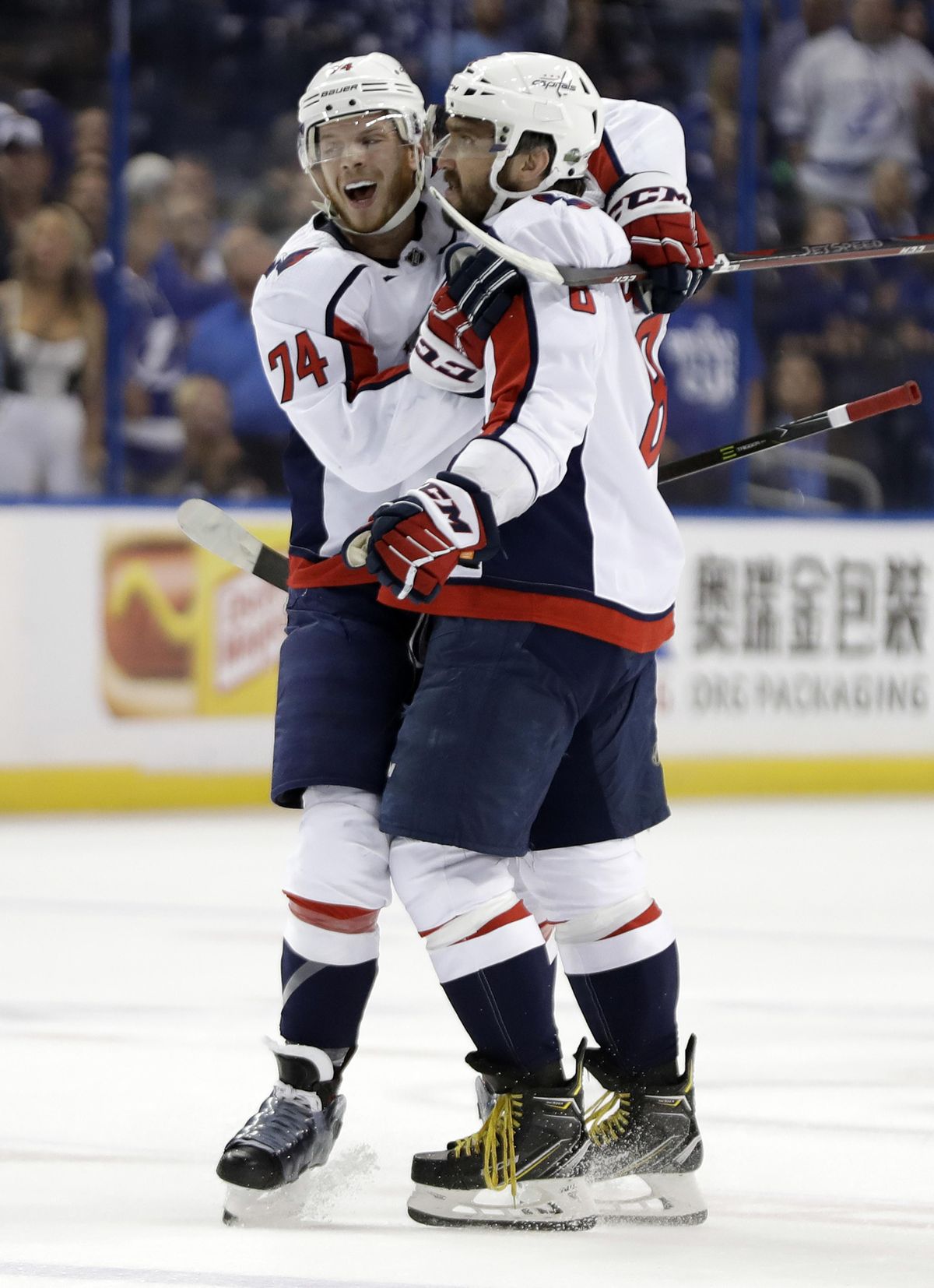 TAMPA, Fla. – There was no letdown for the Washington Capitals. Just more winning hockey.
Putting an emotional second-round victory over playoff nemesis and two-time defending Stanley Cup champion Pittsburgh behind them, the Caps got a power-play goal and assist from Alex Ovechkin in his Eastern Conference finals debut and beat the Tampa Bay Lightning 4-2 on Friday night.
Braden Holtby stopped 19 shots and Michal Kempny, Jay Beagle and Lars Eller also scored for the Caps, who are alive beyond the second round of the playoffs for the first time in Ovechkin's brilliant 13-year career.
"We had a really good start. We didn't give them much," Ovechkin said.
"I think it's we realized we just have to play our way," the Washington captain added. "It doesn't matter which position we are, which round it is. Everybody was paying the price."
Steven Stamkos and Ondrej Palat scored for Tampa Bay, which trailed 4-0 heading into the third period.
Game 2 is Sunday night at Amalie Arena, where Tampa Bay also lost Game 1 in the second round against Boston.
"It's just one game. That's the way we have to look at it," Lightning coach Jon Cooper said. "We've got to get back to what got us to the conference final."
The Capitals dominated in improving to 6-1 on the road this postseason, with Kempny giving them an early 1-0 lead.
Ovechkin made it 2-0 a mere 5 seconds after the Lightning thought they had tied it in the closing seconds of the opening period. But Nikita Kucherov's would-be breakaway goal was waved off because Tampa Bay had too many men on the ice.
T.J. Oshie won the ensuing faceoff in the Lightning zone, getting the puck to Evgeny Kuznetsov, who fed Ovechkin for the Washington superstar's ninth goal this postseason – 55th overall in 110 career playoff games – at 19:54 of the first.
"That gave us a real boost … gave us some breathing room," Capitals coach Barry Trotz said.
Beagle and Eller scored in the first seven minutes of the second period for a 4-0 lead. Up to that point, the Lightning – the NHL's highest-scoring team during the regular season – had allowed as many goals as they had shots.
Tampa Bay replaced goaltender Andrei Vasilevskiy with Louis Domingue after the starter allowed four goals on 25 shots through two periods.
Holtby lost his shutout when Stamkos, assisted by Kucherov and Victor Hedman, scored at 3:45 of the third. Palat added his goal at 13:03, trimming Washington's lead to 4-2.
Stamkos and Kucherov had one shot between them in the first two periods.
The Lightning dropped the opener of a series for the second straight round. They rebounded from a lopsided Game 1 loss at home to Boston by winning four straight to advance to the conference finals for the third time in four years.
The Capitals defeated Columbus and Pittsburgh in six games to reach the conference finals for the first time since 1998, when they beat the Buffalo Sabres.
"That's a good hockey team over there, and they outplayed us tonight," Stamkos said. "In hindsight, we were in this same position in the last round and found a way to respond."
Added Lightning winger Ryan Callahan: "We've just got to put it behind us. We've been in this situation before, unfortunately. You don't want to be, but you don't have to look too far to draw back on the way we responded against Boston. We have to do the same here."
NOTES: Ovechkin has 17 points (nine goals, eight assists) in 13 playoff games. Kuznetsov had two assists, giving him nine this postseason. … The teams are meeting in the playoffs for just the third time, first since 2011. Tampa Bay won both previous meetings, including a sweep in the Eastern Conference semifinals seven years ago. Stamkos and Hedman are the only players remaining on the Lightning roster from that series. … The Capitals played without top center Nicklas Backstrom (hand), who's considered day-to-day. Winger Tom Wilson, meanwhile, returned from a three-game suspension for a hit on Pittsburgh's Zach Aston-Reese during in the second round. … The Caps have outscored opponents 14-3 in the opening period this postseason. They've won seven of 10 games in which they've scored first.
---