Pride in heritage on display at Stevens Elementary Cultural Awareness Night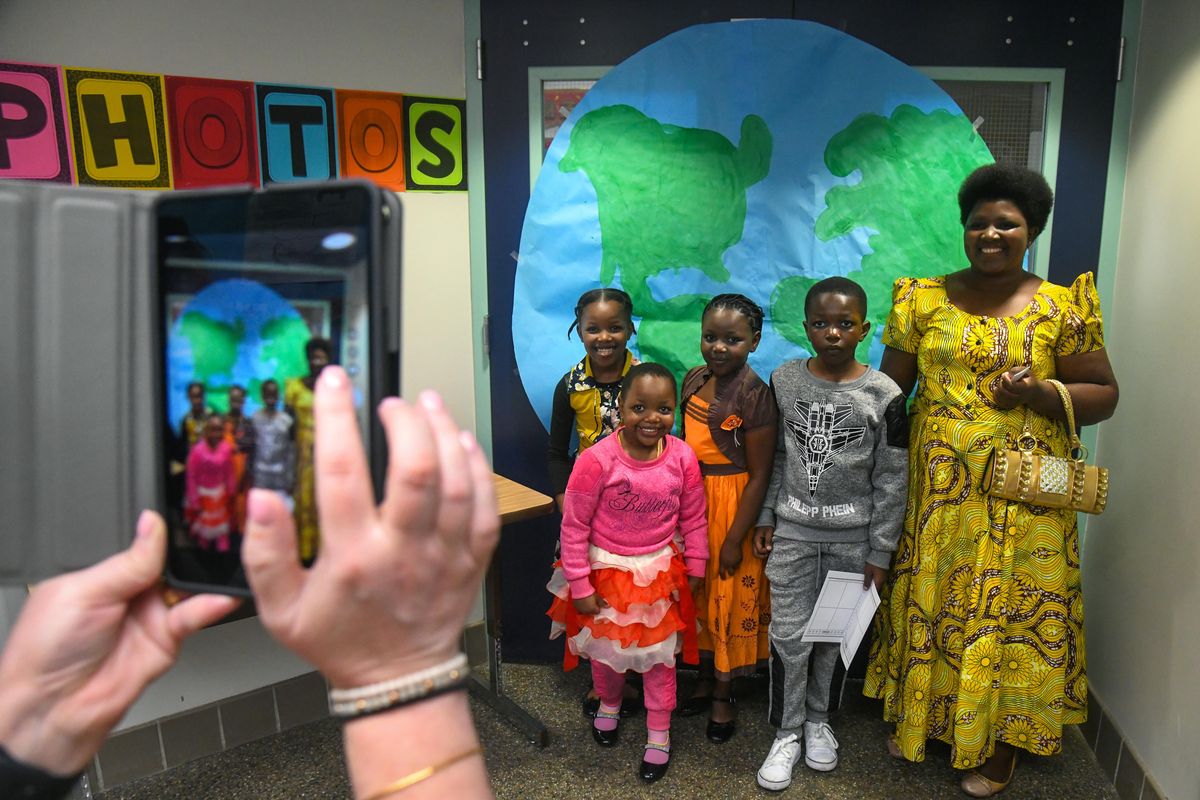 The students and families at Stevens Elementary School found something special to celebrate Thursday evening: themselves.
For hundreds, Cultural Awareness Night was the sweet smell of ethnic food in the cafeteria and the sounds of African drum music in the auditorium.
It also was a lot of work – for the teachers and staff, the 500-plus children who spent months preparing for their big night, and the parents who live in the surrounding east Spokane neighborhood.
After years experimenting with community engagement, Stevens appears to have arrived at a model strategy. Last year's inaugural event drew more than 300. Many more attended Thursday's event.
"It's been surprising," said Sara Shaw, an English language development teacher at Stevens. "For various reasons, we've had a hard time getting parents to participate (in past events), but this event has just taken off.
"The parents have been performing, cooking, getting their kids to participate and getting the community involved."
Then again, the Stevens community is more culturally diverse than most. About 45 percent of the student body is nonwhite.
In one hallway, students posted pictures of themselves around maps of their nation of origin. They hailed from Russia, Croatia, Sudan, Iraq, Tanzania, Egypt, Myanmar, Nepal and Guinea-Bissau.
The biggest group – more than 40 students – comes from the Marshall Islands, where many of the native populations were displaced decades ago by American nuclear testing and its aftereffects.
Spokane has become home to about 800 Marshallese, who recently were given subsidized health care throughout the state.
Marshallese pride was on display with native dress and food, which quickly found its way onto hundreds of plates.
Along with other groups, the Marshallese have received a boost from Spokane Public Schools – especially Stevens, which employs a sheltered instruction model that places ELD students in one classroom for each grade level.
The teachers in those classrooms are specially trained to work with ELD students.
In the halls, students showed off their work to proud parents. Each classroom from kindergarten through sixth grade selected a country to study.
The work was translated into bright displays in the hallways, including flags, maps and other displays.
"I learned a lot about other cultures," fifth-grader Junior Burley said. "I learned about Africa, China and their technology – I want to go there someday."
Editor's note: This story was changed on May 11, 2018 to remove an incorrect use of sanctuary city.
---