Larry Stone: These Seahawks have something to prove – just the way Pete Carroll likes it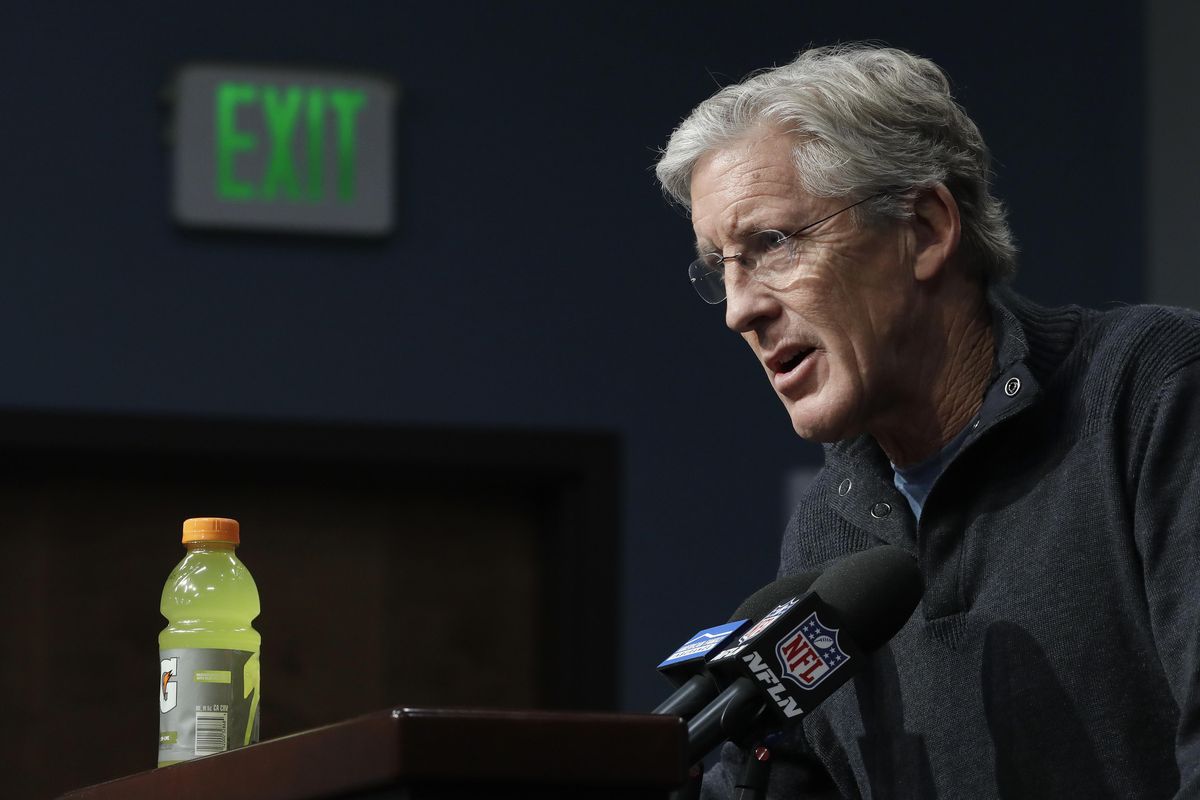 SEATTLE – On Friday, Pete Carroll found himself in a meeting room with Tre Flowers, a decorated safety from Oklahoma State whom the Seahawks are turning into a cornerback.
So enraptured did the 66-year-old coach become in the timelessness of his instructing that at one point he stopped and marveled at the pure joy he felt.
"That meeting right there, you could have put me in that meeting 30 years ago," Carroll would say later. "I'm talking the same stuff and principles and concepts and trying to reach a young kid and help him understand what this is all about and what he's getting into and all that.
"It was awesome. I felt right back in the middle of all of it. There's rejuvenation every season that's a remarkable part of our business that sometimes we don't talk about enough, the newness, the challenges and the unknown and the expectations and the uncertainty of all of it makes this very exciting."
Certainly, Carroll and the Seahawks have ensured a sense of newness for the upcoming season that goes beyond the turn of the calendar and the normal influx of draftees (such as Flowers, a fifth-rounder) and undrafted free agents each spring. The housecleaning that has taken place since 2017 ended without a playoff berth, both in the locker room and coaching ranks, has been profound.
As Carroll said at one point Friday following the high-spirited first day of rookie minicamp at the VMAC in Renton, "There's opportunity that's knocking in all directions right now."
For the Seahawks, there's another opportunity at their fingertips, one that Carroll also seems to be embracing: a chance to get back to the persona of a hungry, overachieving team of underdogs.
Yeah, that's a lot of bromides to throw out in one sentence, and you could find 32 teams who will be discovering a rampant number of chips on the shoulders of their players. It's the No. 1 fuel of NFL ascension.
But there's no question that the Seahawks of recent years were at their best when they had a bunch of players who were driven by the perceived slights they felt obligated, indeed driven, to disprove. One of them, Cliff Avril, who arrived in Seattle in 2013 not far removed from a 0-16 Detroit Lions season, was saluted by Carroll as he prepared to leave the Seahawks for his next venture.
"Cliff was a fantastic player for us," Carroll said. "We were very fortunate to get him when we did, back years ago. Because of where he had been and what had been through, he came in with a chip on his shoulder, too, and something to prove, and did nothing but great stuff."
You know the litany: Russell Wilson was too short, Richard Sherman was drafted too low, Doug Baldwin wasn't drafted at all, Marshawn Lynch was given up on by Buffalo, Michael Bennett hadn't been given a proper opportunity to shine in Tampa Bay, and on and on. Even Carroll, a two-time washout as an NFL coach aching to prove that his player-friendly ways could succeed at the highest level of pro ball, was on the list.
En masse, it fueled a championship run by the Seahawks, and it endeared the team to a fan base that loved watching the redemption take place before their very eyes.
Of course, it's hard to maintain that characterization when success, fame and fortune are heaped upon you. By last year, the Seahawks were far from an endearing underdog, with Sherman and Bennett both commenting that Carroll's message had grown so stale that they were tuning it out. It was a tense, frustrating season.
Tellingly, neither of those players is around any longer, and Carroll is clearly jacked to have a new group of youngsters hanging on his words. This group has its own underdog sensibility, led by Shaquem Griffin, who has spent his whole life disproving doubters but channels his drive in an immensely appealing fashion.
First-round pick Rashaad Penny had to take a back seat to Donnel Pumphrey as a junior at San Diego State. Third-rounder Rasheem Green saw his draft stock fall because of a knee injury. Fourth-rounder Will Dissly was heading nowhere until he switched from defensive line to tight end. The selection of fifth-round punter Michael Dickson reportedly induced laughter from other teams when the Seahawks traded up to get him.
It's not by accident that the Seahawks have restocked the roster with what they feel are hungry, motivated players.
"It's really a part of the makeup of what John (Schneider) was trying to focus in on in this draft class in particular, and some of the guys we've signed as free agents as well," Carroll said. "There's nothing wrong with that. I like that mentality. It's given us a lot of good stuff in the past.
"It's always been important. It's always been a part of the makeup of really the heart of this team. I feel like I'm one of those guys myself. It's just kind of the way we relate."
And the Seahawks hope they will be more relatable in 2018.
---