Montana floodwaters near highest level in 100 years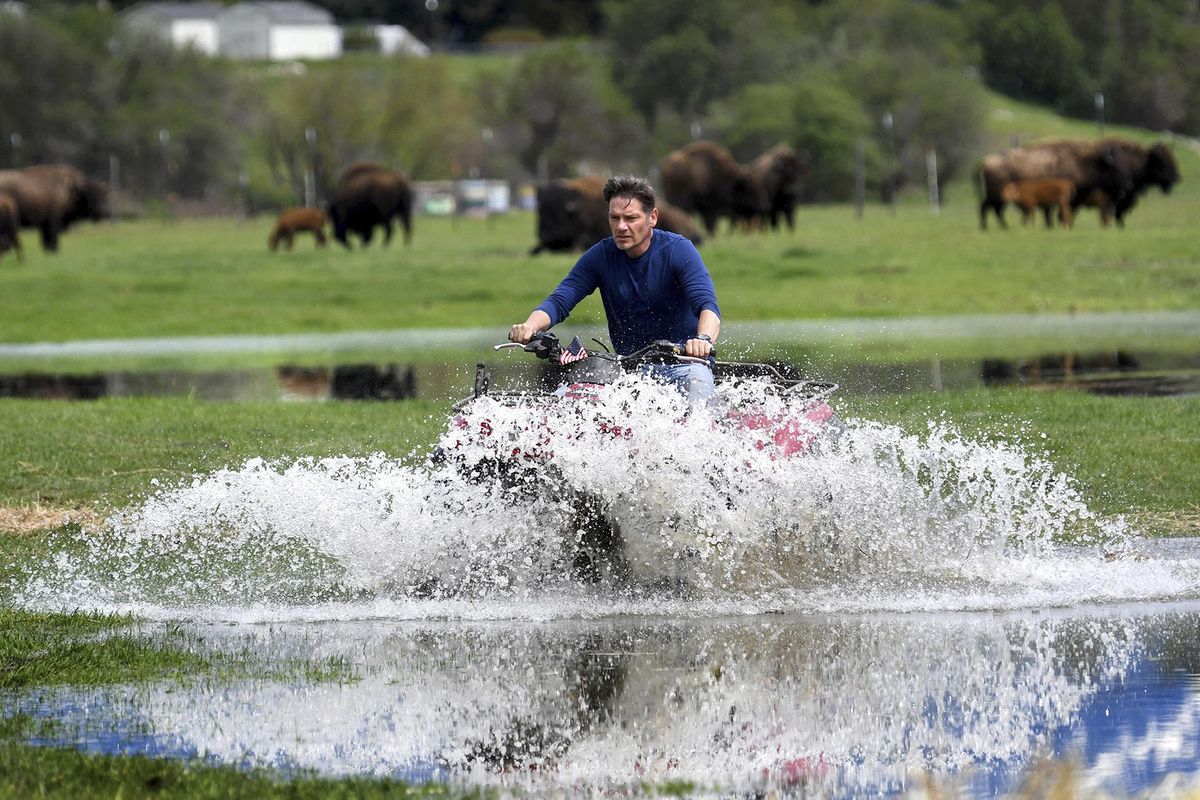 MISSOULA – Montana rescuers pulled a man from raging floodwaters and authorities warned of dangerous debris being swept downstream as water levels continued rising Friday in rivers and streams across the western half of the state.
The Clark Fork River in Missoula was expected to crest more than a foot (30 centimeters) above major flood stage late Saturday – its highest level in 100 years. It could rise even higher next week, according to National Weather Service forecasters. Heavy rains in recent days compounded the deluge caused primarily by melting mountain snows.
Floodwaters already have inundated some houses and trailer homes in a low-lying neighborhood in Montana's second-largest city.
Many residents of the more than 65 houses under evacuation orders refused to leave. That put both residents and emergency personnel in danger as debris surged downstream, including sheds, a propane tank and the remains of at least one trailer home that was pushed off its foundation and broke apart in the floodwaters, authorities said.
"It's a great public safety concern for us," said Mel Holtz, a firefighter and spokesman for the flood response effort. "Obviously it's a very difficult time for people to leave, but we have concerns over utilities in that area because the electricity is still on and there's a lot of debris in the water."
The rescued man was using a small raft to reach a camp for transients on a partially submerged island on the Clark Fork Thursday night.
Firefighters at the river's edge noticed him hanging onto a tree and still in the raft, Holtz said. Rescuers used a boat to pull him to safety.
No injuries had been reported as of Friday morning, Holtz said. Occupants of about 800 Missoula houses were under warning that they may have to evacuate if conditions deteriorate.
Water also was pushing into residential areas downstream along the Clark Fork in the town of Frenchtown, where occupants of two houses were ordered to evacuate.
River levels are forecast to drop slightly with the arrival of cooler weather early next week, then spike to even higher levels by week's end, said meteorologist Ryan Leach.
"We're very confident it's going to be above major flood stage for at least the next week," Leach said.
Personnel from the U.S. Army Corps of Engineers were inspecting area levees but they were not expected to be topped, Holtz said.
Among the sites being monitored was Smurfit-Stone Mill, a former wood pulp mill along the Clark Fork northwest of Missoula where open ponds were used to store contaminated wastewater. The site is on the federal Superfund list of the nation's most hazardous sites. Local officials were concerned the river could erode the uncertified levees that shield the site from the river, Holtz said.
Elsewhere in the state floodwaters threatened homes along the Blackfoot River near Lincoln and portions of Lewis and Clark, Jefferson and Broadwater counties. Minor flooding was reported along the Flathead River at Columbia Falls.
A dam on an irrigation pond in Meagher County breached, causing a rapid rise in water levels on Sixteenmile Creek as it enters Gallatin County. The area downstream of the breach is sparsely populated and local officials said there was no immediate threat to public safety.
In central Montana, the Musselshell River near the small town of Shawmut in Wheatland County was forecast to reach major flood stage Saturday. The county sheriff's office advised people not to drive through flooded areas.
Rain was in the forecast with showers possible through the weekend across much of the state.
---