Moving up: Vasyl Lomachenko fights Jorge Linares in search of 3rd title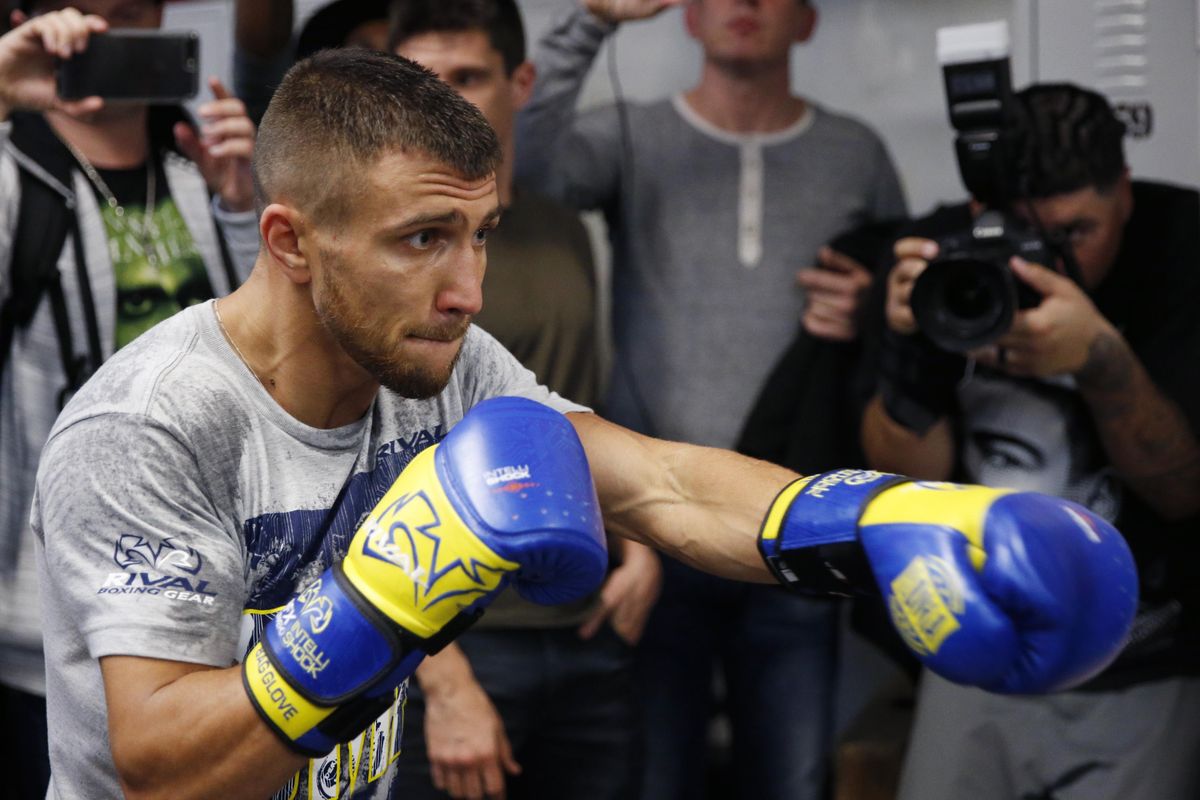 NEW YORK – Vasyl Lomachenko is looking for something that Jorge Linares believes he can deliver.
Lomachenko has been winning too easily, and he never wants boxing to become easy. Not when he possesses an arsenal of skills that may be unparalleled in the sport that he wants to demonstrate.
"If I would be put me in danger, then people can see 100 percent where I am," Lomachenko said through a translator.
Linares thinks things are about to get dangerous.
They fight Saturday night at Madison Square Garden for Linares' WBA lightweight championship as Lomachenko tries to win a title in his third weight class in just his 12th professional bout.
Lomachenko (10-1, 8 KOs) beat his last four opponents so thoroughly that their corners wouldn't let them take more punishment from the Ukrainian. Yet Linares (44-3, 27 KOs) agrees there is even a better version of Lomachenko than the two-time Olympic gold medalist has shown in his rapid rise to the top of the pro ranks.
"Yes, absolutely I believe it. I believe that we haven't seen the best of him," the Venezuelan said through an interpreter. "But I don't think anybody's pushed me to bring out that monkey on my back that's right there and to show the world what I can do, too. But I think on Saturday night we're both going to push each other to the limits to show, one, a great fight, and two, how great I am because there can only be one winner at the end of that night and that's me."
Lomachenko's last fight was also in the Garden, and when his work was done with his fists he basically shrugged his shoulders. Guillermo Rigondeaux was moving up two weight classes and Lomachenko knew he wasn't picking on someone his own size. He got his seventh straight victory by stoppage when Rigondeaux's corner ended the fight after six rounds with the boxer complaining of pain in his left hand.
Now it's Lomachenko who will be the smaller man.
"It's a challenge but that's what makes a fighter one of the all-time greats: challenges," promoter Bob Arum said. "He was great at 126, he devastated everybody at 130. Now he's moving up to 135 and people say is this a bridge too far? He and his father (Anatoly), who's a great trainer, say no, it's not a bridge too far and we're going to see on Saturday. But that's what boxing is all about. If there isn't any challenges, if there isn't any obstacles, who the hell wants to watch it?"
The sides pushed aside obstacles just to make the fight. Arum's Top Rank was already planning to have Lomachenko back Saturday at MSG, and Golden Boy Promotions was promoting another card on HBO. But Linares wanted the fight and a compromise between the rival companies was reached with ESPN's coverage beginning at an earlier than usual time of 8 p.m. EDT.
"All this talk that I want to fight him but my promoter doesn't want to allow me, that's a fighter hiding," Golden Boy's Robert Diaz said. "When a fighter wants to fight and the partner wants to fight, the fights get done. Period."
A victory would be the biggest yet for Linares in a career turnaround, rising from consecutive stoppage losses in 2011-12 to 13 straight wins. The champion in three weight classes said he's been preparing to fight Lomachenko since long before the match was made, even facing southpaws in his previous two bouts. Nobody tried to talk him out of taking on somebody who boxers don't exactly line up to fight.
"On the contrary, the people that really know me, that have been around me, that know what I have, have told me you have everything it takes to beat a fighter like Lomachenko," Linares said.
That starts with the will to keep punching through punishment. Jason Sosa, Miguel Marriaga and Nicholas Walters couldn't, and Lomachenko quipped he should be called "no mas Chenko" when Rigondeaux then became the fourth straight opponent who didn't come back out for the next round after returning to his corner in pain following the previous one.
"Every fighter fights in the ring the way his opponent lets him fight," Lomachenko said. "If my opponent on Saturday is going to let me fight the way I want, I'm going to do it. If he is going to try to give me a hard time, I'm going to do it a different way. So I really don't care the way the victory is going to come."
---