Pink, Bruno Mars, Justin Timberlake top 2018 Spokane Arena Bucket List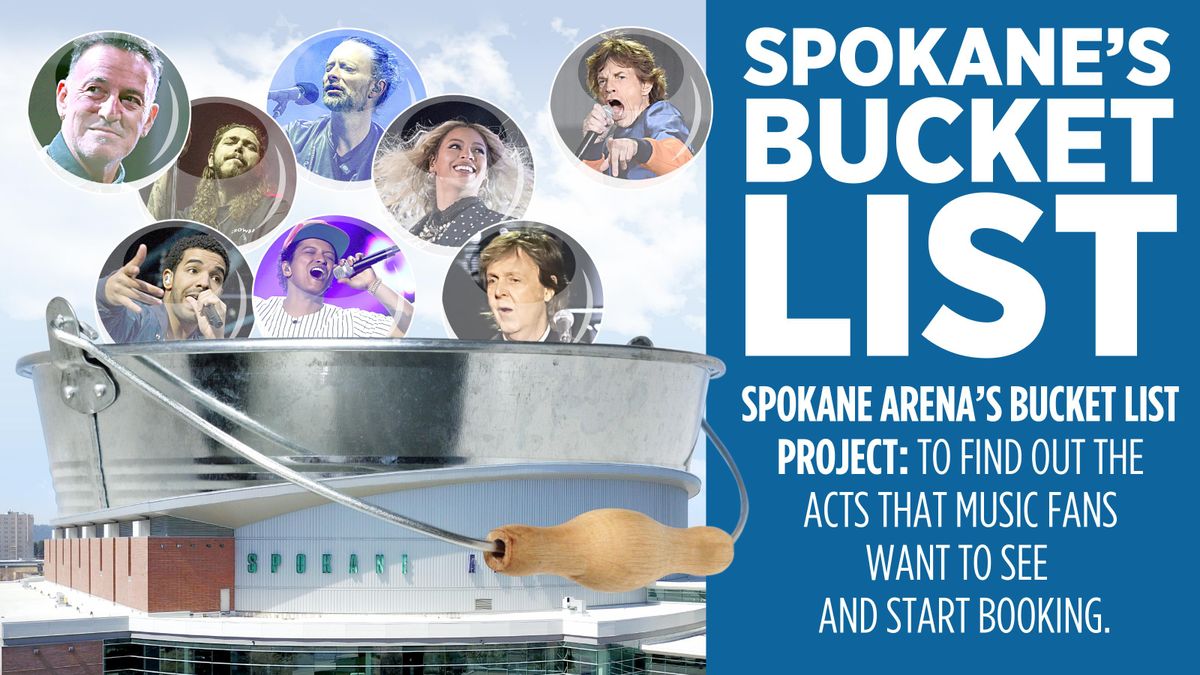 Two weeks ago, the folks at the Spokane Arena asked music fans to share their big-concert bucket lists.
More than six thousand votes were cast, and the 2018 Bucket List has finally been revealed.
Before we get to the full list, we need to talk, Spokane.
Maroon 5 (No. 4) and Taylor Swift (No. 12) before U2 (No. 8) and the Rolling Stones (No. 15)?
How did powerhouse performers like Beyoncé (No. 21) and Adele (No. 24) end up so low on the list?
Doesn't Avenged Sevenfold (No. 26) play the Knitting Factory on a somewhat regular basis?
And, as one Spokesman-Review employee put it, "In what world does Ed Sheeran (No. 6) beat Paul McCartney (No. 10)?"
Becca Watters, the Arena's assistant general manager, said seeing Pink at the top of the list wasn't unexpected, as the pop singer has appeared in the top three every time the Arena has held this promotion. She took the top spot in 2014, too.
But the abundance of pop acts on the list did come as a bit of a surprise.
"When we've done this promotion in the past, we've obviously gotten a lot of great country acts," she said. "It's nice to see that people are itching for something different, not just country, even though, of course, we love hosting country shows."
Pop acts (Pink, Bruno Mars, Justin Timberlake, Maroon 5) took the top spots, but country (George Strait, Kenny Chesney, Thomas Rhett), rock (Aerosmith, Rolling Stones, Red Hot Chili Peppers) and rap/R&B (Eminem, Beyoncé, Post Malone) artists also made the list.
Watters said the overall variety of the list was also reflected in individual requests the Arena received.
"We would have Avenged Sevenfold mixed in with Zac Brown Band mixed in with Pearl Jam," she said. "It just goes to show people like a wide variety of music … It's a great mix of what's currently out there."
Thanks to area music fans responding to previous Bucket List promotions, artists like Elton John, Tim McGraw, Garth Brooks, Miranda Lambert, Foo Fighters and Carrie Underwood have graced the Arena stage in recent years.
Upcoming shows by the Eagles, on May 24, and Metallica, in December, also are thanks to Spokane concert goers.
Since launching the Bucket List in 2014, the folks at the Spokane Arena have brought 23 fan requests to Spokane.
With the 2018 Bucket List in hand, Watters said the Arena team will now share the information with the regional and national agents and promoters they work with in an effort to bring bucket list artists to town.
"We're definitely going to make this an active part of our national outreach and our national marketing efforts as we're pushing the building," she said. "We found that it's a great conversation starter … We think we can get some of these acts here. As far as we're concerned, you never know when a major act wants to come here and so we're hoping this entices them to come here faster."
---