Rested Golden Knights ready to face Jets in Western final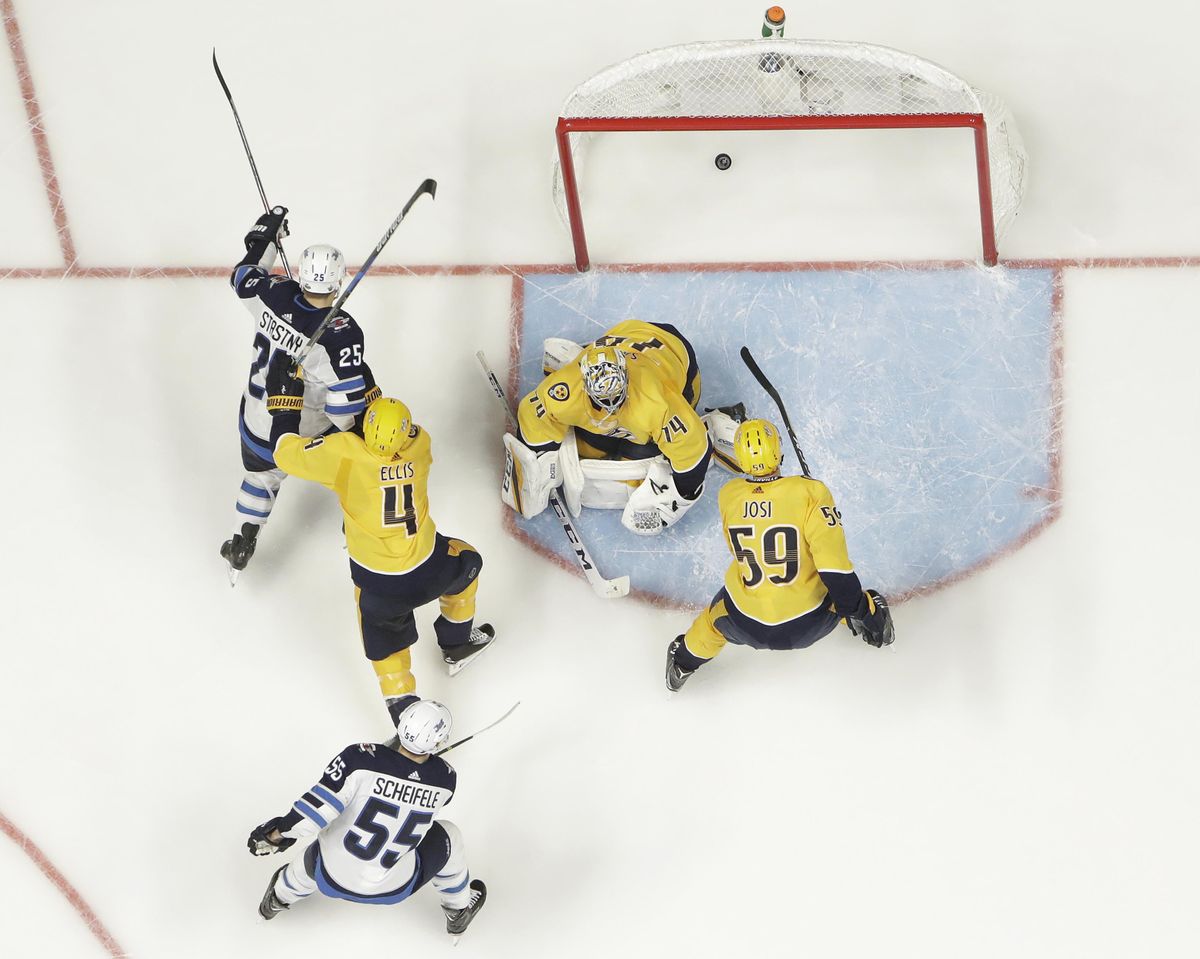 What a difference a year makes.
A year ago at this time, the Winnipeg Jets weren't even in the playoffs and the Vegas Golden Knights didn't even have players.
Now they're getting ready to pit their depth, speed and two of the postseason's best goaltenders against each other when the Western Conference final gets underway in Winnipeg on Saturday night.
"We know what they bring, we know that they're good, that they maybe surprised a few teams, but not really," said Paul Stastny, whose Jets advance to the final with a Game 7 victory over the Predators on Thursday night. "They had 109 points. In a sense they play like us, they have a lot of depth and they can roll four lines and they have good, puck-moving D. So we're going to have our hands full for sure."
Vegas beat the Jets in two of their three regular-season meetings, splitting the two games in Winnipeg and winning the lone meeting at T-Mobile Arena. Two of those games were with Knights goalie Marc-Andre Fleury out with an injury.
Fleury has had a tremendous postseason, registering four shutouts, a .951 save percentage and 1.53 goals-against average – all career bests. Appearing in his first postseason, Winnipeg's Connor Hellebuyck has a 2.24 GAA and a .927 save percentage.
Fleury had five days off in between series while Hellebuyck will have had just 48 hours to prepare for one of the fastest and most potent offenses in the league.
"It is a quick turnaround," Hellebuyck said Thursday night. "We're going to get our rest, we're going to enjoy tonight and get back to it. Rest is a weapon, but I think the way we battle in this room, I think we're prepared for anything."
Here are other things to watch in this series:
Scoring
The Jets have some of the best scoring depth of any team in the NHL, led by 44-goal scorer Patrik Laine. And he's on the second line. Winnipeg's top line of Kyle Connor, Mark Scheifele and Blake Wheeler scored a combined 208 points in the regular season. The Jets' second line wasn't far behind, with Laine, Stastny and Nikolaj Ehlers scoring 183 points. Winnipeg is tied with Washington for the most goals (43) during the playoffs.
Vegas also boasts two potent lines but is capable of rolling four dangerous lines to balance the scoring across 12 forwards. The Golden Knights had four players finish with at least 60 points this season, led by William Karlsson (43 goals, 35 assists). Linemates Jonathan Marchessault (75 points) and Reilly Smith (60 points) complete one of the best lines in the NHL.
Raging rookies
Both teams have first-year phenoms who can't be overlooked.
Vegas' Alex Tuch has four goals and three assists as the sole postseason rookie for the Golden Knights.
Winnipeg forward Kyle Connor scored his first two career playoff goals and added an assist in Game 5 against Nashville to become the first rookie in franchise history to post a three-point game in the playoffs. Connor, who scored nine goals over his last 13 regular-season games, had two assists in the Jets' 5-1 victory over the Predators in Game 7.
Rest or rust
The Golden Knights may have the advantage of rested legs, but they also will catch a dangerous Jets team that could still be fueled by momentum from Thursday's win. Vegas had a long layoff after the first round and beat the Sharks 7-0 in Game 1 of the next series. But San Jose also had extended time off.
Road warriors
Both teams have shown they can win on the road in the playoffs.
The Golden Knights won Games 3 and 4 in Los Angeles to complete a first-round sweep of the Kings, then took Games 3 and 6 in San Jose. Vegas has lost only once on the road in the postseason.
Winnipeg is 4-2 on the road in the playoffs after splitting a pair in Minnesota in its opening-round series against the Wild. They took three on Nashville's home ice.
---