Sims and Wisniewski aim for Idaho state legislature seat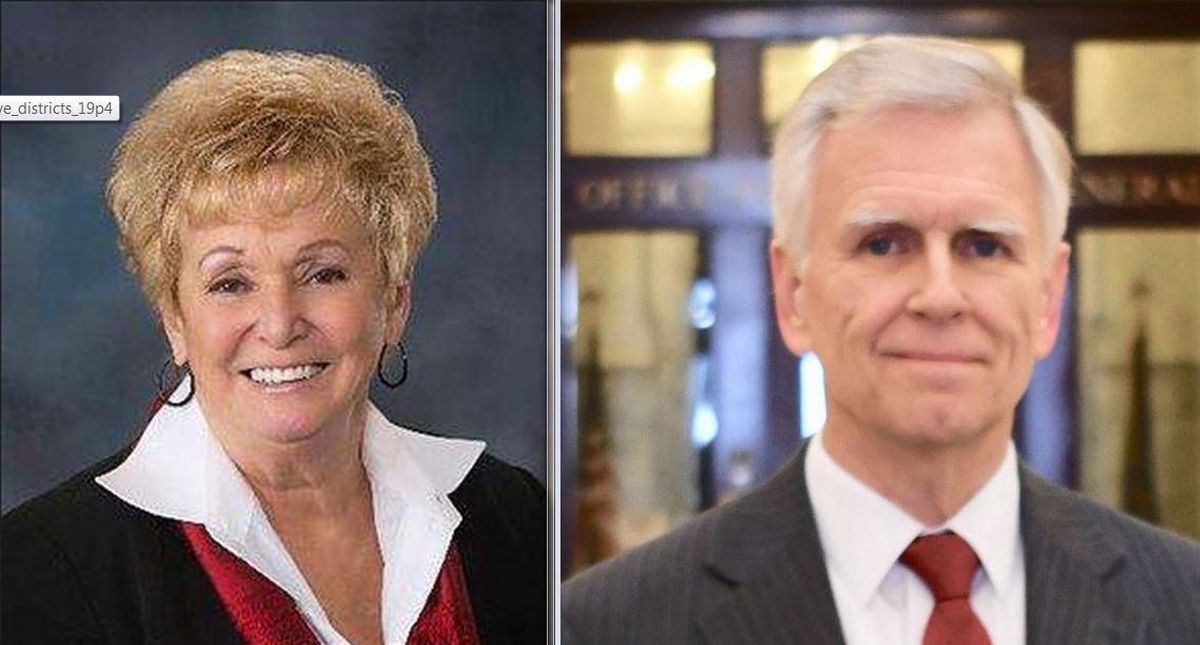 Kathy Sims and Tony Wisniewski sat in the Coeur d'Alene Courthouse last Friday, awaiting a decision capable of ending the race between the two candidates almost two weeks early.
But after a judge declared that Sims could restore her ballot spot – effectively ending a court battle over her residency in Idaho's District 3 – Wisniewski, her challenger on the ballot, said he agreed with the decision.
"As much as it might hurt my chances," he said, "I think the judge ruled properly."
Sims, with four terms in the Idaho Legislature, is facing Wisniewski, a political newcomer, for the Idaho State House of Representatives District 3 seat B Republican primary on May 15. Don Cheatham, who currently holds the seat, is running for another position.
Sims lives in District 3 and will have lived there for 414 days prior to the day of the general election. She said she registered in the district in early spring – a possible complication, since her registration would fall less than a full year before the general election.
The Idaho secretary of state's office has indicated it may appeal the judge's decision if Sims wins the primary. Tim Hurst, chief deputy of the secretary of state's office, said that "there's still an issue."
"We're going to wait and see who wins the primary," he said.
But in the meantime, the candidates continue their campaigning, with Friday's ruling far from the only thing they agree on. On the topic of Medicaid, for example, the two share some key viewpoints.
For the past few months, a green bus driven by a group called Members of Medicaid has been traveling around Idaho. They have gathered almost 60,000 signatures, with the aim of putting a measure on November's ballot that would expand Medicaid to about 62,000 people. The state still has to verify the signatures, which won't happen until late June.
But state legislators, many of whom are vying for seats in the November election, would have the chance to overturn the voters' decision even if it passes.
Neither Wisniewski or Sims said they would move to overturn such a voter-passed initiative, but they both said they were against expanding Medicaid. According to both candidates, it's unhealthy for the state to rely on federal health care dollars, which they believe are bound to dry up eventually.
Sims said consumers need more transparency from health care providers on how much services will cost. She suggested that publishing prices would allow people to choose more wisely, and said those who need to get health insurance should be able to shop across state lines.
"We can't just keep expecting the federal government to keep giving us money for health care. That will eventually stop," she said.
Idaho's 6 percent grocery tax is another issue that Sims and Wisniewski agree on – they want it gone. The grocery tax was nearly repealed last year, and would have been had it not been for Gov. Butch Otter's veto of the bill and the Idaho Supreme Court's decision to uphold the veto.
"I think we should abolish it like other states have," Wisniewski said.
"Idaho has enough money to get rid of the grocery tax," Sims said, "I want to see it gone. It's just not necessary." She said it affects everybody, but "the low-income people it hurts the worst."
Sims said she doesn't want Idaho to tax military retirement income because it prevents younger professionals from settling in Idaho after they leave the service.
"Twenty-five states do not do this," she said. "We're competing with other states to get our military back." Idaho's nuclear energy programs are seeking Navy veterans with knowledge of nuclear reactors to work in Idaho, she said.
Both candidates oppose abortion rights. Sims said that "under all circumstances" she's against abortion. Wisniewski wrote in an email that he thinks the only allowable situation would be a "medical treatment directly intended to save the mother's life, such as removal of a cancerous uterus or an infected Fallopian tube, although the indirect consequence would be the death of the fetus."
Education reform is on Wisniewski's radar, he said, and he wants the government to subsidize charter schools, private schools and homeschooling. "I would be in favor of using tax money to pay for those," he said.
Sims was previously elected for three terms in the Idaho House of Representatives for District 4, and served one term in the Idaho State Senate. She lost a bid for re-election after the 2016 Republican primary for District 4.
Wisniewski said that, regardless of the voters' choice come Tuesday, he would still want new legislation to prevent residency issues arising from murky Idaho state law. Similar residency discrepancies have happened eight times in 15 years. Phil Hart, running for District 7, Seat B for the Idaho State House of Representatives, was also removed from the ballot but then reinstated, like Sims.
Depending on the outcome of the primary, either Sims or Wisniewski will face Democrat Dan Hanks in November, pending future appeals from the secretary of state's office for Sims' residency requirement.
"I will continue to campaign until the polls close on May 15th," Sims wrote in a statement Wednesday. "In the end, it's the voters of District 3 who will choose their representative."
Editor's note: This story was changed on May 11, 2018, to clarify Wisniewski's position on abortion.
---